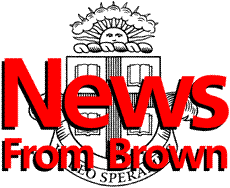 ---
The Brown University News Bureau
Contact: Tracie Sweeney

Brown honors 13 staff members for their innovation, initiative, service
At its annual Brown Says Thank You! breakfast held for the University's support staff, Brown recognized 13 employees for the innovation, initiative, service and personal commitment they have demonstrated in their work.
PROVIDENCE, R.I. - Thirteen Brown University employees were cited for outstanding service to the University at the sixth annual Brown Says Thank You! breakfast May 8. The breakfast, hosted by President Vartan Gregorian in the Pizzitola Memorial Sports Center, was held for the entire University support staff.
The 13 recipients for Brown Says Thank You! awards were chosen from more than 100 nominees. The winners are:
Providence residents
Carolyn Anderson, office manager of the Department of Slavic Languages, has been the department's only full-time office staff member for eight years. She was cited for her exceptional skill in dealing with office management and people. Her nominators called her a "self-starter, problem-solver, peace-maker and a spirited leader. ... She has taken it upon herself to keep abreast of modern information technologies. Devoting much of her own time to learn everything she can in this area, Carolyn has progressed from computer illiteracy to the kind of literacy that now permits her to be called the department's computer guru.
Janice Cal, administrative assistant for the Creative Writing Program in the English Department, supports the planning and organization of more than 30 literary events each academic year. This year, Creative Writing had the highest number of graduate applications of any unit within the University. Cal "worked diligently to prepare the applications for faculty review - and in spite of snow days that slowed everyone down, kept the application process running smoothly," her nominators said. A writer and painter herself, Cal "is particularly sensitive to the needs of the many writers who come through the doors ... and she is always willing to engage in an understanding dialogue that will often make the difference in that student's day."
Wendy Higginbottom, coordinator in the Office of Residential Life, for the past year has been a key player in the University's new card-access system. With the implementation of the system came the requirement of incorporating card access with a student's primary form of identification. Higginbottom developed "an accurate and efficient method of card distribution to all students, including 1,375 first-year students who required temporary access before receiving their IDs. Her involvement in all aspects of the process was the key to accurate and systematic distribution - not one lost card nor one upset student," her nominators wrote. "She has an uncommon willingness to help others with patience, knowledge and a desire that not only the goals of the department be achieved, but that the overall mission of the University be attained."
Dawn Nicholaus, office assistant in Computer Science, first came to Brown as part of an outreach program in which 10 high school students were mentored and given part-time jobs at Brown. She is one of two participants who came to work at Brown after graduation. Her nominators call Nicholaus "an exceptional employee ... conscientious, willing, helpful, and completely reliable. ... She jumps at the chance to learn and grow, and, through her effectiveness and personal warmth, has made the reception area the nerve center of the department."
Mary O'Reilly is the coordinator in the Office of Special Events. Her nominators praised the "quick wit, humor and wonderful disposition" she exhibits while coordinating the bookings for a number of conference spaces on campus. "Mary receives thousands of calls each year from faculty, students and staff, and always makes every effort to accommodate as many as possible with the limited number of conference spaces at her disposal," her nominators wrote. Her "kind and humorous reassurance that she will work everything out is always a relief to those she serves."
Cranston resident
Margaret Marisi, office assistant in Police and Security, has performed "beyond the call of duty," her nominators say. She has played a particularly instrumental role in debugging a new computer system installed in the department. The nominators wrote: "Margaret was called upon so many times ... at 10 p.m. on a Saturday night, at 6 a.m. on a Sunday morning - she has even been jolted awake at 3 a.m. when the entire system went down during a bad storm. And she actually reported in to help the supervisor solve the problem and get the system back in line!"
East Providence resident
Marguerite Lamb, administrative assistant in Psychological Services, was cited for her exceptional interpersonal skills, tact and integrity. "The fine reputation of Psychological Services is due, in large part, to the personal dedication, creativity and warmth that Marge Lamb consistently brings to her job," her nominators wrote. She is the first person most students come into contact with, and she sets the tone for the rest of their experience with the office. "She calmly, cheerfully and patiently talks with students who are at times angry, frustrated or distraught. Keeping a positive attitude, Marge quickly determines ... whether a student's need is routine, urgent or of crisis proportions."
Fall River, Mass., resident
Donna Arruda, coordinator in the Bio-Med Medical Student Affairs Office, has received many accolades for her outstanding performance and caring manner, her nominators said. "Her management of the daily operations of the office is excellent; her attitude is incredibly positive; and her energy and enthusiasm are infectious. ... She is constantly looking for new ways to develop the office, creating and implementing new ideas all the time. Her innovative ideas, outstanding interpersonal skills, insightful observations and consummate professionalism make her an absolute delight to work with."
Greene resident
Paul Rush, senior technical assistant, has worked in the Division of Engineering for 36 years, most recently providing technical support for research laboratory projects and demonstrations. His nominators call him "the person everyone relies on to help find the answers to designing, building, troubleshooting, and testing problems." One faculty member wrote, "I can't think of a single time that Paul failed to build the demonstration I needed, and it is usually a much-improved version of the concept that I only vaguely had described." Often, these demonstrations are produced using whatever parts and pieces Rush finds around the lab, thus saving the department money.
Pawtucket resident
Regina Landim, administrative assistant in the Graduate School, works directly with graduate students, many of whom are under a great deal of stress as they work to finish their dissertations in time for May graduation. Landim's nominators say she assists those students "with consistent grace and care, always calming their fears and clarifying what they need to do to accomplish their goals." Perhaps the strongest testimony of the respect and appreciation graduate students have for Landim may be found on the acknowledgment page of so many dissertations.
Seekonk, Mass., resident
Ann Devine, office coordinator of the Department of East Asian Studies, was cited by the teaching staff for her commitment to her work and to Brown. As an example, her nominators wrote: "When a computer glitch last fall wiped out eight years of department files (in three different languages), it was Ann who burned the midnight oil, night after night, to restore the records. At the same time, Ann was managing every detail of the search for a new assistant professor, an appointment for which there were 101 applicants!" Thanks to her efforts, the search was completed before Thanksgiving.
Smithfield resident
Cheryl Moreau, administrative assistant in the Office of Faculty Governance, was cited for her "extraordinary commitment to providing exceptional service." One of her vital roles is providing administrative support for up to 30 faculty committees. This involves an enormous amount of paperwork. "The caring attention and independent thought she brings to all her assignments make her an extremely valued colleague," her nominators wrote. "Deadlines are always met and problems are anticipated before they happen."
South Portland, Maine, resident
Patricia Flaherty of South Portland, Maine, is executive assistant in the Office of the President. "One of my first decisions as president was to hire Pat Flaherty as my executive assistant," Gregorian said. "It has proven to be one of the best decisions I have ever made." She has "the hindsight to always know what was done and foresight to know what needs to be done," her nominators wrote. "Crises can come and go, upsetting routines and changing priorities. Pat is able to take things in stride, and will constantly go the extra mile to make sure that all the priorities are accomplished."

######
95-152