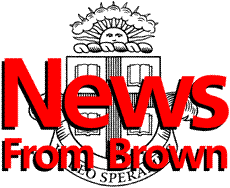 ---
The Brown University News Bureau
Contact: Richard Morin

Commencement 1996
Graduate School Commencement exercises to feature Stanley N. Katz
Historian Stanley N. Katz will deliver the Commencement address to advanced degree candidates during Graduate School exercises at Brown University Monday, May 27. Ceremonies will include the presentation of Presidential Awards for Excellence in Teaching and special recognition for three Graduate School alumni.
PROVIDENCE, R.I. -- The Brown University Graduate School Commencement ceremonies will feature an address by noted historian and scholar Stanley N. Katz Monday morning May 27, beginning at 9:15 a.m. Kathryn Spoehr, dean of the Graduate School and research, will preside over Commencement exercises on Lincoln Field or, in the event of rain, in the Pizzitola Sports Center.
The ceremony will also include presentations of the Presidential Award for Excellence in Teaching to eight advanced degree candidates and conferral of Graduate School Alumni Awards on three distinguished alumni. Bruce Musser, a candidate for the Master of Fine Arts degree in creative writing, will deliver a graduate student oration titled "Untitled (Yes is a World)."
Katz, a senior fellow at the Woodrow Wilson School and co-director of the Center for Arts and Cultural Policy Research at Princeton University, is president of the American Council of Learned Societies. He is a prolific writer and lecturer, having delivered hundreds of talks worldwide and written several dozen papers focusing on American legal history, higher education and the humanities. He is associate editor of The Journal of Interdisciplinary History and Reviews in American History, co-editor of the History of the United States Supreme Court and an editorial board member of the American Journal of Legal History, Pennsylvania Magazine of History and Biography, Journal of History of Ideas, Voluntas, and Common Knowledge. Katz has been elected to the American Antiquarian Society and American Academy of Arts and Sciences and is an elected fellow of the Society of American Historians. He has M.A. and Ph.D. degrees in American history from Harvard University. He also completed his B.A. in English literature and history at Harvard and attended Harvard Law School. He has taught at Harvard University, University of Wisconsin, University of Chicago and Princeton University.
President's Award for Excellence in Teaching
Eight graduate teaching assistants (TA's) have been selected to receive the annual Presidential Award for Excellence in Teaching. Each award consists of an honorarium and a citation to be presented during Graduate School exercises. Approximately 500 graduate students serve as teaching assistants to the faculty. The eight recipients were chosen by a committee of faculty that considered letters of recommendations, teaching evaluations and personal statements. The winners and their citations are as follows:
Marcia Brennan, New Britain, Conn.
History of Art and Architecture
"A TA's TA, you've grown to the point of teaching other assistants the art of the section. Your sections in 19th- and 20th-century painting or architecture or modern culture and media are mini-courses within themselves, providing depth and enrichment rather than simply competent review. Your professors rave about your professionalism and telepathy in choosing just the right material to augment their lectures. And though you are something of a taskmaster, you speak to your students as equals, drawing them out with the patience and determination of a true artist. As two students said on their evaluations, `Marcia is a goddess!'"
Jennifer Gray Chickering, Memphis, Tenn.
Ecology and Evolutionary Biology
"As an indispensable teaching assistant in BioMed 181, Human Morphology, you've devoted hundreds of hours in the labs working with students, preparing demonstrations and giving lectures - all with the kind of enthusiasm and humor that are the hallmarks of exceptional teachers. You've evolved into an outstanding instructor and have recently taken your expertise to the outback of Australia, demonstrating to your colleagues and students alike your extraordinary talent and skill. And you never once complained about the formaldehyde."
Lisa E. Hartmann, Astoria, N.Y.
History
"Students use words like `caring,' `innovative' and `fun' when describing you, L.E. In your History 42 course, you convey with enthusiasm, creativity and dynamic discourse the momentous history of Japan. In History 51, you do the same for Western civilization - never forgetting that teaching is a collaborative adventure. Thus, you have gone out of your way to meet with students in pre-section planning meetings, brainstorming with them, `priming' them for section, drawing out otherwise shy students and harnessing the talents of the more outspoken participants. Thus, you empower all of your pupils to take ownership of the quest to understand the past."
Margaret Kennedy, Doylestown, Pa.
English
"With breadth of knowledge of American and British literature in all of its forms, and with a keen sense of the historical forces shaping the individual writers, you give your students new and critical eyes with which to read the printed word. And with a surfer's sense of balance, you delicately and expertly ride and sustain the momentum of your students' ideas and energies during class discussions. In this way, you unleash in them the same passion for words, ideas and arguments that mark your extraordinary teaching style."
Giuseppe Strazzeri, Varese, Italy
Italian Studies
"Arriving from Italy only four years ago, you've proven yourself not only as an expert teaching assistant but as a rising young scholar of contemporary Italian literature. With creativity and wit, you blended Boccaccio's Decameron with Hypertext, adding `byte' to this classic text. You brought the culture of Italy into your language courses with humor and insight - and your drawings have added a dimension of fun to the learning process. Your cheerful and encouraging manner, coupled with your relentless search for new ways to present linguistic materials leave your students shouting `Magnifico!' "
Lucas A. Swaine, Winnipeg, Canada
Political Science
"With calm and brilliance, you display the uncanny ability to know when to keep quiet during seminars and when to step in and steer the discussion in a more constructive direction. Your insightful comments prove to your political science students that you listen closely to every comment they make, thus you command by believing that each of your students is a leader worth following. Your keen ability to clarify complicated political debates on the nature of freedom and justice make you a leader worth watching."
Lucía Tono, Santefé De Bogotá, Columbia
Hispanic Studies
"Blending intellectual rigor with warmth and charm, you teach students not only to speak and write Spanish, but to learn the culture as well. You serve as a catalyst and facilitator to the learning experience, adapting your style to the learning styles of your students. You've gone above and beyond the call by taking an active interest in the challenges and special needs of learning disabled students, devoting many extra hours in designing teaching and study strategies to ensure the success of these students. You've carried your corazon for social welfare and justice from your native country of Colombia to the classrooms of Brown, and for that we say a heartfelt muchos gracias."
Mari Yoshihara, Tokyo, Japan
American Civilization
"With undaunted determination, you strive to bridge the chasm between classroom and society, serving as a catalyst, transforming students' knowledge of American culture into social power. Ironically, your background as a Japanese scholar gives you clearer eyes with which to see and critique what many American students take as universal. And your knowledge of this country gives you the ability to show your students how Asia is viewed - and skewed - through American eyes. You explain complex, theoretical concepts in clear, concrete language, urging students to critically analyze the issues and integrate that knowledge into their daily lives - thus realizing the ultimate goal of liberal education - to change lives for the betterment of society."
Distinguished Graduate School Alumni Awards
Three alumni of the Graduate School have been selected as recipients of the Distinguished Graduate School Alumnus Award. The awards were established in 1978 to recognize the achievements of outstanding alumni of the Graduate School. A faculty committee appointed by the dean of the Graduate School entertains nominations from faculty and administrators. This year's winners will be presented with an engraved silver medallion and a citation during the Graduate School's Commencement exercises.

Ita Ekanem, Ph.D. '71, Sociology
Ekanem was the first African graduate student to study in Brown's population program in the sociology department. A member of the Ibo tribe in Nigeria, Ekanem completed his master's degree in 1968, one year after his arrival, and finished his Ph.D. three years later. He returned to Nigeria to accept a teaching post at his undergraduate alma mater, the University of Ife. He has made far-reaching contributions to research and training in higher education and in the complicated arena of public policy. His Ph.D. thesis on the quality of the 1963 Nigerian census, later published as a book, has become a standard reference volume for planning census programs in African countries. In 1978, he was appointed chief of the General Demography Section of the Population Division of the United Nations Economic Commission for Africa (ECA). In his position at ECA, he played a particularly important role in providing consultation to the U.N. Population Fund as it conducted basic needs assessments in the various African countries. In 1986, in recognition of his contributions, Ekanem was promoted to chief of the planning and policies section of ECA. In this position, he played an important role in developing recommendations prepared by the African states for the World Population and Development Conference, held in Cairo in 1994. He is currently translating the recommendations of that conference into plans of action for the region and for individual countries. He is a prolific scholar having published more than three dozen items spanning the 25 years since he graduated from Brown.

David L. Griscom, Ph.D. '66, Physics
Griscom, a research physicist at the Naval Research Laboratory, is an internationally recognized expert in glass science. He does basic research on the physics of optical materials with specialization in electron spin resonance studies of amorphous insulators. His principal objective is achieving a fundamental understanding of radiation-induced defect centers in oxide and fluoride glasses of relevance to modern and/or fiber optic applications. Griscom has served on the editorial committee for the American Ceramic Society, as chairman of the Glasses Materials Research Society Symposium, as a member of the editorial advisory board of the Journal of Non-Crystalline Solids, and as a member of the NASA-Universities Space Research Association Glasses and Ceramics Discipline Working Group. He has organized four international conferences and been the chairman of three major award committees. In addition, he has fostered international cooperative research efforts with Japanese, French, Latvian and Russian scientists. He is a fellow of the American Ceramic Society and Washington Academy of Sciences. Griscom has published more than 155 articles and given 150 talks at national and international gatherings and university colloquia.

Marianne Hirsch, B.A./M.A. '70, Ph.D. '75, Comparative Literature
Hirsch, professor of French and Italian and of comparative literature at Dartmouth College, is a respected scholar of feminist criticism. She completed her combined bachelor's and master's degree magna cum laude in 1970. Her 1975 Ph.D. thesis on "Perception and Communication in the Novels of Henry James, Michael Butor and Uwe Johnson" was immediately published as a book and selected by Choice magazine as the Outstanding Academic Book of the Year. At Dartmouth College, where she joined the faculty in 1974, her teaching has been honored by parents, who endowed her position as the Parents Humanities Distinguished Professor. She is the author of The Mother/Daughter Plot: Narrative, Psychoanalysis, Feminism, which won her second Choice magazine Outstanding Academic Book of the Year award. Her recent work has expanded into the area of photography, in part along the lines of exploration of gender and exploitation of children. She is also exploring the Holocaust and her own Jewish European past. She has edited four volumes of literary criticism, authored dozens of articles and lectured worldwide.

######

95-151