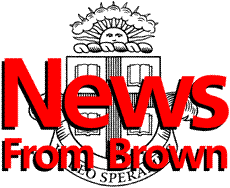 ---
The Brown University News Bureau
Contact: Mark Nickel

Remarks by President Vartan Gregorian
Brown honors the memory of 243 who died in 20th-century wars
At 9:30 Sunday morning May 26 near Soldiers Arch, Brown alumni gathered to honor the University's 20th-century war dead. President Vartan Gregorian addressed the gathering and announced Brown's plans for a permanent memorial. The text of Gregorian's remarks follows.
It was 50 years ago - almost to the week - that Henry Wriston addressed Brown alumni to remark upon the end of World War II and to begin welcoming home America's veterans. Said he on that Commencement Weekend:
I speak today with one purpose only - to voice a tribute to those alumni of Brown who laid down their lives in the war. Some were young; some were very young; some had not even completed the work on their baccalaureate degree.
As we remember these alumni with affection and respect, let us think of them in connection with the life of our nation, so as to influence the policies of our beloved country that it shall profit by their sacrifice.... Let us resolve that Brown will supply to their younger brothers [and sisters] that inspiration and instruction which will make even a brief life more intense, more real, and more meaningful.
This morning we meet for similar purposes. We are here to honor those thousands of Brown men and women who served and returned home to regain their personal lives. We value their experience as they continue to rebuild and redefine America. And here I speak not only of those who fought in two World Wars, but also those who served in Korea and Vietnam.
And we are here also to pay tribute to those Brown men and women who made the ultimate sacrifice for freedom and democracy, and the ideals for which this nation stands.
A half century ago, at this time, millions of veterans began the exodus from military service to rebuild, not just the United States, but a world that had ended a war in physical and economic exhaustion. They had experienced the greatest carnage in the history of our planet. For those who returned, and for generations to come, we hoped one lesson had been learned worldwide: That peace is more than the cessation of fighting and freedom from war. It is truly peace, which is accomplished one slow step at a time.
Ambassador Nathaniel Davis said it well in his now famous Brown senior oration in 1944:
Not soon again will America's force of arms be doubted. But some day those arms will grow rusty and we must have a force of ideals, not consumed, but strengthened. For we should not have a small objective for such a big war, and there is a big objective: to build a free world for free men and women.
Symbolic of all those who fulfilled that honorable objective is the Class of 1946, which is celebrating its 50th anniversary of graduation from Brown. They marched through Soldiers Arch this morning as a tribute to all those who have fought for their country. I thank them for their service as well.
Tomorrow is the day we observe Memorial Day and remember all of those loved ones we have lost recently and in the long history of our country. But tomorrow is also the day we honor several thousand new graduates, and it is, in a sense, "their day. "
So this morning I want to honor especially those Brown alumni and alumnae who did not return from battle. It is they who made the supreme sacrifice, not for simply our country, but for, as Ambassador Davis put it, a free country for free men and women.
No words of mine can adequately compensate for a young life lost or a dream unfulfilled, and words can seldom console a family forever denied a loved one. So a full awareness of what has been sacrificed by these Brown men and women is in order as we honor their memories.
When I arrived here eight years ago, I spent a considerable amount of time catching up on Brown history. In doing so, I came upon the writings of the late Quentin Reynolds, of the Brown Class of 1924.
Reynolds was one of World War II's most prominent correspondents. He was a hard-driving, risk-taking writer who often intruded into combat areas. He was prolific writer, averaging annually 20 articles for the old Colliers magazine. He also averaged four books a year, including London Diary and The Wounded Don't Cry. All were about the war, which Reynolds had seen at its worst. In his last book in 1963, Reynolds wrote:
Sick in spirit, I was thinking of war as the book-reader finds it celebrated in poetry and prose. I thought of Byron's stanzas on Waterloo, Tennyson's `Charge of the Light Brigade,' Kipling's Barrack-Room Ballads, Winston Churchill's relishing account of his experiences in the Boer War.
I thought of what I had read about Pickett's charge at Gettysburg - accounts that did full justice to the gallant heroism of the Southerners but glossed over the picture of men killed outright and others left on the battlefield to die.
The war I had come to know was short on glamour and long on tragedy.... Out of those reflections came a sobering realization. I, too, had often been guilty of glamorizing the war in my articles and books.
We must not make that mistake this morning. Let me simply say we are forever indebted to those Brown men and one woman who fought and died for the freedom we enjoy today. We offer them our deepest respect with grace and dignity.
Some are already honored by name on Soldiers Arch, which has long been a part of the beautiful landscape of Brown. They are those lost in World War I.
In that same spirit, we have underway a plan to remember permanently, by name, the 177 members of the Brown community known to have died in World War II, the seven we believe died in Korea, and the 17 Brown men known to have lost their lives in Vietnam.
This new memorial will be integrated into the design of the Soldiers Arch area. Richard Fleischner, a former member of our faculty and now an internationally known architect, has been commissioned to develop a new plan to succeed an earlier one he did. The earlier design was an excellent concept, but we were not able to construct it because of the absence of a suitable location, and also its cost.
I am comfortable now with a plan that will unite, into one area, a design that will list the names of all those Brown alumni who died for their country in these wars. When that plan has been approved and completed, we will rededicate Soldiers Arch and notify in advance our entire alumni body of the date of the event.
Tomorrow I will comment briefly on the meaning of Memorial Day at ceremonies on the College Green, but I ask you to reserve these moments this morning for those who died in these four wars. I invite you all to pay homage to them as we lay wreaths at Soldiers Arch for them.
---
Following Gregorian's remarks, four wreaths were laid at Soldiers Arch:
Sen. John Chafee laid a wreath to honor veterans of World War I. His father, John H. Chafee Sr. '18, served in France.
Former Brown Chancellor Charles C. Tillinghast Jr. and his wife Lisette laid a wreath honoring Mrs. Tillinghast's father, Lieut. Henri Ferdinand Micoleau, a member of the Brown faculty, who was the first member of the campus community to enter the war. Micoleau, a French citizen, was mobilized in 1914.
Richard Tracy, president of the 50th reunion Class of 1946, laid a wreath to honor those lost in World War II.
Theodore Low, of the Class of 1949, laid a wreath to honor those who served and died in Korea.
Thomas Coakley, of the Class of 1968, laid a wreath to honor those 17 lost in Vietnam.
Prior to the ceremony, the University Hall bell tolled for the 219 who died in the two World Wars. To conclude the ceremony, the bell tolled again for the 24 lost in Korea and Vietnam.

######
95-161