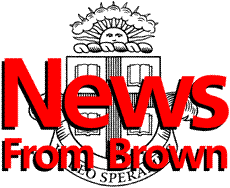 ---
The Brown University News Bureau
Contact: Scott Turner

Medical education in the new health care environment
Brown University reshapes its School of Medicine and Program in Biology
A new strategic plan to restructure the School of Medicine and Program in Biology will help Brown maintain faculty quality at a time of information overload and waning support for academic medicine under health care reforms.
PROVIDENCE, R.I. -- To take advantage of rapid changes and expansion in biomedical and other scientific knowledge, Brown University will implement a strategic plan to restructure its School of Medicine and Program in Biology.
Brown will build upon the eruption in information technology and sources in life sciences and medicine by strengthening its campus-based departments, said Dr. Donald J. Marsh, dean of medicine and biological sciences. Resources will be concentrated in the strongest disciplines in Brown's biomedical system. These are molecular genetics and gene regulation, molecular and systems neuroscience, tissue and cellular engineering, environmental biology and structural biology, he said.
The University will also strengthen its expertise elsewhere.
"With respect to the reconfiguration of health care and its effect on academic medicine, the University will form new clinical centers," Marsh said. "It's a way of reorganizing academic clinical efforts in interdisciplinary ways that are more attractive to the evolution of health care."
The new clinical centers will study brain and behavior, cardiovascular diseases, children's health, immunology and infectious diseases, molecular medicine, musculoskeletal diseases, oncology, primary care and prevention, and women's health. These operations will join the University's successful centers and institutes, where emphases range from AIDS to surgical research.
Medical Informatics
Brown will also create a Department of Medical Informatics. "Information technology is making fundamental changes in how medicine is practiced," Marsh said. "The power of these new methods of information sharing is rapidly increasing."
A Department of Medical Informatics will link the University's biomedical programs under one information network and infrastructure, covering medical education, research and clinical practice. Students studying medical informatics will learn to apply information technology to medicine, taking courses that range from digital image processing and analysis to artificial intelligence systems for consultation and diagnosis.
Curricular reform
The School of Medicine also plans a major curricular reform, dubbed MD 2000, starting this fall. "This competency-based curriculum is designed to identify core abilities that every physician should have," Marsh said. "It also contains the means for evaluating a student's progression through the curriculum."
Commitment to the Program in Liberal Medical Education (PLME) will also be strengthened, Marsh said. The program, considered one of the University's greatest strengths, is an eight-year continuum that offers a more flexible undergraduate education than is available in more traditional pre-medical approaches.
Faculty recruitment
Recruitment of new faculty to help Brown handle a flood of students interested in the life sciences is a top priority, Marsh said.

The number of undergraduates nationwide majoring in biology has soared, as have the teaching loads of biological scientists. At Brown, the number of undergraduates majoring in biology has increased 83 percent in the last seven years, while faculty have offered 33 percent more courses, with no increase in faculty numbers.

Indeed, a key to success in the life sciences is the ability to maintain a significant number of faculty in related departments, Marsh said. According to a recent survey by the National Research Council, number of faculty was the variable that correlated best with departmental ranking.

Maintenance of an insufficient number of departmental faculty was a major reason behind the University's decision last winter to end its affiliation with Roger Williams Hospital, leaving seven teaching hospitals still tied to Brown.

To strengthen links between the seven hospitals and the School of Medicine, Brown will create an Education and Research Foundation at each affiliated site. The foundations will have oversight for all academic programs at their respective locations.

Because the reconfiguration of health care suggests that funds will not be available for major expansion of laboratory research in hospital-based departments, the School of Medicine will give birth to a Health Studies Institute to foster research, teaching and other collaborations between its hospital-based operations and those at institutions worldwide.

The School of Medicine plans to continue both hiring greater numbers of minority faculty and pursuing an affirmative action agenda, according to the strategic plan, which also calls for protecting minority faculty from shouldering large administrative burdens, a problem common among minority faculty in the life sciences.

Restructuring deals with two fundamental challenges facing the life sciences, Marsh said.

"The first is the need to maintain quality faculty who teach and conduct research during one of the most explosive phases in the history of modern life sciences and medicine," he said. "The other challenge is to evolve at a time when support for academic medicine is waning under the reconfiguration of health care."

######
95-162