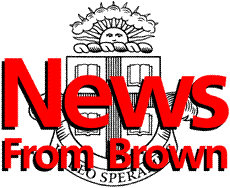 ---
The Brown University News Bureau
Contact: Mark Nickel

Peder J. Estrup named dean of the Graduate School and research
Peder J. Estrup, currently the Newport Rogers Professor of Chemistry, professor of physics, and chair of the Department of Chemistry, has been named dean of the Graduate School and research at Brown University.
PROVIDENCE, R.I. -- Peder J. Estrup, current chair of Brown's Department of Chemistry, who serves both as professor of physics and as the Newport Rogers Professor of Chemistry, has been named dean of the Graduate School and research, according to an announcement by Brown University President Vartan Gregorian. He succeeds Kathryn T. Spoehr.
"On Commencement Day, following the recommendation of the provost and search committee, I announced the appointment of Kathryn Spoehr as dean of the faculty," Gregorian said. "This came at an auspicious time, coinciding with the end of our comprehensive campaign and the beginning of the second phase of the University's strategic plan.
"Dean Spoehr's appointment, however, left vacant the crucial position of dean of the Graduate School and research," Gregorian said. "The provost and I deemed it imperative that this position be filled as soon as possible by an individual capable of providing the necessary leadership and handling the demands and complexities of the post. I am delighted that Professor Estrup has agreed to an appeal by the provost and me that he accept the position. He will assume his duties by the end of the month."
Spoehr, who began her tenure as dean of the faculty on July 1, has agreed to serve as acting dean of the Graduate school and research to facilitate Estrup's transition.
As dean, Estrup will chair the University Research Council, which supervises research policy at Brown. Sponsored research activities are the University's second-largest form of support after student fees. For the 1995-96 fiscal year, approximately 24 percent - nearly $55 million - of the University's revenue budget was related to sponsored research activities and indirect cost recovery.
Estrup will also chair the Graduate Council, to which the faculty delegates certain of its powers, particularly those having to do with the formulation of policies and the oversight of programs. The Graduate Council consists of eight faculty from various disciplines, four graduate students, and eight administrators. Brown currently has 34 doctoral programs.
In choosing Estrup, Provost James Pomerantz consulted a three-member advisory committee, including Jill Pipher, professor of mathematics; Dennis Hogan, professor of sociology, and Margo Ballou, a graduate student representative. He also discussed the appointment with members of the Faculty Executive Committee and its chair, Russell Church, professor of psychology, as well as with members of the senior administration.
"Professor Estrup, who arrived at Brown in 1967, has long been recognized as a leader in research as well as teaching," Pomerantz said. "His administrative skills are reflected in his success as chair of chemistry since 1989. I thank him for his willingness to step into this position on short notice and, in so doing, to put Brown's best interests ahead of his own yet one more time."
Peder Estrup
A native of Denmark, Estrup earned his Master of Science degree from the Royal Polytechnic University in Copenhagen in 1954 and his Ph.D. in physical chemistry from Yale University in 1959. After a postdoctoral fellowship at CERN in Switzerland (1959-61) and positions with Bell Laboratories and the Bartol Research Foundation, he joined Brown University as an associate professor of chemistry and physics in 1967. He advanced to professor of chemistry and physics in 1970, becoming chair of the Department of Chemistry in 1989. He was named to the Newport Rogers chair in 1992.

Estrup carries on an active research program in the physics and chemistry of solid surfaces, with support from the National Science Foundation and the Ford Motor Company. He has published more than 100 research articles and has presented invited papers at dozens of professional meetings.

######
96-001