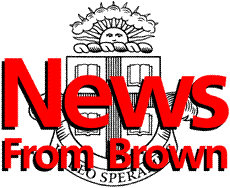 ---
The Brown University News Bureau
Contact: Scott Turner

A medical curriculum for the 21st century
Brown begins 'patient first' approach to medical school training
MD2000, the Brown University School of Medicine's new patient-based curriculum, requires medical students to do more than learn traditional subjects. They must also show faculty that they have mastered the skills that make excellent physicians.
PROVIDENCE, R.I. -- The Brown University School of Medicine has a new way to produce doctors.
This fall, the medical school began using a curriculum based on a student's abilities and demonstrated competencies rather than the traditional fact-based, written-test model of medical education. The result: To graduate from Brown, medical students must do more than master the material. They must prove they have become good doctors.
The new curriculum is called MD2000. It results from the input of more than 250 doctors, educators, students and consumers, who stressed that physicians must do a better job of talking with and treating their patients.
Editors: The School of Medicine present the MD2000 curriculum and illustrate the new evaluation process during a symposium at 3 p.m. Friday, Sept. 20, in the Salomon Center for Teaching. The public is invited. A complete symposium program is attached
Through assessments that are as authentic as possible, Brown medical students must show they possess nine key abilities, ranging from communications to moral reasoning to problem solving. To pass the internal medicine clerkship, for example, students rotate every 15 minutes among more than a dozen stations, where they must successfully treat volunteer patients or actors with real or simulated health problems. Each student is graded on how they speak with and listen to patients, describe their findings, prescribe medicine and offer treatment plans.
"MD2000 is what a medical school curriculum should look like," said Stephen Abrahamson, professor emeritus of medical education at the University of Southern California. Abrahamson has served as educational consultant for more than half of the medical schools in North America. His new book, Essays on Medical Education, is published by the University Press of America.
"The competency-based aspect gives the Brown curriculum instant credibility," Abrahamson said. "The University didn't start with what medical students needed to know, but with what they needed to do. Facts are important but what people do with them is more important."
The MD2000 curriculum contains standard medical school topics, such as anatomy, as well as courses that cover social responsibility and ethical concerns. The curriculum's chief architect is Dr. Stephen Smith, associate dean for medical education.
"People said they wanted doctors to listen to them, to put them at ease and to be able to gather information and use their knowledge to help them," Smith said. "MD2000 reflects our belief that those skills can be both taught and learned."
According to Abrahamson, very few medical schools have taken Brown's approach of starting from scratch to build an education that reflects what people want - to be treated by physicians as if they're the only patients in the office.
"There is a lot of tinkering with classes in medical schools," Abrahamson said. "But most schools end up leaving in place the structure that emphasizes bodies of knowledge. Brown's approach puts the patient first."
For more than 20 years, the Brown University School of Medicine has incorporated performance-based learning into its classes, Smith said. MD2000 ensures the entire curriculum is competency-based, he said. "We believe MD2000 will be the model for medical education for the 21st century," Smith said.
A liberal view of medical education is a Brown tradition. In 1984 the medical school introduced a unique curriculum that combines undergraduate and professional studies in medicine into an eight-year continuum that encourages students of medicine to pursue their interests in humanities, social sciences and natural sciences as they prepare for careers as physicians.
The MD2000 Symposium
3 p.m. Friday, Sept. 20, 1996
The Salomon Center for Teaching
Welcome by Dr. Donald J. Marsh, dean of medicine and biological sciences


Curriculum Overview by Dr. Stephen R. Smith, associate dean for medical education

Smith has been involved in student assessment and curricular development for many years and was one of the principal architects of MD2000.


Video Presentation: MD2000 in Action


Address by Stephen Abrahamson: "The Brown Curriculum: A Visitor's View"

Abrahamson, professor emeritus of medical education at the University of Southern California, has served as educational consultant for more than half of the medical schools in North America.


Dramatization: "Student Assessment in Action"

Students, patients and audience will participate in a dramatization that shows how faculty will evaluate the patient-care skills of their students under the MD2000 curriculum.


Closing Remarks by Dr. Marsh
The symposium is open to the public without charge. For additional information, call 401/863-3232.

######
96-018