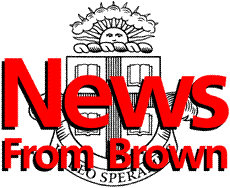 ---
The Brown University News Bureau
Contact: Mark Nickel

Office of Student Life
A message to the Brown community from the Dean of Student Life
Following weekend disturbances that led to student injuries, Dean of Student Life Robin Rose distributed the following statement to the Brown University community, addressing issues of campus security and non-academic discipline. The statement appeared Tuesday, Sept. 24, 1996, as a paid notice in The Brown Daily Herald, a student newspaper, and Friday, Sept. 27, in The George St. Journal, the University's weekly newspaper.
Weekend Events
The events of Saturday night/Sunday morning [Sept. 21-22] at Harambee House and elsewhere in the campus neighborhood are cause for concern. The altercations were violent and Brown students were injured.
The social function at which these events occurred had been registered by students with the Office of Student Activities. Alcohol was not a factor in the disturbance. When Brown police arrived shortly before midnight, they observed a large number of people in Patriots Court, with many more inside - a total which exceeded the attendance limit for the party. A number of scuffles broke out. When the door to Chapin House opened, police observed someone bleeding from his back. That person, later identified as a Brown student, was taken to Roger Williams Medical Center by friends, where he was treated for a slashing wound from his shoulder to the middle of his back and released. Providence police arrived to assist Brown police in dispersing the crowd.
At 1:30 a.m., six non-Brown students arrived at Patriots Court with baseball bats and pipes. They were confronted by Providence police, disarmed and trespassed. Police continued their patrols along Thayer Street almost until dawn.
The reason for the slashing attack and the ensuing brawl was not clear, and the identity of the assailant is still unknown to police.
A further incident, involving four Brown students, occurred on Thayer Street shortly before dinner on Sunday evening. This confrontation, which appears to have been an effort to learn the identity of the attacker from Saturday night, resulted in a cut above a student's eyebrow.
No criminal complaints have been filed; the investigation is continuing.
Chapin House Security
All of Chapin House, in which members of Harambee House reside, along with independent students and members of a residential fraternity, is being covered by a special Police and Security Department watch. Until further notice is given, residents of the house are advised to admit no guests to any portion of the house and to make certain that outer doors are secured. Any suspicious person or suspicious activity in the house is to be reported to Police and Security (x3322).
Disciplinary Investigation
The Student Life Office and the Brown University Police and Security Department have begun a disciplinary investigation. Several students have been interviewed today. This inquiry is being given the highest priority by the staff of Student Life and Police and Security.
University Discipline
The Student Life Office will proceed with University discipline as deemed appropriate and as quickly as University procedures allow.
Meetings with the Dean of Student Life
Meetings are being scheduled by the Dean of Student Life with parties to the two altercations. The students allegedly involved are being warned to avoid any further conflict or inflammatory actions, including verbal provocation. Furthermore, they are being asked to communicate the same instruction to their friends and acquaintances.
Warning of Immediate Separation
No retaliatory actions or vigilantism will be tolerated. Those who violate these instruction from the dean are subject to immediate separation from the University as posing "a threat to the safety, health, or well-being of the University community or a member thereof." (Student Handbook, 1996-97, p. 106).
Trespass of Non-Brown Suspects
The University has reported to other educational institutions the names of non-Brown students identified either by Brown Police and Security or Providence Police as allegedly involved in fighting or disruptive behavior. Such individuals have been trespassed from Brown University property and will be arrested by Brown Police and Security if they violate the trespass order.
Arrest of Individuals in Possession of Weapons
Police and Security officers will arrest any individual on Brown property found in possession of a weapon.

All members of the University community are asked to cooperate in restoring to Brown the ordered, peaceful environment needed for effective teaching and learning. We are confident that the steps which are being taken, along with the good faith efforts and good will of Brown students, faculty and staff, will bring such a restoration.

Robin Rose
Dean of Student Life

######
96-026

(See coverage in the Brown Daily Herald)