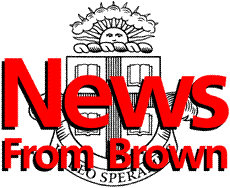 ---
The Brown University News Bureau
Contact: Linda Mahdesian

15 alumni to be honored
Richard Holbrooke to speak, will receive top alumni award Oct. 12
On Saturday, Oct. 12, the Brown Alumni Association will present Richard Holbrooke with the William Rogers Award, its highest honor, at the annual Alumni Recognition Ceremony. Fifteen Brown alumni will be honored during the ceremony.
PROVIDENCE, R.I. -- The Hon. Richard C. Holbrooke (Class of '62) will receive the William Rogers Award at the Brown Alumni Association's annual Alumni Recognition Ceremony on Saturday, Oct. 12, in the Olney-Margolies Athletic Center. Holbrooke will also be the featured speaker at the ceremony, delivering an address titled "America's Role in the World After the Cold War." He will speak at approximately 1:15 p.m.
Editors note: This event is open to invited guests and press only. A reserved press table will be available. Contact the Brown News Bureau at 401/863-2476.
The awards ceremony will be hosted by Steven R. Jordan '82, the Minnesota Vikings six-time Pro Bowl tight end and a University trustee. During the ceremony, the BAA will present Brown Bear Awards to four alumni for distinguished University service and will honor the eight winners of the Alumni Service Award, among other awards presented. Timothy C. Forbes '76, president of the American Heritage Publishing Company, will receive the H. Anthony Ittleson '60 Award, given by the Brown University Annual Fund.
The William Rogers Award is named for the first student and graduate of Brown. It honors annually an alumnus or alumna for outstanding professional achievement and extraordinary service to humanity. Past recipients include astronaut Byron K. Lichtenberg; Pulitzer Prize and Academy Award-winning screenwriter Kurt M. Luedtke; Samuel M. Nabrit, scientist, educator and the first African-American to receive a Brown Ph.D.; Kathryn S. Fuller, president of the World Wildlife Fund; and Linda Mason, executive producer of CBS News.
Richard C. Holbrooke
Holbrooke served as assistant secretary of state for European and Canadian affairs from 1994 to 1996. In 1995, he was chief negotiator of the Dayton Peace Accord on the war in Bosnia. Prior to becoming assistant secretary of state, he was ambassador to Germany.
Holbrooke began his diplomatic career in 1962, joining the Foreign Service immediately after graduating from Brown. He served in Vietnam in a variety of posts, including staff assistant to Ambassadors Maxwell Taylor and Henry Cabot Lodge, and was a member of the American delegation to the Paris Peace Talks. Holbrooke authored one volume of the Pentagon Papers and served as special assistant to Undersecretaries of State Nicholas Katzenbach and Elliot Richardson.
Following those assignments, Holbrooke was a fellow at the Woodrow Wilson School at Princeton. He directed the Peace Corps in Morocco, and in 1972 took leave from the Foreign Service to become managing editor of the quarterly magazine Foreign Policy. He has also been a contributing editor of Newsweek magazine.
In 1977, President Carter appointed Holbrooke assistant secretary of state for East Asian and Pacific affairs, a post he held until 1981. During his tenure, the United States established full diplomatic relations with China. He is the only person ever to hold two regional posts as assistant secretary of state.
In 1981 Holbrooke moved to the private sector. As a banker and diplomat, he has traveled to more than 100 countries, including more than 65 trips to China alone. He has received numerous awards and honors, including honorary degrees from Georgetown University, the American University of Paris, Muhlenberg College, Central Euro-Atlantic Bucuresti (Romania), Franklin College, and the University of Maryland/Heidelberg. In 1996, he received America's First Freedom Award, the World Jewish Congress' Nahum Goldmann Award, the International Citizen of the Year Award, the Secretary of State's Distinguished Service Award, the de Tocqueville Award, the Ataturk Award, and the Les Aspin Democracy Award for Public Service.
The Brown Bear Awards
In 1946 the Associated Alumni adopted a recommendation from the Brown Club of New York that a Brown Bear Award be given by the association to recognize "outstanding personal service rendered the University over a period of years." Each year an anonymous committee reviews nominations from alumni and staff and selects one to three recipients, following the original recommendation that "neither financial aid given the University nor achievement in the fields of business or profession" be considered. This year's recipients are:
Robert I. Kramer, M.D. '54, of Dallas, Texas. President of the Brown Club of Dallas for many years, Kramer has nurtured the organization, keeping Brown's presence alive far from campus, and remains an active consultant on all major events. For three decades he has recruited local high school students for Brown and has opened his home for holiday and send-off parties. He has served on the Corporation Committee on Medical Education, and on the Alumni Association Board of Governors.
Martha Sharp Joukowsky '58, of Providence, R.I. Joukowsky, a University trustee emerita, is well-known for the many roles she has played and continues to play in service to Brown. She is a popular professor who has made it possible for students to accompany her on international archæological digs. She has worked tirelessly on behalf of Brown in the Campaign for the Rising Generation and on all her major reunion gift campaigns. With her husband Artemis, she has opened her home to everyone, from visiting dignitaries to fellow classmates, and from students to parents.
H. Anthony Ittleson '60, of New York. A fellow of the Corporation and trustee emeritus, Ittleson personifies qualities of the best Brown volunteers - dedication, generosity, vision and commitment. He has spent the last two decades in the service of the University. The H. Anthony Ittleson '60 Award, established by the Brown Annual Fund in 1990 to honor its namesake, is now bestowed annually on volunteers who have followed his example of outstanding and energetic leadership.
Robert A. Reichley '69 (ad eundem), of Providence, R.I. Only the third non-alumnus of Brown to receive a Brown Bear Award (University Presidents Henry Wriston and Barnaby Keeney were also honored), Reichley has been at the University since 1968. He first served as editor of the Brown Alumni Monthly, then went on to found Brown's award-winning alumni relations program, and to preside over all of the University's external relations. Reichley retired in 1995 from his post as executive vice president for alumni, public affairs and external relations. In December of that year, President Gregorian appointed him Secretary of the University.
The H. Anthony Ittleson '60 Award
This award is given by the Brown Annual Fund to a volunteer or group of volunteers who best exemplify the extraordinary leadership of H. Anthony Ittleson '60, national chairperson of the Brown Annual Fund from 1986 to 1990.
This year's recipient is Timothy C. Forbes '76, of New York. As chairperson of the Brown Annual Fund, Forbes has taken annual giving to new levels. He was instrumental in developing bylaws for the Brown Annual Fund Executive Committee which have better positioned that group to serve the University as advisors and counselors. His efforts culminated in the most successful annual fund drive in the University's history, with more than 26,000 donors giving $9.8 million.
The Elwood E. Leonard Jr. '51 Distinguished Achievement Award
Named for one of Brown's most dedicated volunteers, this award was established in 1977 to honor an individual or individuals who have demonstrated exemplary leadership and rendered dedicated service to Brown's fundraising efforts over a period of many years.
This year's recipient is David E. McKinney, of Westport, Conn. McKinney, parent of three Brown graduates, has shared his time and expertise to advance Brown's academic, alumni and development programs. His work on the International Development Committee during the recent campaign enhanced the University's visibility among the media and in business and government circles. He is also a member of the Thomas J. Watson Jr. Institute for International Studies Board of Overseers and a Corporation trustee emeritus.
The John Hope Award
In 1994, the alumni association established the John Hope Award in honor of an 1894 African-American graduate of Brown, who became president of Morehouse College and dedicated his life to education and community service. This award is given to an alumnus or alumna who has shown extraordinary commitment to volunteer public service.
This year's recipient is Marcia Loebenstein McBeath '45, of Bellevue, Wash. As a Peace Corps volunteer, McBeath, a psychologist, has worked in Lesotho, Jamaica and Namibia, teaching college-level counseling and guidance skills.
The Alumni Service Awards
These awards are given annually for distinguished, continuing volunteer service to Brown. The committee considers volunteer service as the key criteria, regardless of financial contributions made to the University. This year's recipients are:
Howard D. Silverman '36, of East Greenwich, R.I.
Ruth (Tenenbaum) Silverman '36, of East Greenwich, R.I.
Ellen Shaffer Meyer '61, of Wilmington, Del.
Victoria Leung Lee '67, of Hong Kong
Carol Steadman '76, of New York
Michael A. Ursillo '78, of Lincoln, R.I.
Diana Marcus Muller '82, of Westport, Conn.
Stacy E. Palmer '82, of Washington, D.C.
The Brown Alumni Association
The Brown Alumni Association is the official, independent organization of Brown alumni, encompassing alumni of the undergraduate college, the graduate school and the Brown Medical School. The association's mission is simple: to keep alumni connected to the richness of Brown, so that they will always stay a part of the life of the University.

######
96-029