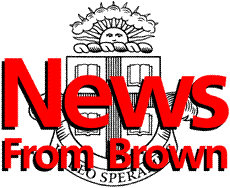 ---
The Brown University News Bureau
Contact: Mark Nickel

Campaign raises $534 million, 118% of goal
Brown celebrates success of Campaign for the Rising Generation
The Campaign for the Rising Generation has raised $534 million to reendow Brown University's library, faculty, student scholarships and academic programs. Brown will mark the conclusion of the campaign with the première of a dramatic and musical work - an outdoor festival of sound and light - Oct. 11-12.
PROVIDENCE, R.I. (October 10, 1996) -- Vartan Gregorian, 16th president of Brown University, today announced the successful completion of Brown's Campaign for the Rising Generation. The $534-million fund-raising initiative was designed to preserve and strengthen the excellent teaching and scholarship that are at the core of Brown's mission. It also has sustained several initiatives that use the University's resources to address some of the nation's most critical problems.
"A great university must have three ingredients. It must have an excellent faculty, a great library and a student body of the highest caliber," Gregorian said. "We undertook this campaign to reendow those assets, to give Brown University a solid financial footing that does justice to the excellence of its academic programs. In certain essential areas, this campaign has allowed us to accomplish in 10 years as much as we had accomplished in the last century."
Brown's academic priorities
The campaign met the University's number-one priority: to strengthen the faculty. It raised $152.6 million in support of faculty and academic programs, with an additional $54 million for new and refurbished academic facilities. In addition to endowing 27 new chairs for distinguished senior faculty, Brown created 16 endowed chairs for faculty at the assistant professor rank. These endowed assistant chairs have enhanced the University's ability to recruit the brightest new minds in all disciplines. They provide young scholars with crucial funds for research, professional travel and equipment early in their careers when they need it most.
Eight years ago, Brown celebrated the acquisition of the library's two-millionth volume. Today, with $23 million for libraries raised in the campaign, the University is planning to celebrate the acquisition of its three-millionth volume, together with expanded electronic resources that give students access to materials in research libraries throughout the world.
The campaign has enabled Brown to double its endowment for undergraduate scholarships and to add significantly to its support for graduate and medical students. This year, Brown was able to offer 225 new undergraduate scholarships and graduate fellowships, providing scholarship support to 39 percent of its undergraduates.
Brown in the nation's service
Not all of the campaign was aimed at gaining support for campus-based initiatives, however. "President Gregorian has often observed that colleges and universities have an obligation to look beyond their borders and respond to urgent national needs, especially the need to improve primary and secondary education," said Brown Chancellor A. O. Way. "The Campaign for the Rising Generation raised more than five times its original goal for supporting strategic national initiatives. I take that as strong evidence of Brown's determination to enlist its energy and expertise in service to the nation."
Among initiatives to benefit from the campaign were the Coalition of Essential Schools, one of the oldest and best-known school reform organizations in the nation; the Annenberg Institute for School Reform, established by the University in 1993; and the Leadership Alliance, another Brown-based initiative. The Leadership Alliance unites historically black colleges and universities with some of the nation's best known universities, including the Ivy League, to recruit, develop leadership and retain excellent scholarly talent from minority groups for the nation's professoriate.
"When the campaign was in the planning stages, a $450-million goal was a daunting prospect - nearly three times larger than Brown's previous campaign," said Artemis A. W. Joukowsky, vice chancellor and national campaign chair. "Its successful conclusion - raising an astounding $85 million above that original goal - is a tribute to the extraordinary effort of the Brown community, including more than 53,000 donors, record high levels of alumni giving, and participation by 73 percent of the Brown faculty. We are proud that we, who were entrusted with a challenge unlike any other in the history of our University, have, with high-spirited dedication and devotion, fulfilled our role for succeeding rising generations."
That record level of participation may be among the campaign's greatest legacies, Gregorian said. "I am delighted that this campaign has given the University more than financial support. The circle of alumni, students, faculty, parents and friends who will sustain Brown into the next century is now much larger," Gregorian said. "On behalf of the entire University community, I would like to thank Art Joukowsky, the national campaign chair, and Tony Ittleson, the executive campaign chair, and all the members of the Campaign Steering Committee for their leadership. I would also like to commend Ann Caldwell, vice president for development, her predecessor, Samuel Babbitt, and the entire staff of the Development Office for their work in bringing this most remarkable campaign to such a brilliant conclusion."
The University community will celebrate the Campaign's success Oct. 10-12, during the fall meeting of the Brown Corporation, the University's governing body. The celebration will include the première of a dramatic and musical work about the University and its history - an outdoor festival of sounds, music, projected images and laser effects to be performed at night on The College Green.
Major campaign achievements
Scholarships and financial aid. Brown set out to raise $75 million for student scholarships and financial aid endowment, including $40 million for undergraduates. The campaign raised 97 percent of that total, including nearly $49 million for undergraduate scholarships. Brown now has 225 new scholarships and graduate fellowships. The Royce Fellowship Program, created last spring, provides academic enrichment for 25 undergraduates each year by supporting individual projects of research or public service. Two other enrichment programs, Undergraduate Teaching and Research Assistantships (UTRA) and Women in Science and Engineering (WISE), also received additional support.


Newly endowed academic positions. The Brown University faculty received a dramatic increase in support. Forty-three endowed faculty positions were funded during the five-year campaign, including 27 new chairs for Brown's distinguished senior faculty and 16 endowed chairs for faculty at the assistant professor level, among the first endowed junior chairs in American higher education. Four more positions were endowed for directors, including the University librarian.


Libraries. Brown's libraries received almost $23 million in support of a variety of programs. Among the most visible and useful is JOSIAH, the library's computerized catalog, which is available from nearly all dormitories and offices on campus. The library will soon celebrate the acquisition of its three-millionth volume.


National Initiatives. Brown University is home to several well-established programs that address pressing national needs. These include nationwide reform of secondary schools and a multi-institutional collaboration to increase the representation of minorities in the nation's faculties and graduate schools. The campaign was to raise $15 million for these national initiatives; it raised $85 million, more than five times the goal.


Science Center. The University has begun site preparation for a new undergraduate science center at the corner of Thayer and George streets. The campaign raised $22 million for the new building, to be named for W. Duncan MacMillan, its principal benefactor. MacMillan Hall will open in the fall of 1998.


Growth in endowment. When the campaign began, Brown's endowment stood at $431 million. During the five-and-a-half-year course of the campaign, gifts and market appreciation built the endowment to more than $800 million. The endowment provided approximately 10 percent of the University's revenue for the last fiscal year, its third-largest source of revenue after student tuition and fees and sponsored research.


Brown Annual Fund. The Brown Annual Fund is the University's most important source of unrestricted annual revenue. The fund raised 103 percent of an ambitious five-year, $55-million goal. More importantly, by enlisting more than 26,000 graduates as donors during the final 12 months of the campaign, the fund set a new alumni participation record and earned additional challenge money for the campaign.
---
Sources of Campaign funding (in millions)
| | | |
| --- | --- | --- |
| Alumni and alumnae | $276.5 | 51.8% |
| Friends of the University | 95.5 | 17.9% |
| Foundations | 77.5 | 14.5% |
| Parents | 44.8 | 8.4% |
| Corporations | 33.7 | 6.3% |
| Faculty/Students/Other | 6.0 | 1.1% |
| Total | $534.0 | 100% |
---
Funding the University's priorities (in millions)
| | | | |
| --- | --- | --- | --- |
| Faculty and Academic Support | $175.0 | $152.6 | 87.2 |
| Student Scholarships | 75.0 | 73.0 | 97.4 |
| Brown Annual Fund | 55.0 | 56.4 | 102.5 |
| Facilities | 55.0 | 54.1 | 98.3 |
| Medical * | 40.0 | 21.8 | 54.4 |
| Libraries | 25.0 | 22.9 | 91.67 |
| National Initiatives | 15.0 | 84.9 | 566.5 |
| Athletics | 10.0 | 16.9 | 168.8 |
| Unrestricted Endowment/Other | - | 51.4 | - |
| Total | $450.0 | $534.0 | 118.67 |
*Midway through the Campaign for the Rising Generation, the University decided to undertake a separate campaign to raise support for the Brown University School of Medicine. Planning for that campaign is now under way.
---
Endowment funds raised
| | | |
| --- | --- | --- |
| Faculty and Academic Support | | $103,558,961 |
| Student Scholarships | | 63,035,242 |
| National Initiatives | | 32,173,315 |
| Libraries | | 18,029,232 |
| Medical * | | 8,410,409 |
| Athletics | | 8,135,360 |
| Facilities | | 18,250,243 |
| Unrestricted and Other | | 11,599,346 |
| Total | | $263,192,108 |
*Midway through the Campaign for the Rising Generation, the University decided to undertake a separate campaign to raise support for the Brown University School of Medicine. Planning for that campaign is now under way.

######
96-031