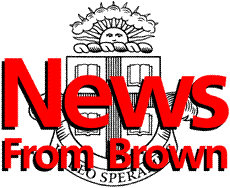 ---
The Brown University News Bureau
Contact: Richard Morin

Sunshine '69
Cyberfiction pioneer reads from the first Internet-based novel
Cyberfiction pioneer Bobby Rabyd will embark on an East Coast speaking tour. He will read from Sunshine '69, the Internet's first fully interactive novel, at electronic cafes in cities including Providence, Boston, New York and Washington, D.C.
PROVIDENCE, R.I. -- Cyberfiction pioneer Bobby Rabyd will embark on a six-week speaking tour, reading from Sunshine '69, the Internet's first interactive novel. Sunshine '69 allows the reader to explore literary virtual reality and contribute prose to an open-ended, organic tale. Rabyd will read at CyberSmith and other electronic cafes in Providence, Boston, New York and Miami throughout November and December. Additional speaking tour dates will be announced in the coming weeks.
Editors: For exacts dates and times call the News Bureau at 401/863-2476.
The Internet-based novel incorporates text, pictures and a soundtrack to create what the author calls, "a Web-based time machine." Sunshine '69 chronicles the death of the 1960s through some of the major movements of what the author dubs the "Summer of Hate." It all starts where it ended: mass murders, rock festivals, moon landing and military actions. Some of the characters are real, some imagined. In Sunshine '69, the premium LSD known as Orange Sunshine is personified in a flower child who, in the midst of making sense of what's happening to her generation, is kidnapped by the CIA and turned into a deadly double-agent. Her infiltration into counter-culture happenings from Hell's Angels' runs to the Woodstock Festival transforms the tapestry of a decade in decline.
Sunshine '69 is located at http://www.sonicnet.com/sunshine69 on the World Wide Web and may be read free of charge.
Online participants may add to the story through their own postings. Additionally, each month Rabyd uploads new chapters incorporating reader contributions. "The Web is the contemporary heir to the oral tradition," said Rabyd, an adjunct lecturer in English and modern culture and media at Brown University. "Everyone is an author and their ideas meet in a `cyberconsciousness' of writing. The reason for this `hyperformance' tour is to bring the word of techno-oral tradition straight to the people." Rabyd believes Sunshine '69 shows the power of the World Wide Web as a literary medium. "When I began writing electronic fiction five years ago, there was only a handful of collaborators with the interfaces required to use and annotate online documents. Today I get thousands of hits a week and more contributions than I can keep up with. It has become a campfire in cyberspace around which collective myths form."
Rabyd's presentations will be multimedia events that simulate a reader's interaction with Sunshine '69. With large-screen computer projection and RealAudio soundtrack amplification, the audience will be able to direct Rabyd's presentation and ultimately change the shape of the story.
Bobby Rabyd
Bobby Rabyd is the pseudonym of a visiting lecturer in English and modern culture and media at Brown University. He teaches courses about hypertext fiction and contemporary Cuba and is the publisher of the electronic magazines Albert Hofmann's Strange Mistake and Coven Pride. He plays guitar for the Indie rock band Palace, whose songwriter and singer Will Oldham collaborated on the soundtrack for Sunshine '69. Rabyd has lectured on interactive media and the future of creativity at the Sundance Film Festival, the National Writer's Conference and at universities and art schools from coast to coast.

######
96-037