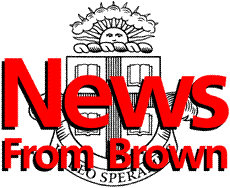 ---
The Brown University News Bureau
Contact: Tracie Sweeney

The Annenberg Challenge to the Nation
Boston school reform plan gets $10 million from Annenberg Foundation
Boston's public schools have received a five-year, $10-million grant to help implement School Supt. Thomas W. Payzant's Comprehensive Reform Plan, which targets several groups of schools in the city. The grant will be matched by several Boston foundations and businesses.
PROVIDENCE -- Brown University President Vartan Gregorian, on behalf of the Annenberg Foundation, today announced a five-year, $10-million grant to Boston public schools, the largest private grant in the history of the city's public schools. The award is part of Ambassador Walter H. Annenberg's half-billion-dollar Challenge to the Nation to reform and revitalize the nation's public schools.
The grant, which has a matching requirement of $20 million from public and private sources, will go toward Boston's Comprehensive Reform Plan. As of today, businesses and foundations that will help match the Annenberg Challenge include Bank Boston, John Hancock Financial Services, the Boston Foundation, the Charles Hayden Foundation, and Goodwin, Proctor & Hoar.
Schools receiving funds will include Boston's Pilot Schools - in-district charter schools designed to explore new approaches to education without the normal contractual and administrative constraints. Also receiving funds will be the 21st Century Schools, a group of 27 schools currently supported by the Boston Plan for Excellence, and up to 25 additional schools to be selected through a competitive process.
Each of these schools must develop new instructional approaches in the classroom to raise the level of student achievement and must develop a rigorous process of institutional evaluation. The Center for Leadership Development, a new organization created through the partnership of the Boston Teachers Union and the Boston School Committee, also will receive funds and will provide leadership training for schools involved in the reform process.
In announcing the grant, President Gregorian, a pro bono adviser to Ambassador Annenberg and coordinator of the Challenge programs and initiatives, said the Annenberg Foundation "is delighted to support Boston in its exciting new efforts to raise the level of achievement for students in its public schools. The ambassador is hopeful that the Boston project's alignment of business, educational and political leadership makes it possible for America's oldest public school system to engage in a bold transformation. This Challenge grant will help support their promising plan."
The Comprehensive Reform Plan was developed over the past year by Boston Schools Supt. Thomas W. Payzant, who took over the Boston schools a year ago. "I'm thrilled and grateful to Ambassador Annenberg for his incredible generosity. This is an exciting time to be involved in the Boston Public Schools," he said.
The grant to Boston comes nearly three months after a $2-million Annenberg Challenge grant was given to the Boston University/Chelsea Partnership. That grant supports the partnership's extensive staff development initiative, its Intergenerational Literacy Program (through which adults acquire literacy skills along with their children), and a new curriculum project in the arts.
The Annenberg Challenge
Walter H. Annenberg, editor, publisher, philanthropist and former U.S. ambassador to Great Britain, designed the Annenberg Challenge to energize and support promising efforts at school reform across the country. It is intended to challenge the nation on at least three levels:
Financial. It leverages substantial additional funds from public and private sources for school reform.


Public Policy. It promotes widespread public support for resolute and sustained investment in the lives and learning of America's children. There must be a fresh unity in American public life on the need to protect and nurture all our children. They are our future and deserve our care and investment in them.


Moral. It provokes the American conscience to attend to its youngest and most fragile citizens. A decent and generous democracy is obligated both to educate students well and to depend on the educated citizenry.
######
96-042