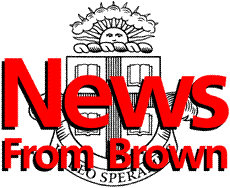 ---
The Brown University News Bureau
Contact: Mark Nickel

Cohen v. Brown
Split decision by First Circuit reverses lower court remedy in Title IX case
In a 2 to 1 decision, a three-judge panel of the U.S. Court of Appeals for the First Circuit affirms in part and reverses in part a District Court decision in Brown's Title IX athletic gender bias case. The appellate court reverses the lower court's order requiring Brown to fund four additional women's varsity teams.
PROVIDENCE, R.I. -- The U.S. Court of Appeals for the First Circuit today affirmed in part, and reversed and remanded in part, a 1995 U.S. District Court decision that had found Brown University out of compliance with Title IX regulations regarding athletics.
The First Circuit reversed a remedy ordered by the lower court that would have required Brown to provide full funding for four additional women's teams. "We were gratified to see that the First Circuit has recognized Brown's autonomy in determining its budget and in designing the scope of its athletic program," said Laura Freid, vice president for University Relations. "The court has confirmed that Brown has the right to determine which teams will receive University-funded status, as long as the plan comports with the requirements of the law."
The sharply divided court's majority opinion, written by Judge Hugh H. Bownes, said the three-judge panel was bound by an earlier First-Circuit ruling and could not reconsider the case on appeal. Refusing to reconsider the ruling of that earlier panel, the majority opinion affirmed the lower court decision. Chief Judge Juan R. Torruella disagreed, indicating that he would have reversed the District Court's decision.
"While Brown applauds the decision of the appellate court in support of our autonomy in designing our athletic program, we will continue to study the underlying finding of non-compliance," Freid said. "We remain confident that our athletic programs are administered fairly, even-handedly and in full compliance with all applicable laws. We are reviewing the First Circuit's lengthy and complex opinion and its ramifications and will consider the mechanics of continuing our appeal."
Chronology of Intercollegiate Varsity Teams at Brown
Brown was an early leader in women's sports, establishing the nation's first women's ice hockey team and undertaking a period of intense expansion when Brown and Pembroke, the undergraduate college for women, merged in 1971. By 1978, Brown's program of varsity athletics for women offered twice as many teams as most NCAA Division I schools do now.
Women's
Year
Men's
1869
Baseball
1878
Football
1879
Outdoor Track
1897
Ice Hockey
1900
Basketball
1905
Swimming
1912
Indoor Track
1921
Cross-Country
1922
Wrestling
1925
Golf1
1926
Lacrosse
1926
Soccer
1927
Tennis
1961
Crew
Ice Hockey2
1967
1971
Brown and Pembroke College Merge
Tennis
1972
Basketball
1973
Crew
1973
Field Hockey
1973
Gymnastics
1974
Squash
1974
Swimming
1974
Volleyball
1974
Water Polo
Cross Country
1975
Lacrosse
1975
Soccer
1975
Softball
1975
Outdoor Track
1978
Fencing
1980
Fencing
Indoor Track
1982
1989
Squash
Golf1
1993
Skiing
1994
Equestrian3
1996
Equestrian3

1Golf became a coed team in 1993
2Brown established the nation's first women's ice hockey team
3Equestrian, while nominally a coed team, will include mostlywomen

Participation
1995-96 Intercollegiate Athletic Rosters
University-Funded Varsity Teams
Men
Women
Baseball
26
-
Basketball
15
15
Crew*
37
54
Cross-Country
22
25
Field Hockey
-
38
Football
89
-
Gymnastics
-
13
Ice Hockey
31
20
Lacrosse
39
27
Soccer
28
23
Softball
-
18
Squash
-
13
Swimming
13
30
Tennis
10
12
Indoor Track
52
50
Outdoor Track
48
43
Volleyball
-
22
Wrestling
29
-
Subtotal (University-funded varsities)
439 (52.1%)
403 (47.9%)
Donor-Funded Varsity Teams
Fencing
26
12
Golf
9
1
Skiing
-
14
Squash
13
-
Water Polo
17
1
Total for all intercollegiate varsity teams
504 (54%)
430 (46%)
*Note: Numbers for crew are projections. Women's crew includes six women who participate on the men's crew as coxswains.
Chronology of the Title IX Case (Cohen v. Brown)
In the spring of 1991, Brown was facing a double-edged budget dilemma. Unless it took dramatic steps, the University would finish the year with a $1.6-million deficit. Worse, a problem in the University's budget virtually guaranteed that deficits would be a recurring problem. Brown needed to downsize.

President Gregorian announced an immediate moratorium on new hiring and directed that all departments throughout the University would cut their budgets to stave off the deficit. (There would be only two exceptions: The scholarship aid budget and the library acquisitions budget were exempt from cuts.)

April 29, 1991


To help produce its share of savings, the athletic department withdrew funding from four varsity teams: men's water polo and golf, women's gymnastics and volleyball. The teams continued to compete at the intercollegiate varsity level and remained eligible for post-season tournament play, but had to raise their own funds.

The cuts affected approximately 60 athletes in roughly the same male-to-female ratio as for all Brown varsity athletes at the time: 60-40. The University continued to honor existing contracts for coaches of the teams.

April 9, 1992


Approximately a year later, members of the two women's teams filed suit alleging gender discrimination in violation of Title IX, a federal law that prohibits discrimination based on gender at any educational institutions that receive federal funds. The women were represented by Trial Lawyers for Public Justice, an advocacy group in Washington, D.C.

July 15, 1992


Attorneys for the plaintiffs asked for a preliminary injunction that would require Brown to reinstate funding for the two women's teams and refrain from any further cuts in women's sports until the case could be heard on its merits. Arguments were presented before Judge Pettine between Oct. 26 and Nov. 16.

Dec. 22, 1992


Pettine granted the preliminary injunction, requiring Brown to reinstate full varsity funding and support. The University immediately sought a stay of that injunction and requested an expedited appeal.

Dec. 30, 1992


The U.S. Court of Appeals for the First Circuit granted a temporary stay; Brown did not have to reinstate funding until the appeal could be heard.

Feb. 4, 1993


Attorneys for both sides argued the appeal in Boston.

April 15, 1993


The Appeals Court upheld the lower court, the stay was lifted, and Brown restored funding for the teams in the 1993-94 season.

Sept. 26, 1994


After numerous delays at the request of plaintiffs' attorneys, the trial began in U.S. District Court in Providence before Senior Judge Raymond Pettine.

Sept. 28, 1994


Attorneys for both sides agreed to a partial settlement that recognizes Brown's treatment of men's and women's teams as nondiscriminatory with regard to locker rooms, facilities for practice and competition, schedules for games and practices, access to the weight room and trainers, equipment and supplies, travel arrangements, assignment of coaches, budgeting procedures and many other factors. Brown agreed to continue those current policies and practices for three years. Treatment issues were thereby removed from consideration in the trial, which then focused on the issue of proportionality.

Oct. 11, 1994


Plaintiffs requested and received a three-week recess to depose witnesses for the defense.

Dec. 9, 1994


Testimony concluded after 29 days in court.

Dec. 16, 1994


Final oral arguments were made by attorneys for each side.

Feb. 10, 1995


Post-trial memoranda were presented to Pettine, followed two weeks later by reply briefs from both sides.

March 29, 1995


Pettine entered his final opinion and order, finding for the plaintiffs. Brown was given 120 days to file a plan for compliance, but Pettine stayed his own order pending appeal. Brown announces its intention to appeal the case to the First Circuit Court of Appeals.

April 19, 1995


Brown filed its notice of appeal with the First Circuit Court of Appeals in Boston.

June 27, 1995


Brown filed its appeal brief with the First Circuit Court of Appeals in Boston. Three other organizations, representing more than 1,700 American colleges and universities, filed amicus curiae briefs on Brown's behalf.

July 7, 1995


While it was appealing Pettine's final opinion and order, Brown presented a required compliance plan in Pettine's court. The plan placed caps on the size of men's teams and attempted to increase female participation by establishing minimum squad sizes and creating junior-varsity squads in five existing women's sports. The First Circuit notified both parties that it would be ready to hear arguments in the case in the October session.

July 19, 1995


The First Circuit dismissed Brown's appeal. The court did not consider Pettine's ruling final because it had not delineated a remedy for the plaintiffs. The case returned to Providence pending Pettine's ruling on Brown's compliance plan.

August 18, 1995


Pettine rejected Brown's compliance plan. He ordered the University to provide full funding for three donor-funded women's varsity teams and to advance one intercollegiate club team to fully-funded varsity status.

April 1, 1996


Attorneys for Brown and the plaintiffs argued their appeals before the First Circuit in Boston.

######
96-050