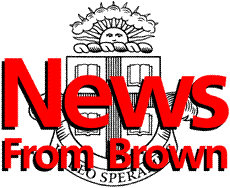 ---
The Brown University News Bureau
Contact: Linda Mahdesian

Peruvian hostage situation is complex, steeped in historic symbolism
Two Brown experts - Thomas Skidmore, director of the Center for Latin American Studies, and Maria Elena Garcia, a Peruvian graduate student in anthropology - are available for interviews about the current hostage situation in Lima, Peru.
PROVIDENCE, R.I. -- The Peruvian hostage situation is complex and potentially explosive, according to two Brown University scholars who are familiar with the political and historical backdrop.
The standoff began Tuesday, Dec. 17, at the Japanese diplomatic compound in Lima, Peru. Up to 490 hostages - businessmen, government officials and at least 11 foreign ambassadors - are being held by members of the Tupac Amaru Revolutionary Movement, known as MRTA. They are demanding the release of their fellow members from prison.
Tupac Amaru was an 18th-century Inca leader who staged a year-long and ultimately unsuccessful rebellion against the Spanish colonial powers, according to Thomas Skidmore, director of the Center for Latin American Studies at Brown. The current group has been around for at least 20 years, Skidmore said. It staged a similar hostage-taking situation in Bogota, Colombia, about 20 years ago.
The group's namesake was quartered and beheaded by the Spaniards, yet many myths and stories about his struggle and death have made him a martyr, according to Maria Elena Garcia, a graduate student in anthropology at Brown, studying education in Cuzco, a city in the highland region of Peru. Garcia is from Peru and many members of her family still live in that country. "It's scary because these terrorists are not just making empty threats... They're willing to kill themselves and everyone else along with them," she said.
Amaru is seen as a hero also because he was one of the first to lead a rebellion encompassing not just Indians, but mestizos (people of mixed ancestry) and Afro-Indians who were slaves. Garcia said the group took the name Tupac Amaru because of its symbolic power among Peruvians. "His name has become a symbol of struggle and strength of Indians and of Peruvians who are a mixture of races."
Garcia has done extensive study on the Shining Path, a rival group to Tupac Amaru. The Shining Path's ultimate goal is to dismantle the current government, Garcia said. "They see themselves as the true revolutionary movement, not Tupac Amaru." Since the capture of their leader, the Shining Path has gone underground, while the Tupac Amaru has re-emerged and solidified its organization. "People should not underestimate how well-organized they are," Garcia said.
Garcia had other observations about the group and the hostage situation:
"[The situation is] not just about this group. If it's not this group, it's going to be another group. This is about the situation in the country as a whole. The problems run very deep in the country."


"[Press accounts] tend to glorify the group and frame it in a leftist guerilla vs. a fascist government. It's more complicated than that. These concepts are not easily translated from one nation to another."
Skidmore can be reached at 401/521-2351. Garcia can be reached at 401/421-0917.

######
96-056i