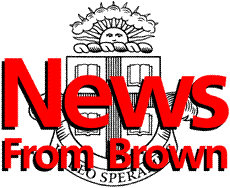 ---
The Brown University News Bureau
Contact: Richard Morin

A chronology of the Gregorian presidency, 1988 - 1997
---
1988-89
Selection of Vartan Gregorian, president and chief executive officer of the New York Public Library, as 16th president of Brown is announced (August 31)

Brown creates the Center for the Study of Race and Ethnicity in America

Brown dedicates the Thomas J. Watson Sr. Center for Information Technology (Oct. 7)

Brown rededicates Faunce House, newly refurbished and restored (Oct. 12)

Brown awards novelist Gore Vidal an honorary degree (Oct. 21)

Brown institutes a campus-wide recycling program.

Howard Swearer, Brown's outgoing president, is named the new director of the University's Institute for International Studies

Vartan Gregorian is sworn in as president (Jan. 11, 1989)

Brown hosts the Providence Journal/Brown University Public Affairs Conference on "The Changing American Family"

The Alan Shawn Feinstein World Hunger Program honors the United Nations Children's Fund, Bread for the World, and Band Aid Trust in its annual awards ceremony. (April 6)

Brown sets tuition and fees for 1989-90 at $19,380

Vartan Gregorian is inaugurated as Brown's 16th president (April 9)

Brown University adopts a two-phase plan to provide year-round on-site day care for employees' children ages 6 months to 3 years

Brown dedicates the $7.6-million Paul Bailey Pizzitola Memorial Sports Center

Brown introduces its new online library catalog, JOSIAH

Brown dedicates the University's new Richard and Edna Salomon Center (May 6)

Brown awards honorary degrees to Edmund Gordon, Theodore Hesburgh, Emmanuel de Margerie, Deborah Meier, Gary Sasse, Melvin Swig, Kenneth Thimann at its 221st Commencement (May 29)
1989-1990
Brown breaks ground on $5.375-million building project to expand the John Carter Brown Library

Gwendolyn Brooks delivers the Opening Convocation address

Carlos Salinas de Gortari, president of Mexico, receives an honorary degree and delivers an Ogden Lecture (Oct. 5)

Brown is added to the list of more than 40 schools investigated by the U.S. Justice Department for possible collusion in setting financial aid packages and tuition

The University's three-year "The Challenge Years" fund drive exceeds its $125-million goal by 5 percent overall, posting a total of $131.7 million

President Gregorian and Leroy Keith, president of Morehouse College in Atlanta, Ga., announce a new cooperative program to increase the number of minority students who pursue careers in the biological and medical sciences. Four institutions - Brown, Morehouse, Spelman College (Atlanta, Ga.) and Tougaloo College (Tougaloo, Miss.) - will operate the program jointly

Nobel Prize-winning physicist Kenneth Wilson speaks at Brown about the computer and future knowledge

Brown adds sexual orientation to its non-discrimination policy

A 75-page report by Dean Sheila Blumstein concludes that the Brown curriculum remains rigorous and flexible in its 25th year and that its fundamental principles will provide a framework for the future

Maurice Glicksman, provost since 1978, announces he will leave his position at the conclusion of the academic year

Brown hosts the 10th annual Providence Journal/Brown University Public Affairs Conference, "Our Fragile Earth: Strategies for Survival"

Alan Shawn Feinstein World Hunger Program honors the Bangladesh Rural Advancement Committee, Women's Organization of Independencia Peru, and Harvard Professor Amartya Sen (April 5)

Brown sets total costs for the 1990-91 academic year at $20,720

Rhode Island announces it will end its annual $1.6-million state appropriation for Brown's medical school

Brown dedicates the new Grimshaw-Gudewicz Medical Building (April 21)

Brown confers honorary degrees on Maurice Greenberg, Benjamin Lawson Hooks, Dr. Charles Everett Koop, Mary Douglas Leakey, Toni Morrison and Richard Lester Solomon at the University's 222nd Commencement (May 27)

Brown breaks ground on a $15.5-million, 300-bed dormitory complex
1990-91
David Roach is named athletic director

Frank Rothman is named Provost

Janet Cooper Nelson is named University Chaplain, the first woman to hold such a position in the Ivy League

James O. Freedman delivers the Opening Convocation address

Bishop Desmond Tutu gives a public address and receives an honorary degree from Brown (Sept. 26)

"Brown is Green" begins a Universitywide initiative to conserve valuable resources

Thomas J. Watson Jr., chairman emeritus of IBM, makes a personal gift of $25 million to the University, the largest single gift ever made to Brown

Brown sets total costs for the 1991-92 academic year at $21,946

Thomas Glynn, general manager of the Massachusetts Bay Transportation Authority, is named senior vice president for finance and administration

Brown hosts the Providence Journal/Brown University Public Affairs Conference, "Letting Freedom Ring: Free Expression After 200 Years" (March 7-12)

Alan Shawn Feinstein World Hunger Awards honors the people of the Iringa region of Tanzania for their success with a regional nutrition program for children. Patricia Young and Nevin Scrimshaw are also honored at the program's annual ceremony (April 4)

Supreme Court Justice Antonin Scalia speaks at Brown (April 8)

The University dedicates the new mathematics department building (April 12)

A successful Universitywide budget reduction, including a temporary moratorium on hiring, is instituted to avert $1.6-million deficit. The University finishes the year without a deficit.

Budget cuts force the athletics department to adopt donor funding for four varsity teams: men's water polo, men's golf, women's gymnastics and women's volleyball. This precipitates a Title IX lawsuit that will continue into 1997 (April 29)

President Gregorian visits Tokyo and Kyoto, meeting with Japanese academic administrators, conferring with business and communications leaders, creating and renewing ties with Japanese universities, and honoring a century-old relationship between Brown and Keio University

The City of Providence loses lawsuit and pays Brown $265,000; President Gregorian donates the money to the Providence Public Library

Ann Caldwell is named vice president for development

Eduard Shevardnadze speaks at Brown as part of the dedication for the Thomas J. Watson Jr. Institute for International Studies (May 25)

Brown confers honorary degrees on George M.C. Fisher, Linda Greenhouse, Rev. George N. Hunt, Walter Massey, Zubin Mehta, Paul Nitze, Nicanor Parra, Eduard Shevardnadze, Judith Shklar and Elaine Temkin as part of the University's 223rd Commencement (May 27)
1991-1992
The Forbes Foundation gives $2 million for the Center for Modern Culture and Media, which is renamed in honor of Malcolm Forbes

Jill Ker Conway gives the Opening Convocation address

Harvey Silverman, professor of engineering, is named dean of engineering

Mary Robinson, president of Ireland, delivers an Ogden Lecture

Roberts Kates, director of the Alan Shawn Feinstein World Hunger Program, is awarded the National Medal of Science

Brown celebrates its 100th anniversary of education for women

The Department of Athletics and Physical Education adopts the Fox Point Elementary School

Brown renames its Program in Medicine as the Brown University School of Medicine in recognition of the growth, maturity and international reputation of medical education at the University

The Thomas J. Watson Jr. Institute for International Studies and its Center for Foreign Policy Development join the Institute of Space Research (IKI) in Moscow to create an interactive video teleconferencing service for academic research and exchanges

Robin Rose is named dean of student life

Dozens of Kennedy-era senior diplomats and government officials from the United States, the Soviet Union and Cuba attend an international symposium on the Cuban Missile Crisis in Havana Jan. 8-12, 1992. The conference, which anticipates the 30th anniversary of the missile crisis (October 1962) is hosted by Cuban President Fidel Castro and co-sponsored by Brown

Boston Mayor Ray Flynn, Sen. Bill Bradley (D-NJ) and more than a dozen other distinguished speakers discuss the fate of American cities at the 12th annual Providence Journal/Brown University Public Affairs Conference, "Who Will Save the American City?"

Brown sets student fees at $23,353 for 1992-93 academic year

Lord Annan, one of Britain's leading intellectual and academic figures, inaugurates a new series of presentations by internationally distinguished writers, scholars and artists. The President's Lecture Series, created by President Gregorian, will address a broad array of topics during the academic year

Academy Award winner Audrey Hepburn delivers the keynote address for the Alan Shawn Feinstein World Hunger Awards and serves as honorary chair. James Ingram, executive director of the World Food Programme based in Rome, the Developing Countries Farm Radio Network, based in Toronto, and CORDES (Foundation for Cooperation Between Displaced People of El Salvador), on behalf of the repatriation effort of villagers in El Salvador, are honored (April)

Brown expands its efforts to locate promising young minority students as early as their middle school years and attract them to its School of Medicine, under a grant from the W.K. Kellogg Foundation

Levi Adams is named vice president for governmental and community affairs

Brown University's Center for Public Service is renamed for the late Howard R. Swearer, 15th president of Brown University (1977-88)

Brown launches $450-million fund-raising effort, the Campaign for the Rising Generation.

253 students take over University Hall during a day-long financial aid protest and are arrested. President Gregorian successfully petitions the court to avoid giving any of the students a permanent record. The students subsequently apologize to University Hall staff members

Johnnetta B. Cole, Dr. James P. Comer, Kathryn S. Fuller, Marie J. Langlois, Joan W. Scott, Rosemary Pierrel Sorrentino and the Hon. Joseph R. Weisberger are given honorary degrees at Brown's 224th Commencement

President Gregorian informs more than 15,000 faculty, students, parents and alumni that the 14-year-old Lamphere consent decree which controlled the University's hiring and promotion decisions has been vacated by the court
1992-93
Dr. Donald Marsh is named dean of the School of Medicine

Portuguese and Brazilian studies receives departmental status

David McCullough delivers the Opening Convocation address

President Gregorian creates an ad hoc Committee to examine the University's procedures and policies involving financial aid

President Gregorian creates a committee to hear the concerns of campus police and security officers for their safety and that of the campus (Nov. 4)

President Gregorian announces that campus police officers will not be armed

The Public Opinion Laboratory is renamed in honor of John Hazen White Sr.

U.S. District Court Judge Raymond J. Pettine issues a preliminary injunction which orders Brown to immediately restore women's volleyball and gymnastics to their former status as fully-funded varsity sports (Dec. 22)

Gregorian appoints and leads an ad hoc committee in examining why its football team is not competitive in the Ivy League

Admiral William J. Crowe Jr., head of President Clinton's Foreign Intelligence Advisory Board and former chairman of the Joint Chiefs of Staff, delivers the fourth memorial lecture of the Anne S.K. Brown Military Collection. (February 5)

Mary Eugenia Charles, prime minister of the Commonwealth of Dominica, delivers a Stephen Ogden Lecture (Feb. 10)

Brown sets lowest tuition and fees increase in 25 years. The 1993-94 total is $24,618

The Desegregation Assistance Center is established at Brown through a three-year $2-million grant

Brown hosts the 13th Providence Journal/Brown University Public Affairs Conference, "Race in America: The Search for Common Ground" (March 2-11)

The National Science Foundation awards $3.8 million to Brown, Hampshire College and the Coalition of Essential Schools for a four-year project to help high school teachers integrate math and science classes

The Alan Shawn Feinstein World Hunger Awards are presented to Haiti's Mouveman Peyizan Papaye, Long Ping Yuan of the Hunan Hybrid Rice Research Center and the International Committee of the Red Cross. Ted Koppel delivers the keynote address

Boris Biancheri, the Italian ambassador to the United States, delivers a Stephen Ogden Lecture (May 29)

Brown confers honorary degrees on Willard Butcher, William Gray III, Audrey Hepburn, Peter Lax, W. Duncan MacMillan, Dr. Nafis Sadik, Lila Sapinsley, R.E. "Ted" Turner at its 225th Commencement (May 31)

Morley Safer, co-editor of the CBS news magazine 60 Minutes, receives the University's first Welles Hangen Award for Superior Achievement in Journalism (May 29)

Donald Reaves is named senior vice president for finance and administration
1993-94
Kathryn T. Spoehr is named dean of the Graduate School and research

Richard Levin, president of Yale, delivers Opening Convocation address

Stanley Elkin delivers the year's first President's Lecture

George Morgan, professor emeritus, is named the first Gilbane Presidential Fellow

Brown celebrates the dedication of the Catherine Bryan Dill Center for the Performing Arts (Oct. 17-18)

Brown announces the formation of the National Institute for School Reform

Brown inaugurates the John Rowe Workman Distinguished Professorship of Classics with lectures by Professors Kurt Raaflaub and David Konstan

The Center for Alcohol and Addiction Studies receives a $3.4-million grant to establish a regional center to train counselors, nurses, social workers and physicians who deal with drug and alcohol addiction

Brown becomes one of the first schools to participate in the Federal Direct Student Loan Program

In a White House ceremony, President Bill Clinton announces the largest single gift ever made to American public education: a half-billion-dollar, five-year challenge to the nation by Walter H. Annenberg. The National Institute for School Reform at Brown University, is renamed as the Annenberg Institute for School Reform and receives a $50-million endowment to continue and expand its school-level work with thousands of students, teachers, schools and school systems nationwide.

University archivist Martha Mitchell releases her new book, Encyclopedia Brunonia

Sociologist Fatima Mernissi delivers President's Lecture

Michael Zantovsky, Czechoslovakian ambassador to the United States, delivers a Stephen Ogden lecture (December 7)

Ted Turner gives $25 million to Brown

Former NBC anchor John Chancellor receives the second Welles Hangen Award for distinguished achievement in journalism

NASA installs a video teleconferencing node, making Brown a member site in its nationwide network

Brown helps establish RINet to provide Internet connections for all schools in the state

Brown presents the 14th annual Providence Journal/Brown University Public Affairs Conference, "Growing Old in America"

Sir Crispin Tickell lectures at Brown (March 18)

E.L. Doctorow, Calvin Trillin, David Levering Lewis, Leslie Gelb, Anna Quindlen and Jamaica Kincaid give lectures as part of the President's Lecture Series

Women's basketball team wins the Ivy League title and receives its first bid to the NCAA championship

Brown recreates the Campus Dance in New York City's Grand Central Station, raising more than $2 million in commitments for scholarship

The World Hunger Awards are presented to COLUFIFA, Child in Need Institute and Carlos Ocha (April 14)

Brown celebrates its first faculty appreciation day

President Gregorian presents the first President's Medal to Carl Haffenreffer.

Thomas Biersteker is named the Howard R. Swearer Director of the Thomas J. Watson Jr. Institute for International Studies

Brown ends restrictions on South African investments

Brown and a coalition of nine other nonprofit colleges and hospitals in Providence announce an unprecedented plan to provide assistance to the city

During the University's 226th Commencement ceremonies, Brown awards honorary degrees to Marian Wright Edelman, Bronislaw Geremek, Nak-chung Paik, Walter Annenberg, Leonore Annenberg, Nancy Buc, Masura Ibuka, Robert MacPherson, Matthew D. Scharff and Joy Ungerleider-Mayerson

Brown family announces it will give the Nightingale-Brown House, an endowment and a portion of the Brown family archives to the University

Brown establishes a unique off-campus degree program for employees of Pfizer Inc. in Groton, Conn.

Brown reorganizes its Office of Student Financial Services; Anthony Canchola-Flores is named director
1995-1996
Kenneth S. Sacks, professor of history, classics and integrated liberal studies at the University of Wisconsin-Madison, joins Brown as the new dean of the College, succeeding Sheila Blumstein

Modern Culture and Media becomes a department

Summer construction work includes $17 million in renovations to Andrews Hall, Rhode Island Hall, University Hall and Wriston Quadrangle

University submits a court-ordered plan to achieve gender proportionality among athletes as determined by the U.S. District Court in Providence

James R. Pomerantz, the Elma W. Schneider Professor of Psychology and dean of social sciences at Rice University in Houston, is named Brown's provost, succeeding Frank Rothman

Brown acquires a $1.7-million IBM SP2 parallel supercomputer, making the University one of the few non-federal sites in the nation with the capacity for large-system computing. In October, a grant from IBM enables Brown to connect the supercomputer to five historically black colleges

The physics department acquires two CRAY Research supercomputers, the first such systems installed in a university physics department in the United States

Citing Brown's consistent trend of balanced budgets, highly selective admissions, strong matriculation rates and favorable student body quality, Moody's Investors Services raises the University's credit rating from Aa to Aa1

U.S. District Court Senior Judge Raymond Pettine rejects the Title IX compliance plan Brown filed in July

Brown agrees to buy the gold-domed Old Stone Bank building and adjacent Benoni Cooke House in downtown Providence as the future home for the Haffenreffer Museum of Anthropology, currently in Bristol

Education Professor Fayneese Miller is named director of Brown's Center for the Study of Race and Ethnicity in America

Returning students receive Brown Cards, a new type of computerized identification. Faculty and staff receive Brown Cards several months later

A new prayer space opens for Muslims on campus in Morriss-Champlin Hall.

Nobel laureate Elie Wiesel speaks on "The Passion of Learning" at the 232nd Opening Convocation

Brown expands its Starr Fellowships program, which offers stipends to students who have shown outstanding commitment to community service, to match federal stipends for national service

Author Gay Talese reads from his works at a special Parents Weekend event

The Carnegie Foundation for the Advancement of Teaching selects Dietrich Neumann, assistant professor of Art and Architecture, as the 1995 Rhode Island Professor of the Year

Robert A. Reichley, executive vice president for alumni, public affairs and external relations, retires Dec. 31

Brown's graduate playwriting program and the Trinity Repertory Company unite to create the Providence Playwriting Program, funded by a $150,000 grant from the Harold and Mimi Steinberg Charitable Trust

Professor Andries Van Dam is named the director of the National Science Foundation/Advanced Research Projects Agency Graphics and Visualization Center, a consortium of research groups from five universities

Poet John Ashbery delivers the year's first President's Lecture

Martin Indyk, the U.S. ambassador to Israel, discusses the Middle East peace process

Dr. Nedzib Sacirbey, ambassador-at-large for the Republic of Bosni-Herzegovina, discusses the Balkan peace talks

Biographer Nancy Milford and authors Wilma Mankiller and Cornel West speak as part of the President's Lecture Series

The David Winton Bell Gallery presents "Film Architecture: Set Designs from Metropolis to Blade Runner," an internationally acclaimed exhibit curated by Dietrich Neumann, assistant professor of the history of art and architecture

A $24.3-million, five-year contract from the U.S. Department of Education establishes a laboratory at Brown to promote education reform in New England, New York, Puerto Rico and the Virgin Islands

Brown files its brief with the First Circuit Court of Appeals in Boston, seeking a reversal of the lower court finding that Brown was in violation of Title IX provisions

David Dinkins, former mayor of New York City, delivers the annual Martin Luther King Jr. Lecture

Following a three-month study of the Development and University Relations offices, President Gregorian announces the creation of a vice presidency of alumni relations

Novelist Edmund White delivers a President's Lecture

Biographer and historian Doris Kearns Goodwin delivers the keynote address of the 16th annual Providence Journal/Brown University Public Affairs Conference, "Democracy in America: Does it Still Work?"

Robert McNamara, the Vietnam-era U.S. secretary of defense, delivers an Ogden lecture titled "A Vision of Global Security in the 21st Century"

The Corporation approves the lowest percentage increases in student charges since the 1970s. Undergraduate expenses are set at $28,658

The Freedom to Write Conference hosts dissident and exiled writers from throughout the world, along with representatives of human rights organizations. Among the participants are Salman Rushdie (by remote video conference) and Carlos Fuentes

Ninety-seven percent of the goals set forth in the University's strategic plan, "Looking Toward the Year 2000," were accomplished, according to a study released by Brian L. Hawkins, vice president for academic planning

The President's Lecture series continues with talks by John Guare, Hedrick Smith, Eric Rouleau and Francine du Plessix Gray

Internationally renowned legal scholar and philosopher Ronald Dworkin, professor of law at the NYU Law School and Oxford University, delivers a Meiklejohn Lecture titled "An Ethics for Democracy"

A $3-million gift from alumnus Charles Royce '61 creates the Royce Fellows Program, which celebrates exceptional academic performance, creativity, leadership and community service by undergraduates. In May, the first 25 Royce Fellows are announced

The University announces the $1-million Richard B. Salomon Research Awards. The awards allow senior and junior faculty members with proven track records in one area of research to expand their inquiries into new and bold areas

Author Tom Wolfe concludes the year's President's Lecture series

Prof. James Head III, the Louis and Elizabeth Scherck Distinguished Professor of Geological Sciences, is the keynote speaker at the annual faculty honors convocation

Attorneys for the University present the University's appeal of its Title IX case before the First Circuit Court of Appeals. Meanwhile, the participation level of female athletes at Brown continues to rise, reaffirming Brown's historic role as a national leader in intercollegiate sports for women

The Alan Shawn Feinstein World Hunger Program celebrates a decade of achievement at its annual World Hunger Awards. Award winners are Gram Vikas, Jose Elias-Sanchez, and Dr. Cutberto Garza. During the ceremony President Gregorian presents a President's Medal to Alan Shawn Feinstein for whom the program is named

Fayneese Miller, associate professor of education and director of the Center for the Study of Race and Ethnicity, is named coordinator of a new ethnic studies concentration

The Aga Khan, leader of the Ismaili Muslims, is the first Muslim to present a baccalaureate address at Brown

At Brown's 227th Commencement, honorary degrees are presented to the Aga Khan, Mary Chapin Carpenter, Edward D. Eddy, Timothy Forbes, Agnes Gund, Arthur Mitchell, Sandra Day O'Connor, Itzhak Perlman and James Wolfensohn

The University honors its 20th-century war dead during special Commencement Week events and announces plans for a new memorial

The University announces it will implement a new strategic plan to restructure the School of Medicine and Program in Biology

President Gregorian awards a President's Medal to Theodore Sizer, who retires as University Professor and professor of education

Work begins on MacMillan Hall, the new undergraduate sciences center set to open in the 1998-99 academic year

Kathryn T. Spoehr, dean of the Graduate School and research, is named the new dean of the faculty, succeeding Bryan E. Shepp

The School of Medicine and Memorial Hospital announce the establishment of a Brown University Center for Primary Care

The women's varsity eight crew wins rowing's triple crown - the Eastern Sprints, the Intercollegiate Rowing Association championships and the national collegiate rowing title. They are the first Brown women's crew to do so

The Campaign for the Rising Generation concludes, having raised $534 million

Brown renovates several campus buildings including Wilbour Hall, Wriston Quad and 29 Manning

Peder Estrup, professor of chemistry, is named dean of the Graduate School and research

Laura Fried, a senior communications officer at Harvard University, is named vice president for University Relations
1996-97
The University begins its second strategic planning process

The largest class in 30 years enters Brown. The Class of 2000 is 1,482 strong

Nobel laureate Joshua Lederberg gives the Opening Convocation address

The School of Medicine announces the MD2000 curriculum. To graduate from Brown, in addition to standard curriculum students must now demonstrate they possess nine key abilities, ranging from communication skills to moral reasoning to problem solving

Brown publishes the Community Partnership Directory, which describes more than 240 Brown-affiliated public service efforts

Brown celebrates the end of its capital campaign with a sound and light show on The College Green

Carolyn Dean, associate professor of history, is named R.I. Professor of the Year by the Carnegie Foundation for the Advancement of Teaching

In a split decision, the First Circuit Court of Appeals overturns a lower court order that had required Brown to fully fund four varsity teams. The court upholds the lower court's ruling in the case. The University continues to consider its appeal options.
######
96-060d

Related documents available from the News Bureau:

96-060 -- News release on President Gregorian's appointment
96-060a -- Biographical information about President Gregorian
96-060b -- Accomplishments of the Gregorian administration
96-060c -- Statement by Brown Chancellor Alva O. Way