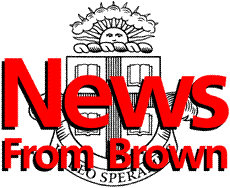 ---
The Brown University News Bureau
Contact: Linda Mahdesian

Preview concerts to feature talented `stand-ins' for Perlmans Jan. 24-25
The Brown University Orchestra will present two preview concerts for the upcoming benefit concert featuring Itzhak and Navah Perlman. The preview concerts, at 8 p.m. on Friday, Jan. 24, and Saturday, Jan. 25, will feature 13-year-old pianist Bettina Wong and Charleston String Quartet violinist Charles Sherba.
PROVIDENCE, R.I. -- The Jan. 29 benefit concert featuring Itzhak and Navah Perlman and the Brown University Orchestra is sold out, but music lovers in Providence will have two chances to hear the music. Paul Phillips, conductor, has decided to open two dress rehearsals to the general public. Standing in for the Perlmans will be 13-year-old pianist Bettina Wong and Charleston String Quartet violinist Charles Sherba.
The two preview concerts will be presented at 8 p.m. Friday, Jan. 24, and at 8 p.m. Saturday, Jan. 25, in Sayles Hall. Tickets, available at the door, are $2 with a Brown I.D.; $4 without. Doors will open at 7 p.m. on both nights.
The Brown Orchestra will open the concert with Dvorak's "Carnival" Overture. Wong will then perform Beethoven's Piano Concerto No. 1 in C Major. Following intermission, Sherba will perform Tchaikovsky's Violin Concerto in D major.
Tickets for the Jan. 29 concert went on sale Sept. 16, and were sold out within eight days. Proceeds will benefit the music performance program at Brown. Concert organizers expect to raise $100,000. Corporate sponsors include CVS Stores, Harvard Health and Blue Cross/Blue Shield of Rhode Island, among others.
Bettina Wong
Bettina Wong, an eighth-grade honor student at the Berwick Academy in Maine, performed the Beethoven concerto last November in Leominster, Mass., as part of Symphony Pro Musica's 14th concert series season opener. A piano student of Jean Stackhouse, Wong attends the New England Conservatory (NEC) Preparatory School in Boston for her music education. "Her command of the music was prodigious; she made the small Knabe grand piano sing as it has seldom, if ever, done before," wrote the Sentinel & Enterprise of Wong's performance with the Symphony Pro Musica. The reviewer added, "She understood the music, played it beautifully, and was an inspiration to everyone in the audience."
Wong began her piano lessons at age 7 and has also studied violin. A first-place winner at the Connecticut Young Artists' Competition Junior Division in 1993, she also performed as a competition winner with the NEC Preparatory String Orchestra in June 1994. In the fall of that year she was a featured artist in the Boston Chinese Culture Institute Concert Series.
Wong performed at the Gardner Museum and as part of the Jordan Hall reopening concerts in the fall of 1995. She was a first-place winner in the New Hampshire Granite State Solo Competition in the spring of 1996, as well as performing with the Youth Repertory Orchestra as a first-place NEC concerto competition winner. She was a performer at the Berkshire Institute for Theology and the Arts in the summer of 1996.
Charles Sherba and the Charleston String Quartet
Violinist Charles Sherba, a member of the Charleston String Quartet, Brown University's quartet-in-residence, has been with the group since its founding in 1983. The quartet affiliated with the University in 1985. The following year the group made its European debut in Paris. Since its founding, the quartet has performed more than 400 concerts throughout the United States, including the Aspen and Grand Teton music festivals, and has received widespread acclaim for its spirited performances of string quartet repertoire. The quartet has received two full residency grants from Chamber Music America and was awarded the Chairman's Grant by the National Endowment for the Arts.

######
96-062