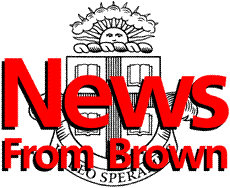 ---
The Brown University News Bureau
Contact: Linda Mahdesian

Creativity at play
Steinberg Festival of Plays to take the stage at Trinity Jan. 30-Feb. 9
The 1997 Steinberg Festival of New Plays, Jan. 30 through Feb. 9, will feature eight plays performed on the downstairs stage at Trinity Repertory Theatre. The festival is part of The Providence New Play Festival at Trinity, which runs through May 11.
PROVIDENCE, R.I. -- The Graduate Playwriting Workshop at Brown University will present eight new dramatic works during the 1997 Steinberg Festival of New Plays, Jan. 30 through Feb. 2. This year, the festival will move to the downstairs stage at Trinity Repertory Theatre, where the plays will be produced by Trinity directors, with actors from the Trinity Conservatory, Brown University and the Providence community. The Graduate Playwriting Workshop and Trinity Repertory are in the second year of a three-year pilot partnership to develop new plays by Brown playwrights, funded by a grant from the Harold and Mimi Steinberg Foundation.
This year the Steinberg Festival of New Plays will be part of The Providence New Plays Festival, Trinity Repertory Company's inaugural presentation of the most original, provocative work in American theater. The Providence New Plays Festival will run from Jan. 30 through May 11, and will include two world premières, "The Mineola Twins" by Paula Vogel (Feb. 28 - March 23) and "Ambition Facing West" by Anthony Clarvoe (April 18 - May 11). Additional festival events will give patrons a closer view of the playwriting process and the world of American theater. For more details about The Providence New Plays Festival, call Ellen Carr at Trinity Rep, 401/521-1100.
Performance days and times for the Steinberg Festival are Thursday through Saturday at 7 p.m., Sunday at 3 p.m., Jan. 30 through Feb. 9. Tickets for these performances are $5, available on a first-come, first-served basis on the day of performance at Trinity Repertory Company, 201 Washington St., in downtown Providence. A Festival Pass is available now, which includes admission to both Trinity Rep plays, two Steinberg Festival plays, and all special festival events. Festival Pass prices are $45; $34 for students; $20 for students with Brown I.D. Single tickets for The Providence New Play Festival are also on sale now and range from $24 to $32 with student, senior citizen, disabled and group rates available.
Paula Vogel, artistic director of the Steinberg Festival, and Oskar Eustis, artistic director of Trinity Repertory, discussed this new phase of their collaboration. "Last year we had Trinity work with the Brown graduate students in Russell Lab [on the Brown campus]," said Eustis. "That was such a success that this year we're doing it at Trinity, in the downstairs theater, with 300 seats. The cast will be a mix of Brown students, Trinity Conservatory students and local community."
Auditions were held Dec. 7 - 8 on the Brown campus. "We saw 212 people in two days, and filled 65 roles," said Vogel. "Throw in the designers, the technical people, directors, stage managers, assistant directors, and playwrights - it's a very full house. And these are just workshops. We only have two weeks to rehearse each one."
Seven of the eight playwrights are students in the University's Graduate Playwriting Workshop, a two-year program leading to a Master of Fine Arts. One of the playwrights, Sarah Ruhl, is a senior at Brown and this will be her first production. Most of the other writers have had plays produced before. "For those who haven't been produced before, I've seen the miracle happen," said Vogel. "After 12 years of teaching, I've seen the transformation from a student into a playwright. The audiences embrace the new work, and they tend to root for the writer. In this day and age, writing a new play is a miracle."
1997 Steinberg Festival of New Plays
Thursday nights, Jan. 30 and Feb. 6:
1. "Death of a Ho" by Jake-ann Jones, directed by Mark Lerman. In the first act of a disturbing and perceptive play, playwright Jones examines race, fashion and a dynamic between photographer and subject that the camera does not capture. [For adult audiences]
2. "Birth of a Moon" by Suzanne Maynard, directed by Ronn Smith. In the year 2030, the world has been divided between thinkers and workers. In this futuristic morality tale, a woman worker discovers the possibility of renewal that existed in the 20th century.
Friday nights, Jan. 31 and Feb. 7:
1. "Lunatic Grace" by Elana Greenfield, directed by Brian McEleny. A playful, enigmatic journey in a foreign land with immigrants who can only wrestle with the boundaries of language and a bridge that has disappeared.
2. "The Bride Who Became Frightened When She Saw Life Open" by Alva Rogers, directed by Ed Shea. At times a reverie, at times a ritual, at times a joyous celebration, this choral work was inspired by the life and work of painter Frida Kahlo.
Saturday nights, Feb. 1 and 8:
1. "Mall" by Alice Tuan, directed by Cydney Erickson-Feinstein. Playwright Alice Tuan juxtaposes Christmas shopping with philosophies about the meaning of life in a mall in the late 20th century.
2. "Passion Play" by Sarah Ruhl, directed by Peter Dubois. Set in a small village in 1575, this darkly comic work examines faith, sin and the petty rivalry of villagers all longing to be cast as Christ or the Virgin Mary in the town's annual passion play.
Sunday afternoons, Feb. 2 and 9:
1. "Briar Rose" by Gina Gionfriddo, directed by Neal Baron. Playwright Gionfriddo creates a comic playworld that explores the underbelly of a modern-day Sleeping Beauty, and flips the Disney gloss to reveal the Brothers Grimm.
2. "The Leavetaker" by Edward Bok Lee, directed by Telia Anderson. Memory and betrayal are woven motifs in this new work which centers on a man who has left a corrupt Korea but whose compromises in America create neither home nor harbor for his family.
Paula Vogel
Paula Vogel won a 1992 Obie Award for Best New American Play for "The Baltimore Waltz," and her plays have been produced throughout the United States and abroad. A member of New Dramatists, she has received grants and awards from the Pew Charitable Trust, the Guggenheim Foundation, the Rockefeller Foundation and the National Endowment for the Arts, among others. She has directed the graduate playwriting program at Brown for the last 10 years.

######
96-065