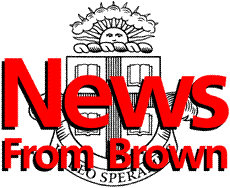 ---
The Brown University News Bureau
Contact: Linda Mahdesian

Daughter of democracy
Prime minister of Bangladesh to deliver Ogden Lecture Feb. 7
Prime Minister Sheikh Hasina of Bangladesh will give a Stephen A. Ogden Jr. Memorial Lecture at noon Friday, Feb. 7, in Sayles Hall. Sheikh Hasina is the daughter of Bangladesh's slain independence leader, Sheikh Mujibur Rahman, who was killed in a military coup in 1975.
PROVIDENCE, R.I. -- Sheikh Hasina, prime minister of Bangladesh, will give a Stephen A. Ogden Jr. Memorial Lecture at noon Friday, Feb. 7, in Sayles Hall. Her speech is titled "Democratic Consolidation and Development." This event is free and open to the public.
Sheikh Hasina was sworn in as the 10th prime minister of Bangladesh on June 23, 1996, 21 years after her party - the Awami League - was ousted by a military coup. Sheikh Hasina's father and leader of the Awami League, Bangabandhu (Friend of Bangladesh) Sheikh Mujibur Rahman, was assassinated during that coup Aug. 15, 1975. Now, after 21 years of oppression, widespread corruption and overt and covert martial law, democracy has been restored.
Like Indira Gandhi and Benazir Bhutto, Sheikh Hasina is the daughter of a former statesman. Born Sept. 28, 1947, at the Tungipara village in northern Bangladesh (formerly East Pakistan), Sheikh Hasina graduated from Dhaka University in 1973. She gained her early political experience as an assistant to her father, who led Bangladesh to independence in 1971, and is called the founding father of the country. Sheikh Hasina was imprisoned with her family during the War of Liberation in 1971. During the coup in 1975, her father, mother, three brothers and several other relatives were gunned down. Sheikh Hasina and her sister, Sheikh Rehana, were in West Germany at the time.
The two sisters remained in self-imposed exile in West Germany and other countries until 1981. When she returned home, Sheikh Hasina became leader of the Awami League and reshaped it into a major political force. She was arrested several times during the rule of Hossain Ershad, a former general who seized power in a bloodless coup in March 1982.
In 1983 Sheikh Hasina became a prominent leader of a 15-party opposition alliance that challenged Ershad's military rule. In the face of persistent pressure, the military rulers decided to hold a general election in 1986. The Awami League won 104 seats in the election and Sheikh Hasina became leader of the opposition in the parliament.
Despite pressure from colleagues to boycott parliament, Sheikh Hasina used her position in parliament as a platform to challenge Ershad. When Ershad dissolved parliament on Dec. 6, 1987, she mobilized the opposition again, demanding free elections and Ershad's resignation. She lent her popularity to strengthen a campaign that toppled Ershad in 1990.
Free elections held after Ershad's fall were won by Begum Khaleda Zia, widow of another assassinated president. Sheikh Hasina remained leader of the opposition. Alleging electoral improprieties in a by-election (i.e., election of single seats in parliament), she led opposition legislators in a mass resignation from parliament in December 1994. She later spearheaded a series of strikes and transport blockades which led to new elections.
The election of 1996 paved the way for the Awami League's return to power. Sheikh Hasina's Awami League won the largest number of seats in parliament. "I have taken a vow to transform this country into a politically stable one," Sheikh Hasina has said. "Deep in my heart, I believe that economic development that changes people's fate can come only through political stability. My political aim is to ensure the people's right to ballot and bread."
The Ogden Lecture Series
The Ogden Lectureship is named for Stephen A. Ogden Jr., a member of the Brown Class of 1960 who died in 1963 of injuries from an automobile accident. Ogden had planned a career in foreign service.

Sheikh Hasina will join a long list of foreign government leaders to visit Brown through the Ogden Lectureship series. Her predecessors include President Valery Giscard d'Estaing of France, Prime Minister Bettino Craxi of Italy, King Hussein of Jordan, President Mário Soares of Portugal, President Carlos Salinas de Gortari of Mexico, President Mary Robinson of Ireland, and Prime Minister Mary Eugenia Charles of Dominica.

######
96-068