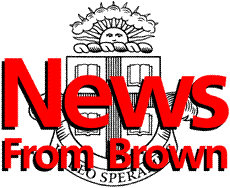 ---
The Brown University News Bureau
Contact: Tracie Sweeney

Riley cancels due to schedule conflict
Changes announced in Feb. 3 Pell tribute and policy seminar
Because of a scheduling conflict, U.S. Secretary of Education Richard Riley is unable to address the education policy seminar at Brown University Monday, Feb. 3. Speaking in his place will be Gerald N. Tirozzi, assistant secretary for elementary and secondary education in the U.S. Department of Education. (See also original release, 96-070.)
PROVIDENCE, R.I. -- A last-minute scheduling conflict has forced U.S. Secretary of Education Richard Riley to cancel his Monday, Feb. 3, keynote address at an education policy seminar sponsored by the Northeast and Islands Regional Educational Laboratory at Brown University. Instead, Gerald N. Tirozzi, assistant secretary for elementary and secondary education in the U.S. Department of Education, will discuss the Clinton administration's education policy agenda.
Sen. Jack Reed (D-RI), who has played key roles in Washington in the formation of national education policy, will discuss the Congressional outlook for education, followed by a panel of educators from New England who will offer a local and regional perspective.
Riley's cancellation is the only change to the event, which begins at 4 p.m. in Sayles Hall and includes a tribute from schoolchildren to retired U.S. Sen. Claiborne Pell. The event is free and open to the public.
Policy Seminar Schedule
4-5 p.m. -- Gerald N. Tirozzi, assistant secretary for elementary and secondary education in the U.S. Department of Education, and Sen. Jack Reed (D-RI)


5-5:30 p.m. -- Respondent panel (See News Bureau release 96-070 for list of panelists)


5:30-6 p.m. -- Tribute and presentation to retired U.S. Sen. Claiborne Pell; presentation of art and essays from Rhode Island schoolchildren
######
96-070a