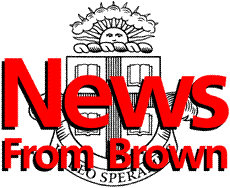 ---
The Brown University News Bureau
Contact: Tracie Sweeney

Brown University tuition will rise 4.6 percent for 1997-98 to $22,592
Tuition for an undergraduate at Brown next year will be $22,592, a 4.6-percent increase. An advisory committee had proposed a 4.7-percent tuition hike, but President Vartan Gregorian recommended that the University Corporation approve the lower figure. Total charges will rise 4.3 percent, from $28,658 to $29,900.
PROVIDENCE, R.I. -- The Corporation of Brown University today approved a 4.6-percent increase in tuition for academic year 1997-98, from $21,592 to $22,592. The total cost of an undergraduate year at Brown, including tuition, room, board and student fees, will rise 4.3 percent, from $28,658 to $29,900.
Editors: A 10-year history of tuition and fees is included at the end of this release.
The Advisory Committee on University Planning (ACUP), a panel of students, faculty and staff that reviews the University's spending and revenue options, had recommended that President Vartan Gregorian seek a tuition increase of 4.7 percent. But for the fifth consecutive year, Gregorian recommended a lower figure to the Corporation, the University's governing body.
ACUP also recommended a 4.0-percent increase in the University's proposed budget growth for the coming academic year, a recommendation with which Gregorian concurred. The Corporation will vote on Gregorian's recommendation at its May meeting. If approved, it would be the seventh straight year in which the University's budget has grown by less than 5 percent.
Tuition was a central focus of ACUP discussions this year, said Provost James R. Pomerantz, chair of ACUP. "Brown and its peer institutions face a daunting challenge from students and their families - continue to provide an outstanding education with an increasing array of services and programs, yet maintain the lowest level of tuition increases possible," he wrote in ACUP's report to Gregorian and the Corporation.
The budget presented by ACUP is in many respects similar to last year's. Charting a steady financial course is increasingly important as Brown plots its future through a strategic planning process that began last summer, Pomerantz wrote. "Balancing the demands of students and their families for greater services and lower tuition increases also factors into the steady-state model which Brown is currently pursuing."
Next year's increase in total charges will trigger a proportional increase in the scholarship budget. For more than a decade, student aid has been one of the fastest-growing items in Brown's budget. Brown's scholarship budget for graduate and undergraduate students will total $33.2 million next year, up from $31.6 million this year. The undergraduate scholarship budget will rise 5.3 percent to $25.3 million. More than a third of Brown's undergraduates receive scholarship aid.
Tuition accounts for nearly 80 percent of the University's unrestricted funds and is one of two elements that determine the University's revenue expectations. The other - the draw on endowment - also was set at today's Corporation meeting. The Corporation approved lowering the endowment draw by a tenth of a point to 4.9 percent of the applicable market value. Reducing the draw, which the Corporation has done annually since fiscal year 1993, helps the University preserve and enhance the value of its endowment, currently valued at more than $850 million. The endowment now contributes more than 10 percent of the University's total revenues, compared with only 7.5 percent a decade ago.
A 10-Year History of Undergraduate Tuition and Fees
| | | | | | | | | | | |
| --- | --- | --- | --- | --- | --- | --- | --- | --- | --- | --- |
| 1988/89 | $13,375 | 6.9% | $2,509 | 5.4% | $1,780 | 5.0% | $384 | 4.9% | $18,048 | 6.5% |
| 1989/90 | $14,375 | 7.5% | $2,670 | 6.4% | $1,920 | 7.9% | $415 | 8.1% | $19,380 | 7.4% |
| 1990/91 | $15,295 | 6.4% | $2,920 | 9.4% | $2,060 | 7.3% | $445 | 7.2% | $20,720 | 6.9% |
| 1991/92 | $16,256 | 6.3% | $3,051 | 4.5% | $2,168 | 5.2% | $471 | 5.8% | $21,946 | 5.9% |
| 1992/93 | $17,384 | 6.9% | $3,286 | 7.7% | $2,202 | 1.6% | $481 | 2.1% | $23,353 | 6.4% |
| 1993/94 | $18,512 | 6.5% | $3,364 | 2.4% | $2,248 | 2.1% | $494 | 2.7% | $24,618 | 5.4% |
| 1994/95 | $19,528 | 5.5% | $3,574 | 6.2% | $2,352 | 4.6% | $500 | 1.2% | $25,954 | 5.4% |
| 1995/96 | $20,608 | 5.5% | $3,764 | 5.3% | $2,448 | 4.1% | $520 | 4.0% | $27.340 | 5.3% |
| 1996/97 | $21592 | 4.8% | $3,986 | 5.9% | $2,552 | 4.3% | $528 | 1.9% | $28,658 | 4.8% |
| 1997/98 | $22,592 | 4.6% | $4,154 | 4.2% | $2,622 | 2.7% | $532 | 0.75% | $29,900 | 4.3% |


######
96-082