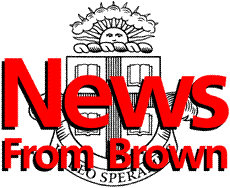 ---
The Brown University News Bureau
Contact: Linda Mahdesian

Workers feel `jilted and jaded'
Poll: Americans feel left behind by nation's economic prosperity
Main Street Americans are dissatisfied with the gap between the strong national economy and their own job experiences and prospects, according to a Providence Journal/Brown University survey of 603 adults aged 18 years and older, conducted by political science professor Darrell West.
PROVIDENCE, R.I. -- Fifty-eight percent of American workers feel they are not sharing in their companies' success and profits, close to half believe they have not benefited from the strong economy, and nearly one third are not making ends meet, according to a Providence Journal/Brown University nationwide survey. Forty-two percent of workers face wage stagnation or reduction and only half believe their retirement will be as secure as their parents'. (See attached chart for demographic breakdown of survey results.)
Despite a robust economy, jobs and unemployment were the most frequently cited by respondents as the nation's biggest economic problem. "Wall Street may be singing hosanna, but Main Street is singing the blues," said Darrell West, professor of political science at Brown and director of the John Hazen White Sr. Public Opinion Laboratory. "Still, when asked who's to blame for the nation's largest economic problems, corporations and businesses were let off the hook and most people pointed the finger at government and politicians."
According to West, "The biggest surprise from the poll is that so many people feel they aren't sharing in their companies' success. People aren't pessimistic as much as they're anxious. All of the corporate restructuring has uprooted people and made them nervous. They're feeling jilted and jaded."
Those findings are reflected in the fact that 68 percent of those surveyed feel companies are not as loyal as 10 years ago, and 59 percent believe that employee loyalty has diminished during the same period. In terms of companies' loyalty to America, nearly 70 percent surveyed felt that U.S. businesses should stay in the United States, even if that meant higher prices for their products.
The survey was conducted Feb. 18 - 25, 1997, at Brown University by West, along with Thomas Anton, director of the A. Alfred Taubman Center for Public Policy and American Institutions; and Jack Combs, the Center's research administrator. It was based on a national random sample of 603 adults aged 18 years or older. The margin of error was plus or minus four percentage points. Responses were weighted according to population characteristics derived from the U.S. Census Bureau. The survey was done in conjunction with the 1997 Providence Journal/Brown University Public Affairs Conference, "Updating the American Dream: What to Expect from Tomorrow's Economy," March 12 - 21. Conference speakers will be encouraged to respond to the findings during their presentations.
Although 59 percent of the respondents felt they pay too much in federal income taxes, 49 percent said they would be willing to pay more taxes if that would enable the federal government to provide medical insurance to all U.S. citizens. Sixty-two percent said they would pay more taxes if that would increase the quality of the nation's public schools.
America's high schools were given lower grades in comparison to colleges and universities. Only 25 percent of those surveyed felt that the nation's high schools were doing a good job or better, while colleges and universities were deemed good or better by 48 percent of the respondents.
Demographic gaps signal social fragmentation
There was a broad range of differences along demographic lines, in terms of gender, race, age and income. According to West, "Different groups of workers are having very different experiences. It points to a breakdown of the social contract. The disparity in workers' experiences has troubling implications for society."
Here are some highlights:
More men than women feel betrayed by companies (78 percent men; 59 percent women). "That's because more men have been on the chopping block," said West.


Men more than women favor a reduction in welfare spending (68 percent men; 56 percent women). "More women need welfare and so are less inclined to see it reduced," said West.


Sixty-seven percent of white respondents supported a reduction in welfare spending, compared with only 44 percent of non-whites.


Fifty-eight percent of non-whites felt left behind by the strong economy, compared to 45 percent of whites. And one out of every three non-whites said that they have had to take an extra job just to make ends meet, versus one out of five whites.


Seniors are doing better than young people in making ends meet. "Their benefits were indexed in the early '70s when no one else's were," said West.


Seniors were unwilling to pay more taxes for universal medical insurance. "That's because they already have it in Medicare," he added.


Seventy-five percent of the high-income respondents feel they pay too much taxes, compared with 54 percent of low-income workers.


The highest support for economic protectionism came from low-income respondents (77 percent) versus 64 percent of the middle-class and 53 percent of the rich.


Staunchest support for companies to remain in the United States came from the South. West explained that "protectionist sentiment has always been strong in the South."


Northeasterners more than any other region felt that employees are not as loyal as 10 years ago. "That's the region that has lost the most jobs. Those jobs have gone from the Rust Belt to the Sun Belt," he added.
Editors: For a copy of the complete survey questions and results or for more information about the upcoming Providence Journal/Brown University Public Affairs Conference, contact the Brown News Bureau at 401/863-2476.



1997 Providence Journal/ Brown University Poll:
`Wall Street sings hosannas, Main Street sings the blues'
(Percent of respondents who agree with statements, by demographic groups)


| | | | | | | | | | | | | | | | |
| --- | --- | --- | --- | --- | --- | --- | --- | --- | --- | --- | --- | --- | --- | --- | --- |
| | 1 | 2 | 3 | 4 | 5 | 6 | 7 | 8 | 9 | 10 | 11 | 12 | 13 | 14 | 15 |
| | Clinton and Congress can make progress | Stock market will crash within 5 yrs. | We pay too much taxes | Welfare spending should be reduced | Have not benefited from strong economy | Retirement will be as secure or better than parents' | Companies not as loyal as 10 years ago | Employees not as loyal as 10 years ago | Employees not sharing companies' success and profits | U.S. businesses should stay in U.S. | High schools doing good job or better | Colleges and universities doing good job or better | Took second job to make ends meet | Willing to pay more taxes for universal medical insurance | Youth will face more obstacles to success |
| Men | 36 | 23 | 63 | 68 | 49 | 49 | 78 | 66 | 55 | 68 | 17 | 47 | 23 | 44 | 64 |
| Women | 50 | 19 | 56 | 56 | 46 | 50 | 59 | 53 | 60 | 70 | 31 | 50 | 23 | 52 | 68 |
| Whites | 40 | 22 | 60 | 67 | 45 | 52 | 70 | 63 | 59 | 69 | 23 | 48 | 21 | 45 | 65 |
| Non-Whites | 57 | 19 | 55 | 44 | 58 | 44 | 59 | 45 | 52 | 69 | 33 | 52 | 30 | 62 | 71 |
| High income (over $75K) | 40 | 23 | 75 | 74 | 27 | 64 | 81 | 74 | 54 | 53 | 20 | 59 | 12 | 31 | 64 |
| Middle income ($30-75K) | 38 | 16 | 63 | 66 | 43 | 55 | 78 | 63 | 65 | 64 | 19 | 48 | 17 | 54 | 59 |
| Low income ($0-30 K) | 51 | 24 | 54 | 58 | 55 | 42 | 58 | 55 | 54 | 77 | 30 | 48 | 32 | 51 | 73 |
| 18-34 yrs. | 38 | 22 | 63 | 60 | 48 | 43 | 72 | 59 | 61 | 62 | 27 | 58 | 35 | 63 | 64 |
| 35-54 yrs. | 42 | 21 | 65 | 64 | 46 | 43 | 75 | 65 | 67 | 70 | 24 | 44 | 21 | 49 | 73 |
| 55 yrs. and up | 51 | 19 | 49 | 61 | 48 | 65 | 57 | 55 | 46 | 77 | 23 | 44 | 10 | 33 | 62 |
| West | 44 | 18 | 67 | 59 | 41 | 47 | 73 | 55 | 52 | 70 | 13 | 50 | 20 | 43 | 72 |
| Midwest | 42 | 27 | 49 | 60 | 48 | 64 | 60 | 55 | 59 | 60 | 29 | 54 | 26 | 47 | 56 |
| South | 42 | 17 | 61 | 67 | 51 | 44 | 68 | 59 | 58 | 77 | 26 | 47 | 22 | 48 | 67 |
| Northeast | 48 | 22 | 60 | 55 | 44 | 44 | 73 | 71 | 64 | 64 | 27 | 44 | 22 | 58 | 70 |
| CONSENSUS | 43 | 21 | 59 | 60 | 47 | 49 | 68 | 59 | 58 | 69 | 25 | 48 | 27 | 49 | 66 |
This survey was conducted Feb. 18 - 25, 1997, at Brown University by Darrell West, professor of political science and director of the John Hazen White Sr. Public Opinion Laboratory; Thomas J. Anton, director of the A. Alfred Taubman Center for PublicPolicy and American Institutions; and Jack Combs, the Center's research administrator. It was based on a national random sample of 603 adults aged 18 years or older. Margin of error: plus or minus four percentage points. Responses were weighted according to population characteristics derived from the U.S. Census Bureau. The poll was done in conjunction with the 1997 Providence Journal/Brown University Public Affairs Conference, "Updating the American Dream: What to Expect from Tomorrow's Economy,"March 12-21, 1997.

######
96-089