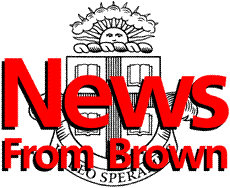 ---
The Brown University News Bureau
Contact: Linda Mahdesian

Freeze-drying and other tips
Preservation expert offers advice and resources to flood-area victims
Eric Shoaf, head of the preservation department for the Brown University Library, offers flood victims advice and resources to restore their water-damaged belongings and valuables.
PROVIDENCE, R.I. -- As flood waters continue to rise in the Ohio Valley and elsewhere, the inevitable problem of salvaging wet books, photos, furniture and other personal belongings awaits the flood victims. Eric Shoaf, who directs the preservation department for the Brown University Library system, offers the following advice.
"Whether it is a natural disaster or a burst pipe, you need to act quickly to stabilize your damaged belongings leading to recovery.... The greatest concern is mold growth. Damp conditions following a flood or leak are perfect for mold spores to bloom. This will happen within 48 hours, so it's important to act quickly to remove excess moisture, separate salvageable items, and prepare them for recovery," Shoaf said.
What to do
Stop the flow of water and make sure that any buildings are safe before continuing. Clear away as much of the lingering water as you can. If possible, use dehumidifiers.
Identify a flat, dry work surface on which to examine water-damaged books, papers and other valuables. Handle the materials with care; use rubber gloves to protect your skin.
Separate types of materials: Books and papers need different treatment from photos, films and video or audio tapes. Books and papers can be air-dried if only dampened. Saturated books and papers will need to be frozen so they can be freeze-dried later. Photographs should be kept immersed in water until they can be frozen. Handle by the edges only. Audio and video tapes will need to be air-dried and freezing may be harmful. Contacts for freeze-drying services are listed below.
Carpeting is seldom salvageable; spend time on what can be saved.
Paintings should be air-dried immediately.
What not to do
Do not try to squeeze water out of saturated books. Pack wet books in small boxes or they will be too heavy to carry.
Do not try to dry saturated books or papers with towels or other absorbent material. Do not blot single wet sheets.
Begin caring for wet materials as soon as possible. Once mold has begun to grow, salvage possibilities drop rapidly.
Do not attempt to salvage water-saturated items yourself. Things which are only damp may be easy to deal with, but otherwise, call a professional for help.
Resources for help
Shoaf cited a number of large, national facilities, some of which serve individuals as well as institutions, but there are other sources of help as well. "Local universities can oftentimes provide assistance by preservation specialists in the area," Shoaf said. "Another possibility is city or state historical societies, which usually employ preservation experts. Large public libraries [may] have preservation departments with professionals to help."

Shoaf is available for interviews during regular business hours or on weekends by appointment. Contact the Brown News Bureau at 401/863-2476.

American Freeze-Dry Inc.
411 White Horse Pike
Audubon, N.J. 08106
609/546-0777
Contact: John Magill
Services: 24-hour service, freeze drying, freezer storage

Blackmon Mooring Steamatic Catastrophe Inc.
303 Arthur St.
Fort Worth, Texas 76107
800/433-2940, 817/332-2770
Contact: Rebecca Cesa
Services: Freeze drying, vacuum drying, damage appraisal

DRS Disaster Recovery Services
414 Blue Smoke Court West
Fort Worth, Texas 76105
800/856-3333
Contact: Larry Wood, Kirk Lively
Services: Cleaning of materials, mold removal, dehumidification

Document Reprocessors
5611 Water Street
Middlesex, N.Y. 14507
800/4-DRYING, 888/437-9464, 716/554-4114
Contact: Quinten Schwartz
Services: Drying, cleaning, freeze drying, freezer storage

Eastman Kodak Company
Rochester, N.Y. 14650
800/242-2424
Services: Film restoration advice and recommendations only

McDonnell Aircraft Company
Department 256, Building 102, Post L140
P.O. Box 516
St. Louis, Mo. 63166
314/234-9121
Services: Thermal vacuum drying

Solex Environmental Systems
1003 Wirt Road/Suite 107
P.O. Box 460242
800/848-0484
Contact: Don Hartsell
Houston, Texas 77055
Services: Air drying, dehumidification, moisture removal

######
96-095