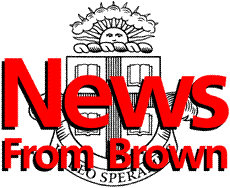 ---
The Brown University News Bureau
Contact: Mark Nickel

Building on the Residential Blueprint
Six graduate students to live in first-year dorms as community directors
Six graduate students will live and work in first-year residential areas next fall, serving as community directors. Deployment of the community directors is part of a blueprint for improving residential life at Brown and will provide additional support and supervision for members of the peer counseling program.
PROVIDENCE, R.I. -- The Office of Student Life, in cooperation with the Office of Residential Life and the Dean of the Graduate School, will hire six graduate students to serve as community directors in first-year dormitories beginning next fall. The community directors will provide support, training and supervision for all peer counselors in those dormitories. They will work with the counselors and faculty fellows to develop educational and social programs, address any facility issues that arise, and help provide a safe and supportive community for Brown students.
"This is a tremendous step forward in providing more support to our first-year students, and to our peer counselors," said Robin L. Rose, dean of student life. "It will enable us to manage our facilities more effectively and enhance the quality of life for all students. It is also an important component of the University's support of graduate students."
The new community directors will be based in Keeney Quadrangle (2), Hope College, Perkins Hall, Emery-Woolley Hall and Metcalf Hall. Undergraduate peer counselors and faculty fellows will help select the directors from a pool of applicants.
Deploying the six new community directors represents Phase II of a broader Residential Blueprint that has been the focus of administrators and students involved with the campus residential program during the last five years, Rose said.
In 1992, Rose and Arthur Gallagher, director of residential life, formed a task force of students, faculty and staff and charged it with evaluating the quality of Brown's residential system. The task force designed a 150-item questionnaire and sent it to all active students that fall. Based on its analysis of responses and assisted by broad consultations, the task force recommended a pilot project - the Harkness House Project - that was carried out during the 1993-94 academic year. The success of that project in addressing student concerns and improving the quality of residential life led to Phase I of the Residential Blueprint.
In Phase I, undertaken during the 1995-96 academic year, three community directors were placed in upper-class residential areas that had received low ratings, and 14 undergraduate residential programmers were hired to work under their supervision. Those community directors, now in their second year, have been well received by students and administrators.
Phase II extends the program and responds to specific recommendations made earlier this year by two teams which reviewed the peer counseling program in first-year residential areas. Those teams called for:
greater levels of support and supervision for peer counselors:
placement of graduate students in residence to provide that support and supervision;
increased compensation for peer counselors;
increased system-wide training for peer counselors, especially based on their unit-based counseling teams;
common job descriptions for counselors from various programs (resident counselors, minority peer counselors, woman peer counselors).
Moving forward with Phase II required a high level of collaboration among students, counselors, deans and other administrators and senior officers, Rose said. With the approval of Phase II, all of those recommendations have been or are being accomplished.

######
96-096