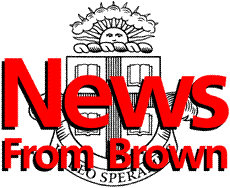 ---
The Brown University News Bureau
Contact: Scott Turner

Health care for elders
Town meeting to ask if long-term care is a right or benefit for the elderly
"Health Care for Elders in an Aging World" will give the general public a chance to join an international panel of experts in a discussion of the cultural and social values behind elderly care and the economic effects of aging on our society. The program will take place at 7:30 p.m., April 29, in Brown's Salomon Center for Teaching.
PROVIDENCE, R.I. -- At the 10th annual Katz Lecture, an international panel of specialists will debate whether long-term care for elderly citizens is a right or a benefit. The event, titled "Health Care for Elders in an Aging World," will begin at 7:30 p.m. Tuesday, April 29, in Brown's Salomon Center for Teaching and will be open to the public without charge.
The public is encouraged to participate in this discussion of long-term care entitlements and ways to improve elderly care. In the United States, social and medical programs are considered benefits; other industrialized nations regard them as rights due their citizens.
The panel features Robyn Stone, acting assistant secretary for aging in the Department of Health and Human Services, and long-term-care experts from Canada, the Czech Republic, Denmark, England, Italy, Japan and Sweden. Their discussion of the values behind long-term care and the economic consequences of aging will be moderated by James Morone, professor of political science at Brown.
"Long-term care is the point where welfare and health policy meet," says Vincent Mor, lecture organizer and chairman of the Department of Community Health. "Countries conceive of this care differently. Are nursing homes part of social or medical systems? Are disability payments and pensions rights or benefits?"
Mor directs the Brown University Center for Gerontology and Health Care Research, which helps government agencies and non-profit groups improve monitoring at nursing homes and increase citizen awareness of quality of care. "Make information available to consumers on monitoring and they may be more effective agents than a battery of government agencies in improving care for the elderly," he says.
The lecture is named for Sidney Katz, the Center's first director and former associate dean of the medical school. Katz was a pioneer in the study of elderly populations.
The program will cap three days of meetings at Brown by interRAI, an international non-profit group that developed a quality-of-life measure used by health care providers worldwide. Mor, who coordinated the interRAI meetings, says they are designed to promote research that improves care of the elderly.
On April 29, interRAI members and colleagues will present their findings in sessions for physicians, nurses, social workers and other health care professionals.
Meeting Schedule
7:30 a.m. to Noon
Nursing Assessment in Geriatrics: Improving Patient Care Quality
Community College of Rhode Island, Warwick, R.I.

8:30 a.m. to Noon
Acute and Long-Term Care: Global to Local Perspectives
Stonehill College, North Easton, MA

8:15 a.m. to Noon
Clinical Assessment and Planning for Elders' Needs: A Workshop Focusing on Oppressed and Diverse Populations
Rhode Island College, Providence, RI

8 a.m. to Noon
Bringing Minimum-Data-Set-Based Assessment to All Settings
Holiday Inn at the Crossings, Warwick, R.I.

8 a.m.
Pain Management in Chronic Care Facilities: How Well Is It Done and How Can We Improve It? and What Can We Learn from the Netherlands About Terminal Care in the United States?
Rhode Island Hospital, Providence, R.I.

For more information, call Vince Mor, 401/863-3490.

######
96-111