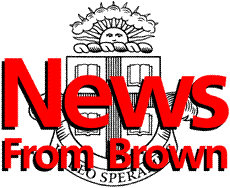 ---
The Brown University News Bureau
Contact: Tracie Sweeney

The Annenberg Forum videoconference
Four education reformers to discuss value of studying student's work
Four nationally known education reform advocates will "meet" via satellite with educators, students, parents and community members around the country on May 1 to talk about the work students produce in schools.
PROVIDENCE, R.I. -- A national videoconference broadcast from Brown University will unite students, parents, educators, administrators and community members from around the country with four of the nation's leading advocates for education reform on Thursday, May 1, from 4-7 p.m. EDT. The four educators are:
James Comer, M.D., of the School Development Program, professor of child psychiatry at the Yale University Child Study Center and associate dean of the Yale School of Medicine;
Howard Gardner of Harvard Project Zero, professor of education and adjunct professor of psychology at Harvard University;
Theodore Sizer of the Coalition of Essential Schools and professor emeritus of education at Brown University;
Janet Whitla, president and CEO of the Education Development Center in Newton, Mass.
In an interactive videoconference sponsored by the Annenberg Institute for School Reform and staged at Brown University's Salomon Center for Teaching, these four reformers will converse with audience members in Prince George's County, Md.; Memphis, Tenn.; Philadelphia; Gorham, Maine; and Norfolk, Va. Audience members have been meeting throughout the spring around samples of student work from schools in their communities. In addition, schools and communities around the country will be able to hear and see the videoconference via satellite downlinks.
The panel of reformers and participants in the videoconference will use samples of student work to talk about student achievement and school success in a way that goes beyond grades and standardized test scores. Conversations about student work have been used to help community members develop common expectations for student achievement, and teachers and administrators share ways to develop new classroom practices and environments that promote learning.
The videoconference site in Salomon Center at Brown University is open to the public for this event.
The five participating interactive sites are members of the ATLAS Communities, a collaboration among the Coalition of Essential Schools, the School Development Program, Harvard Project Zero and Education Development Center, developed in response to the America 2000 call for "break-the-mold" school designs. Its development has been funded by New American Schools. ATLAS (Authentic Teaching and Learning for All Students) Communities believe that successful schools provide rigorous intellectual challenge, a caring and personalized environment for learning, and developmentally appropriate education from kindergarten through graduation.
The Annenberg Forums at Brown University
The May 1 event is the first in a series of Annenberg Forums. The Annenberg Institute has planned two forums per academic year as part of its "public engagement" effort. Through this and other projects, the Institute works to strengthen the "public" for public schools by initiating discussions that involve all the stakeholders - teachers, administrators, students, parents, public officials and others in the community - in the work of improving schools and education. Future Annenberg Forum topics will include "Safety in Schools" (November 1997) and "The Public and Public Schools" (May 1998).

Each forum is supported by a website (http://www.aisr.brown.edu), accessible during and after the forum, offering information, resources and interactive discussion areas.

The Annenberg Institute is America's only independent institute dedicated exclusively to the long-term restructuring of American education. It was created in 1993 by a $50-million gift from the Annenberg Challenge, Ambassador Walter Annenberg's $500-million challenge to American education. Its primary focus - the restructuring of American schooling - is uniquely advanced in three critical areas: rethinking school accountability, developing the capacity of schools and teachers for whole school change, and the active engagement of education stakeholders - educators, parents, and the public - in the revitalization and support of public education.

######
96-116