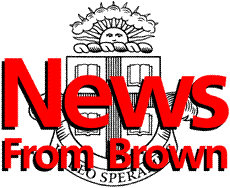 ---
The Brown University News Bureau
Contact: Tracie Sweeney

The 1997 Royce Fellowship Program
24 students receive fellowships to advance their research, public service
Twenty-four Brown undergraduates have been selected to receive Royce Fellowships. The program recognizes undergraduates who have gained distinction through research, creativity, service and leadership. The fellowships enable recipients to complete research, curricular development or a public service project. Recipients become lifetime members of the Society of Royce Fellows.
PROVIDENCE, R.I. -- Twenty-four undergraduates at Brown University have been selected to receive Royce Fellowships, which will enable them to complete projects that will take them to such places as a rural hospital in northern India to study the delivery of health care, into a laboratory to design new ways to release beneficial drugs into the human body, and into a women's prison to create a transition program for inmates.
The fellowships are granted through the Royce Fellowship Program, now in its second year at Brown. The program was established by Charles Royce, a 1961 graduate of Brown University and parent of two Brown graduates. Royce, president of Royce Funds, was a University trustee from 1989-1995 and an active member of several committees. He remains active with the Committee on Admission and Financial Aid as a trustee emeritus.
More than 100 students competed for the fellowships, which recognize undergraduates who have gained distinction through their research, creativity, service and leadership. The program enables fellows to complete proposed research, curricular development or public service of their choosing, and confers lifetime membership in the Society of Royce Fellows. The Society of Royce Fellows supports reflection and inquiry by inspiring members to connect their scholarly work with that of their peers and faculty. A group of senior faculty from a wide range of disciplines serve as mentors to the Society of Royce Fellows and help establish it as a challenging intellectual community.
The 1997 Royce Fellows
California
Eliza Domingo '99, of Baldwin Park, is majoring in visual arts. Domingo will work with the Pilipino Workers Center in Los Angeles, which she helped establish last summer. Domingo will be responsible for assisting all aspects of the operation, including conducting community outreaches.
Colorado
Hunter K. Eastburn '98, of Colorado Springs, is majoring in modern American criminality. Eastburn will work with the Discharge Planning Team at the Women's Division of the Rhode Island Adult Correctional Institutions. She will develop transition plans with inmates before their release. In preparation for her senior honors thesis, she will consider inmates' reflections on incarceration, evaluations of their own rehabilitation and the efficacy of the criminal justice system.
Connecticut
Scott Klemmer '99, of Granby, is majoring in art semiotics and computer science. Klemmer's project explores a cognitive phenomena known as the "other race effect." Integrating computer graphics and photography, he will design experiments examining how the brain processes the faces of people from other racial groups.
Philip Mead '99, of Simsbury, is majoring in history. Mead will examine the development of a national identity among average Americans during the Revolutionary War. Specifically, he will research enlisted soldiers' reactions to the crisis of 1780 and the mutinies that the crisis incited, exploring the soldiers' political ideology, motives for fighting, and expectations of the Revolution.
Illinois
Jane Comaroff '98, of Chicago, is majoring in history and Judaic studies. Comaroff will study the 1968 teachers strike in the Ocean Hill-Brownsville neighborhood of Brooklyn, N.Y. Her work focuses on how the strike evolved into conflict between black and Jewish communities. She hopes that her honors thesis will provide insights into contemporary problems facing schools.
Maryland
Rajan Agarwal '99, of Rockville, is majoring in health and society, and business economics. This summer Agarwal will work with the medical director of the Kamla Hospital, in a rural area of northern India. He hopes to develop a deeper understanding of patient care and hospital management in an international context. This project is part of a continuum of study and research that Agarwal has designed to provide a holistic approach to the management and practice of medicine.
Zaid Ashai '99, of Ellicott City, is majoring in international relations and business economics. Ashai, in collaboration with Professor Ashok Koul, will research the language and literature, art and architecture, myth and history of Kashmir. This project will culminate in a book providing an in-depth survey of Kashmiri culture and examining how the culture has fostered co-existence among religious groups.
R. Scott Upton '98, of Ellicott City, is majoring in biology, ecology and evolution. Upton's project builds on his interest in mammalian design, animal behavior and ecology. His research examines how an animal's design and evolutionary history imposes constraints on locomotion. In collaboration with Professor Sharon Swartz, Upton will analyze shrew design in relation to its specialized ecology and will investigate whether shrews are a more representative model of early mammals.
Massachusetts
Tad Heuer '99, of Holliston, is majoring in public policy. Heuer's project focuses on preserving historical graveyards in communities lacking the resources to document or maintain these cultural resources. He will create a guide to recording gravestone data that will help communities design their own preservation initiatives. Heuer's research will also be used to enhance the Brown course "Gravestones as Evidence of American Culture."
Dorick Scarpelli '99, of Rockland, is majoring in religious studies and development studies. Scarpelli's project will examine the effects of pediatric HIV/AIDS on families. He will develop biographies of Rhode Island families affected by the disease. The biographies will be incorporated into materials distributed by local hospitals and AIDS-service organizations to families facing similar circumstances.
New York
Vanessa Pinard '98, of Queens, is majoring in history and Afro-American studies. Pinard will conduct a comparative analysis of identity formation in New World African populations for her senior honors thesis. Her study will take an interdisciplinary approach to understanding the social construction of race. Pinard will examine the mulatto image in Haitian "nativist" art, Brazilian samba and the Harlem Renaissance literary movement in the United States.
Shoji Takahashi '98, of Nesconset, is majoring in biophysics. Takahashi's research will address polymer-polymer phase separation for fabrication of drug-delivery devices. This study has important pharmaceutical applications and could contribute to the development of drug-delivery devices capable of sustained, constant release. Takahashi will be working toward his senior honors thesis as an investigator in Professor Edith Mathiowitz's laboratory.
John Young '98, of Plattsburgh, is majoring in theater arts and Spanish. Young will be working with Professor Rose Rosengard Subotnik to develop a new seminar in the Department of Music. The course, "Seminar in Music and Theater: American Musical Theater," will be dedicated to music with a theatrical aspect, including opera, musical theater, cabaret and film.
Ohio
Tyler Denmead '98, of Columbus, is majoring in art history. Denmead is creating an alternative education program pairing Brown and Rhode Island School of Design students with Providence high school students to explore community through creative expression. Exploring themes associated with social change, the program will incorporate the work of visual artists, as well as art created by the students throughout the year.
Natalie Terry '98, of Solon, is majoring in biochemistry. Terry's research focuses on the development of an organism from a single cell, the fertilized egg. Terry will be using an mRNA model to study the forces behind cell division in frog eggs to better understand the way body plans are created. Terry's research, in collaboration with Professor Kimberly Mowry, will form the foundation for her honors thesis.
Pennsylvania
Zachary Gast '98, of Phoenixville, is majoring in political science and Italian studies. Gast's project involves independent research on banking services designed for low-income people in the United States. He will review existing studies, examine current programs, and investigate the policies of the U.S. government related to micro-finance.
Rhode Island
Franco Capaldi '99, of Providence, is majoring in mechanical engineering. Capaldi's project will examine the mechanisms involved in the fracture of layered ceramics, which have such promising applications as making engines lighter and more durable. The project, in collaboration with Professor Brian Sheldon, involves materials processing, mechanical testing and computer simulation.
Jiganesh Patel '99, of Providence, is majoring in geology. Patel's project involves applying several processing steps to raw images from Galileo satellite probes of Jupiter. Patel will prepare the images for spectral analysis and evaluate the geological significance of the data. The information will be used to determine the nature of the geological events that create grooves similar to those found on two of Jupiter's large moons.
Washington
Meg Cary '99, of Seattle, is majoring in biology. Cary will spend her summer working with a non-profit, non-governmental community development organization in Bolivia. Cary will work in clinics and with various health and hygiene education initiatives in preparation for designing a disease prevention outreach program.
Stephanie Saad '99, of Medina, is majoring in history and development studies. Saad will spend the summer working on a strategic planning process with the Municipal League of King County in Seattle. Through research, oral history and policy analysis, Saad will document the life of the organization and its approach to building community and civic responsibility. The project will help synthesize the opportunities and challenges facing civic leagues nationally.
John Snyder '99, of Wenatchee, is majoring in history. Snyder will research the life of Bill Baird, a social reformer and controversial leader in the pro-choice movement since 1963. Snyder will draw on primary sources such as diaries, interviews, press clippings and documentaries to create a biography and history of Baird's role in the movement and the larger "rights revolution."
Wisconsin
Miriam Jacobson '98, of Madison is majoring in English literature and Renaissance studies. Jacobson will be collaborating with Professors Karen Newman and Stephanie Merrim to create a new undergraduate course on Renaissance women's writing. She also will conduct independent research for her honors thesis focusing on early modern women's literature.
International
Alla Bashenko '98, of Kiev, Ukraine, is an undergraduate majoring in international relations and a graduate student in Slavic languages. Bashenko will study two 20th-Century transformations in Ukraine - the Socialist Revolution of 1917 and the disintegration of the Soviet Union in 1991. Specifically, her research, the foundation for her honors thesis, will examine the political and economic effects of these events on women.
Benjamin Kleine '98, of Ottawa, Canada, is majoring in Old World archaeology and art. Kleine will continue working with Professor Martha Joukowsky at Brown's archaeological dig at the Petra Great Southern Temple in Jordan. This summer, he will serve as a trench supervisor for 10-12 workers and will maintain logs and data sheets on archaeological finds. Kleine will also contribute to the first published report of the Petra dig, synthesizing five years of work.
######
96-118