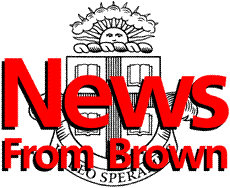 ---
The Brown University News Bureau
Contact: Tracie Sweeney

Fourteen Brown Says Thank You! awards presented at honors breakfast
Fourteen members of Brown University's support staff received Brown Says Thank You! awards for the innovation, initiative, service and personal commitment they have demonstrated in their work. The awards were presented at the University's annual staff appreciation breakfast April 21.
PROVIDENCE, R.I. -- Brown University honored 14 employees with Brown Says Thank You! awards on Monday, April 21. Chosen from more than 100 nominees, the 14 winners were honored for the innovation, initiative, service and personal commitment they have demonstrated in their work at Brown.
The awards are presented during the Brown Says Thank You! breakfast, held annually to recognize the contributions and quality work performed by the University's support staff.

The award winners
Carole Benn, Bristol, R.I., office assistant in the Catering Division of University Food Services. Benn is "truly committed to the success of the Catering Division," her nominators say. She "has been known to stay late, come back to work in the evening, and take work home, just to make sure that events run smoothly. She is always there when help is needed: to set up functions; deliver or pick up food or supplies ... she has even transported student workers who have missed their rides to an event."
Linda Bozzario of Seekonk, Mass., coordinator in the Bio-Med Medical Student Affairs Office. "Her innovative ideas, outstanding interpersonal skills and insightful observations make her an absolute delight to work with," her nominators say. "She is always there for the students ... they are her first priority. ... She is barraged with a myriad of questions daily, and she answers each one patiently, with sensitivity and intelligence, and with an enormous knowledge base."
Lily Carter of New Bedford, Mass., administrative assistant at the Annenberg Institute for School Reform. "No matter how many telephone lines are ringing and how many students and parents are standing before her, Lily remains calm and takes care of everyone with courtesy and concern," her nominators say. "Lily's deepest strength is her personal commitment. She single-handedly ensures that everyone, from students to directors, has what they need in order to get their work done."
Carole Cramer of Providence, R.I., coordinator for the Programs in Ancient Studies, Medieval Studies, and Renaissance and Early Modern Studies, and building manager for the Annmary Brown Memorial. Cramer brings "exceptional energy, commitment, organizational talent, and diplomatic skills" to her job, her nominators say. "The range and variety of tasks Carole performs is testimony to her excellent interpersonal skills and her commitment to the missions of her three programs."
Karen Culton of Cranston, R.I., executive assistant in the Office of the President. Culton's nominator - President Vartan Gregorian - said that "each and every day of Karen's more than 12 years of service, she has [...] responded to the community with creativity, patience, and pride in the University." He cited Culton's loyalty, competence and cheerful disposition, all the while organizing the multiple demands on the president and making life easier for all those who need Gregorian's attention.
Nancy Guilmain of Blackstone, Mass., benefits assistant in Human Resources. Guilmain "continuously seeks to enhance her knowledge of benefits administration and takes on routine questions whenever possible, thus lessening the workloads of the other service staff," her nominators say. "She systematically seeks ways to do her job more effectively by streamlining the paperwork process. Through her unending dedication and energy, Nancy has developed a reputation for providing high-quality work."
Anita Hux and Dionne Montgomery, both of Providence, R.I., received a special award as a team. Hux is an administrative office assistant and Montgomery is a staff assistant in the Department of Computing and Information Services, where they share the front desk. They have initiated and implemented numerous ideas to improve the department and working environment, their nominators say. For example, "they ensure that staff have the tools they need to be most effective - from implementing a Web page to updating organizational charts or processing purchase requisitions. Dionne makes it part of her job to notify individuals about information that needs to be gathered or when something is waiting for them. Anita is enthusiastic and always takes the initiative to solve problems. Anita and Dionne represent what good teamwork can do for Brown."
Jill Lawlor of Providence, R.I., administrative assistant in Alumni Relations. Lawlor has initiated numerous service actions, from the "designing of fliers to the streamlining of data exchange between Admissions and Alumni Relations," her nominators say. She implemented a rolling application process for an alumni apprenticeship program and refined its database, "making sponsor information much easier to retrieve." She also has laid the groundwork for the apprenticeship program to go on-line.
Eileen McCarten of Lincoln, R.I., administrative assistant for the Athletic Department's Office of Sports Information. McCarten "has taken it upon herself to learn all there is to know about new technology, and her graphics work is eye-catching," her nominators say. "Her loyalty to Brown and to the Athletic Department has encouraged new people to lean on her for support and guidance. ... She is quick to laugh and takes time to show genuine concern and compassion for her fellow employees."
Omi Murakami-Locke of Providence, R.I., copier pool coordinator in Graphic Services. Murakami-Locke keeps 230 copiers running smoothly, "which means overseeing service calls and finding the right answer," her nominators say. Her knowledge of how, when and why certain functions are performed ensures that copiers are maintained at the highest level. Her "customer service, product knowledge, follow-through, and high performance standards ... are widely recognized and appreciated," her nominators add.
Carol Steere of Barrington, R.I., administrative assistant in the Office of Student Life. Steere's nominators say she "consistently meets challenges with efficiency, confidence and good humor. As a frequent `first alert' person, Carol's poise and unfailing calm manner, her well-informed advice and sound judgment make her the `calm eye of the storm' which occasionally sweeps down on Student Life. ... She conveys a good balance between sympathy and confidence in the midst of chaos and confusion."
Genevieve Wodziak of Esmond, R.I., assistant to the director of Career Planning Services. Wodziak "has been the anchor while the department was going through a total transformation," her nominators say. "Her loyalty, commitment, dedication, initiative and unfailing flexibility are remarkable. She maintains the highest level of professionalism and caring about the people we serve, especially the students, [and] strives to make sure that all of our constituents receive the very best attention and service we can provide."
Deneen Vastano of East Providence, R.I., administrative assistant in the University Library Administration Office. Vastano coordinates hiring and placement of as many as 300 student assistants in the Library system, and has established a fair and equitable wait-list system to accommodate the hundreds of students who are eager to work, her nominators say. She also developed a system to track performance reviews that has ensured the accuracy of personnel records and payroll.
######
96-121