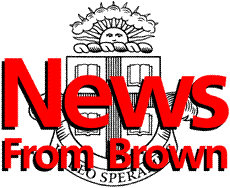 ---
The Brown University News Bureau
Contact: Richard Morin

Commencement 1997
Commencement speakers include students and honored guests
Journalist Bill Moyers, former Asst. Secretary of State Richard Holbrooke, Nobel Peace Prize-winner José Ramos-Horta and members of the Class of 1997 are among those who will speak during Brown's 229th Commencement Weekend, May 24-26. (See also 96-130a, the text of President Vartan Gregorian's remarks to the graduates.)
PROVIDENCE, R.I. -- Continuing its long-standing tradition, Brown University will offer an array of speakers - including journalist Bill Moyers, former Asst. Secretary of State Richard Holbrooke and Nobel Prize-winner José Ramos-Horta - during its 229th Commencement Weekend. In addition, several members of the Brown community, including senior orators Justin Carroll and Erica Seidel, Provost James Pomerantz, faculty member Dr. Tom Parrino and graduating medical student Raymond Moreno, will speak.
Here are brief descriptions of the speakers, their talks and the time and date of the addresses:
José Ramos-Horta
José Ramos-Horta, one of two 1996 Nobel Peace laureates from East Timor, will deliver a Stephen A. Ogden Jr. Lecture at 11:30 a.m. Sunday, May 25, in Room 101 of the Salomon Center for Teaching. Ramos-Horta's talk is titled "East Timor and the Struggle for Human Rights: Democracy and the Rule of Law in the Asia Pacific Region." The lecture, which will be simulcast on The College Green, is free and open to the public.
Ramos-Horta has been the leading international spokesman for East Timor for more than two decades. He left East Timor only days before Indonesia invaded the tiny island nation in December 1975. Soon after, he was speaking before the United Nations Security Council, urging it to protect his homeland from the Indonesian onslaught that has caused the death of hundreds of thousands of East Timorese. He has continued to speak before governmental bodies throughout the world about the plight of the East Timorese.
Ramos-Horta shared the 1996 Nobel Peace Prize with East Timorese Bishop Carlos Felipe Ximenes Belo. The Nobel committee honored "their sustained and self-sacrificing contributions for a small but oppressed people."
Bill Moyers
Bill Moyers, one of television's most critical and creative broadcasters, will present this year's baccalaureate address at 1:30 p.m. Sunday, May 25, in the Meeting House of the First Baptist Church in America.
Because seating is limited, only graduating seniors will be admitted into the church. However, the service will be telecast on a large video screen on The College Green so that parents, friends and guests may listen and watch.
During his 25 years in television, Moyers has served as executive editor of "Bill Moyers' Journal," as a senior news analyst for CBS News, and as chief correspondent for "CBS Reports." He has produced more than 200 hours of programming since establishing Public Affairs Television in 1986. Moyers has received numerous awards for his work, including more than 30 Emmy awards, the Religious Liberty Award and the Nelson Mandela Award for Health and Human Rights.
Richard Holbrooke
Richard Holbrooke, who in 1995 played a vital role in the Dayton Peace Accords which resulted in a resolution of the Bosnian conflict, will deliver a Stephen A. Ogden Jr. Memorial Lecture at 4:30 p.m. Sunday, May 25, in Room 101 of the Salomon Center for Teaching. His talk is titled "The Cold War is Over But the World Won't Go Away." The lecture, which will be simulcast on The College Green, is free and open to the public.
Holbrooke, a member of Brown's Class of '62, was assistant secretary of state for European and Canadian affairs from 1994 to 1996. Before becoming assistant secretary of state, he was ambassador to Germany. Holbrooke joined the Foreign Service upon his graduation from Brown. He served in Vietnam in a variety of posts, and was a member of the American delegation to the Paris Peace Talks.
In 1977, President Jimmy Carter appointed Holbrooke assistant secretary of state for East Asian and Pacific affairs, a post he held until 1981. During his tenure, the United States established full diplomatic relations with China. He is the only person ever to hold two regional posts as assistant secretary of state.
Holbrooke currently is vice chairman of Credit Suisse First Boston Corporation, based in New York, with primary banking responsibility for Europe and Asia.
Student Orators: Justin Carroll and Erica Seidel
Continuing Brown tradition, two members of the Class of 1997, Justin Carroll and Erica Seidel, have been selected to deliver Commencement's senior orations, scheduled to begin at 10:15 a.m. Monday, May 26, in the Meeting House of the First Baptist Church in America. Because the Meeting House accommodates only members of the graduating class, the orations will be simulcast to The College Green, where parents, friends and guests of the University will gather.
Carroll's address, "The Fabric of Brown," will discuss the creative outlets afforded students at Brown. A transfer student from Carnegie Mellon University, Carroll said Brown allowed him to tap his creative side, something he feels few universities afford students. "I was able to do creatively anything I wanted. I was able to act, write fiction and songs, and perform," he said. "What Brown afforded me was the chance to figure out what I loved the most and do it. Brown affords students a lot of respect, and I appreciate that a great deal having gone to another school prior to Brown." His talk has three main themes: freedom, responsibility and commitment.
Carroll will graduate with a degree in English and American literature. While at Brown, he acted in several Brown productions and received honors in creative writing. He also was a member of the Bear Necessities, a student a cappella group. Carroll performed folk music in and around Providence. He will pursue a music career upon graduation.
Seidel will deliver an address titled "Linking Through Brown: A Hypertextual Way to Read, Move and Learn." Using a hypertext format, Seidel will examine the choices that are afforded to students and those that they make. "The choices and links at Brown form a big educational web," said Seidel. The Brown experience and education is more than just the center: one's concentration. "At Brown, the margins, the things we do outside of our studies or concentration, are intricately linked to our experience at Brown and our future life," she said. For example, Seidel is an international relations concentrator. However, upon graduation, Seidel, who has worked with several computer groups and classes at Brown, will take an engineering position at Sony Inc. Seidel's talk will be placed on the World Wide Web in text and RealAudio formats, beginning Commencement Day, at http://www.stg.brown.edu/edu/HTT96/seidel97.html.
While at Brown, Seidel was a teaching assistant for several classes, including those taught in the French and computer science departments. She designed the Coalition of Essential School's first home page, and has since worked designing home pages with the Scholarly Technology Group at Brown. She is also a pianist who performs with the Chamber Music Ensemble, and senior class treasurer.
Medical School: Dr. Samuel Lin, Dr. Tom Parrino, Raymond Moreno, M.D. '97
Dr. Samuel Lin, retired rear admiral, is part of a distinguished lineup of speakers in the Brown University School of Medicine's Commencement which begins at 8:45 a.m. Monday, May 26, in the First Unitarian Church, Benefit and Benevolent streets. Lin's speech is titled "Your Awesome Potential (Or, How Not to Make Your Brown Eyes Blue)."
Lin began his professional career as a commissioned officer with the U.S. Department of Health and Human Services (DHHS) and was one of the first to progress through the ranks to rear admiral. He served on the Colville Indian Reservation in Washington state, and later was U.S. executive secretary for various U.S.-European joint health commissions. From 1981-1992, he was DHHS deputy assistant secretary for health. He served concurrently as acting director of the national center for health services research, acting director of the office of minority health, and as chair of the special committee to investigate the Center for Veterinary Medicine of the Food and Drug Administration. In 1992, he was acting DHHS deputy assistant secretary for minority health. From 1993 until his retirement from federal service in 1994, he was senior advisor to the DHHS deputy assistant secretary for international health. When he left federal service, he joined the Upjohn Company as executive director for federal medical affairs.
Dr. Tom Parrino, professor of medicine, will deliver the faculty address titled "Some Thoughts About Liberal Education." Parrino is the assistant chief of staff and chief of general medicine at Providence Veterans Affairs Medical Center.
Raymond Moreno, selected as this year's class speaker, will present his remarks, titled "Pizza, Pearls and Medicine." He will discuss advice, given to him at a pizza parlor by a former boss, that has guided him through his medical education and prepared him for a career in medicine. Moreno received his undergraduate degree from Brown in 1992. He will do his residency in emergency medicine at the University of Cincinnati Hospital.
Graduate School: James Pomerantz, Marshall Andrew Whittlesey
The Brown University Graduate School Commencement ceremonies will feature an address by Provost James Pomerantz at 9:15 a.m. Monday, May 26, in Lincoln Field (rain site: Pizzitola Sports Center). His address is titled "Planning for an Uncertain Future."

Pomerantz, a cognitive psychologist with a specialty in human visual perception and attention, was named the University's provost in 1995.

Marshall Andrew Whittlesey of West Hartford, Conn., will give an address titled "Grandes Personnes," which will discuss some of the emotions of graduate school: agony, discovery and exhilaration. Whittlesey, who will receive a Ph.D. in mathematics, has been appointed a visiting assistant professor of mathematics at Texas A & M University.

######

96-130