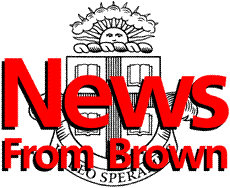 ---
The Brown University News Bureau
Contact: Tracie Sweeney

Commencement 1997
Brown will award 10 honorary degrees at Commencement May 26
Brown will award honorary degrees to 10 people: Joyce Oldham Appleby, Leo Esaki, Louis V. Gerstner Jr., Carolyn G. Heilbrun, Richard C. Holbrooke, David Macaulay, Lorraine Monroe, Bill Moyers, Dr. Augustus A. White III, and John Hazen White. Several of the recipients will speak during Commencement Weekend.
PROVIDENCE, R.I. -- Ten people who have distinguished themselves through their efforts in the arts, sciences, business, education and public service will receive honorary degrees from Brown University at Commencement Monday, May 26. Five of the honorees will be speaking on campus during Commencement Weekend.
The recipients are:
historian Joyce Oldham Appleby of the University of California, Los Angeles;
Leo Esaki, the 1973 winner of the Nobel Prize in physics;
Louis V. Gerstner Jr., chairman of the board and chief executive officer of IBM Corporation. Gerstner is presenting a Commencement Forum about the networked world at 10:45 a.m. Saturday, May 24, in Room 101, Salomon Center;
feminist author and scholar Carolyn G. Heilbrun;
Richard C. Holbrooke, Brown Class of 1962, former assistant secretary of state and chief negotiator for the Dayton Peace Accord in Bosnia. Holbrooke will discuss his views of the Cold War at 4:30 p.m. Sunday, May 25, in Room 101, Salomon Center;
author/illustrator David Macaulay, who will present a Commencement Forum at 9:30 a.m. Saturday, May 24, in Sayles Hall;
educator Lorraine Monroe of New York City, who will discuss her hopes for transforming public schools in a Commencement Forum at 3:30 p.m. Saturday, May 24, in Sayles Hall;
Bill Moyers, broadcast journalist, who will present this year's baccalaureate address at 1:30 p.m. Sunday, May 25, in the Meeting House of the First Baptist Church in America;
Dr. Augustus A. White III, Brown Class of 1957, who served on the Corporation of the University as a fellow from 1981-92 and as a trustee from 1971-76;
John Hazen White, creator of Red Alert and president and chief executive officer of Taco, Inc.
Joyce Oldham Appleby, Doctor of Humane Letters
Joyce Oldham Appleby has been a history professor at the University of California-Los Angeles since 1981. Her research has covered England, France and America in the early modern period, but her abiding curiosity has hovered around questions about liberal values and institutions. She is working on a study of the cohort of Americans, black and white, male and female, born between 1776 and 1800 and their experiences as they came of age in the early 19th century.
Appleby was a frequent speaker and commentator on Thomas Jefferson during the commemoration of the 250th anniversary of his birth. Among her many publications is the recent Recollections of the Early Republic: Selected Autobiographies, which she edited. She is president of the American Historical Association, a delegate to the American Council of Learned Societies, and sits on the Council of the Smithsonian Institution.
Leo Esaki, Doctor of Science
Leo Esaki is president of the University of Tsukuba in Japan, where he is leading the effort to reform the nation's educational system.
From 1960 to 1992, when he assumed the university's leadership, Esaki was an IBM research fellow at the Thomas J. Watson Research Center in New York, where he pioneered the design of structures with which to explore the new quantum regime in semiconductor physics. That research, combined with his 1957 discovery of a tunnel diode - the first quantum electron device - while at Sony earned Esaki the 1973 Nobel Prize in Physics.
Louis V. Gerstner Jr., Doctor of Laws
Louis V. Gerstner Jr., chairman of the board and chief executive officer of IBM Corporation since 1993, has been widely credited with the company's turnaround in the competitive information technology industry. Before joining IBM, Gerstner was with RJR Nabisco and American Express Company.
For more than 25 years, Gerstner has been an advocate of school reform. Co-author of the 1994 book Reinventing Education: Entrepreneurship in America's Public Schools, he co-chaired the 1996 National Education Summit. His work in this arena earned Gerstner the Medal for Distinguished Service to Education from Teachers College at Columbia University and the Distinguished Service to Science and Education Award from the American Museum of National History.
His daughter, Elizabeth, will be among the graduating seniors at Commencement.
Carolyn G. Heilbrun, Doctor of Humane Letters
Feminist author and scholar Carolyn G. Heilbrun, the Avalon Foundation Professor in the Humanities emerita at Columbia University, has devoted her work to the study of female destiny.
In her now-classic Writing a Woman's Life, she eloquently revealed that those who have written about women's lives throughout the centuries have suppressed the truth of female experience in order to make the written life conform to society's expectations of what a woman's life should be. In that book Heilbrun drew on the experience of celebrated literary women - George Sand, Virginia Woolf, Adrienne Rich - to invite all women to write their own scripts, without inhibition. Her other titles include Reinventing Womanhood, Hamlet's Mother and Other Women and The Education of a Woman: A Life of Gloria Steinem.
Under the name Amanda Cross, Heilbrun has published 11 detective novels.
Richard C. Holbrooke, Doctor of Laws
Richard Holbrooke, vice chairman of Credit Suisse First Boston Corporation, based in New York, is perhaps best known for his public service as assistant secretary of state from September 1994 through February 1996. During that time, he was chief negotiator for the Dayton Peace Accord in Bosnia.
Holbrooke joined the Foreign Service immediately after his 1962 graduation from Brown University. His assignments took him to Vietnam and the Paris Peace Talks. He took leave from the Foreign Service in 1972 to become managing editor of the quarterly magazine Foreign Policy. In 1976, he coordinated national security affairs for the Carter-Mondale presidential campaign, and he chaired two high-level commissions that examined the conduct of the government's foreign policy. In 1993, he was appointed U.S. ambassador to Germany, and in 1994 became an assistant secretary of state.
David Macaulay, Doctor of Letters
Author and illustrator David Macaulay has helped millions of readers explore the realm of architecture, beginning with his 1973 book Cathedral. City, Pyramid, Underground and Castle followed. The series culminated with Macaulay's 1988 The Way Things Work, his look at almost anything that functions.
His work has received numerous accolades, including Caldecott Honor Medals from the American Library Association (for Cathedral, Castle and Black and White), Holland's Silver Slate Pencil Award (for Cathedral and The Way Things Work), and honors from the American Institute of Physics, the American Institute of Architects, the National Endowment for the Humanities, and the Smithsonian Institution. Macaulay is a 1969 architecture graduate of the Rhode Island School of Design.
Lorraine Monroe, Doctor of Humane Letters
An educator for most of her career, Lorraine Monroe has brought her perspective on teaching, particularly to poor children, to 38 states and several countries.
Monroe has been an administrator at several high schools in New York City and was chief executive for instruction for the New York City Board of Education. She has taught at the Bank Street College in New York, founded its Center for Minority Achievement, and currently is co-director of its Women's Group.
Her expertise has earned her numerous honors and awards, and she has been sought by school systems worldwide, including those in Berlin, Munich, Tokyo, Singapore and Tanzania. Monroe served as a member of Gov. Mario Cuomo's Commission for the Study of Youth Crime and Violence and Reform of the Juvenile Justice System, and helped develop New York State's K-12 curriculum guide titled "Creating a More Human and Violence-Free Society Through Schooling: Understanding and Valuing Cultural Differences."
Bill Moyers, Doctor of Humane Letters
Throughout his 25-year broadcasting career, Bill Moyers has pursued a broad spectrum of topics in a way that, according to one critic, "dare[s] to assume that viewing audiences are willing to think and learn." Many of those topics were presented through Moyers' work on "Bill Moyers' Journal," "CBS Evening News" and "CBS Reports." Since establishing Public Affairs Television as an independent production company in 1986, Moyers has produced more than 200 programming hours. Four of Moyers' books based on his series have become bestsellers: Joseph Campbell and the Power of Myth, Listening to America, A World of Ideas I and II, and Healing and the Mind.
Moyers' work has earned the television industry's highest accolades, including more than 30 Emmy Awards. He was elected to the Television Hall of Fame in 1995.
Moyers was deputy director of the Peace Corps during the Kennedy Administration and press secretary and special assistant to President Lyndon B. Johnson. Currently, he is president of The Florence and John Schumann Foundation.
Dr. Augustus A. White III, Doctor of Medical Science
Dr. Augustus A. White III has had a distinguished career as an orthopedic surgeon, teacher, and advocate for diversity in higher education and medicine. He was the orthopedic surgeon-in-chief at Beth Israel Hospital in Boston for 13 years, and is professor of orthopedic surgery at Harvard Medical School and at Harvard-MIT Division of Health Sciences & Technology. He has written or collaborated on more than 200 scientific publications, most notably the definitive work The Clinical Biomechanics of the Spine. Consumer Reports has called his book Your Aching Back the best of its kind for patients.
White's work for and on behalf of Brown, to which he is returning to celebrate his 40th class reunion, is another reason he has been selected for an honorary degree. He was a member of the Corporation of the University as a fellow from 1981-92 and as a trustee from 1971-76, and served on a number of key committees that helped guide the School of Medicine and the University's minority affairs. His work on behalf of creating a diverse community continues through his chairmanship of the American Academy of Orthopedic Surgeons Committee on Diversity.
White has received numerous awards and honors, including a Bronze Star presented in 1967 while serving as an Army captain in Vietnam.
John Hazen White, Doctor of Humane Letters
John Hazen White is known throughout Rhode Island as the creator of Red Alert, an individual effort that strives to bring statewide issues to the public's attention.

White joined Taco Inc. in Cranston, R.I., the day after graduating from Yale University in 1936, and became treasurer of the family-owned company the next year. Upon his father's death 55 years ago, White took over as president and chief executive officer. Since then the business has grown some 300 times over, has more than 500 employees and has diversified into many product lines.

In 1992, White and his wife, Happy, endowed Brown's Public Opinion Laboratory. At that time, White said he made the donation because he believes the best way to reform government is to reach the grassroots population. "Tell them the facts, get their opinions and feelings, and get them involved," he said. He saw the Public Opinion Laboratory, with its periodic public surveys, as an ideal vehicle to bring public opinions in Rhode Island to light. The Whites also have endowed a lecture series at Brown to bring nationally prominent experts on political science, public opinion and public policy to campus, and a program of internships to give Brown undergraduates first-hand experience in state government, national agencies and private sector organizations.

######
96-131