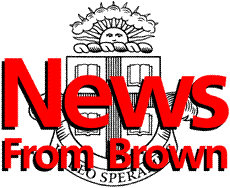 ---
The Brown University News Bureau
Contact: Mark Nickel

An expression of support and praise for Dr. David Kern
---
PROVIDENCE, R.I. -- The following statement was issued May 21, 1997, by Lois Monteiro, professor of community health and associate dean of medicine for faculty affairs at Brown University:
On behalf of Brown University, we would like to praise Dr. David Kern for his research investigating cases of lung disease at a textile processing plant. We fully recognize the importance of this research and Dr. Kern's academic freedom, as well as his moral and ethical responsibility, to publish his results.

Of utmost importance is the health and safety of the workers involved. A committee appointed by our institution has reported that the textile company is making a good-faith effort to identify and remedy the health hazard. It has hired a physician trained in occupational health to continue Dr. Kern's work and is continuing its relationship with The National Institute for Occupational Safety and Health (NIOSH), a relationship which Dr. Kern helped initiate.

While there remain legal issues between Dr. Kern and Memorial Hospital, we urge both parties to work toward a resolution of their differences. We pledge our support and resources in bringing about a settlement that is mutually agreeable to both sides.
Return to news release 96-133.

######
96-133a