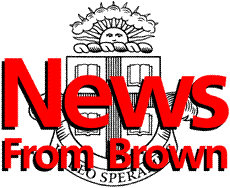 ---
The Brown University News Bureau
Contact: Richard Morin

Rhode Island Senate salutes Brown President Vartan Gregorian
Brown University President Vartan Gregorian will be honored by Rhode Island state senators this afternoon for his service to the state and local community. The ceremony will take place at 4:30 in the Senate Chambers.
PROVIDENCE, R.I. -- Rhode Island state senators will pay tribute to outgoing Brown University President Vartan Gregorian during a legislative ceremony today at 4:30 p.m. in the Senate Chambers of the Rhode Island State House.
At the conclusion of today's legislative session, Majority Leader Paul Kelly and his fellow senators will salute Gregorian for his contributions to Brown University, education, and Rhode Island. A reception in Room 313 of the Rhode Island State House will follow.
Gregorian, the 16th president of Brown University, will leave Rhode Island to become president of the Carnegie Corporation of New York, one of the nation's largest and most prestigious grant-making foundations. Gregorian will continue his work at Brown through July and will assist the University during its search for his successor.
Gregorian was chosen as Brown's 16th president in August 1988 and was sworn in on Jan. 11, 1989, succeeding Howard R. Swearer. He arrived at Brown with characteristic enthusiasm, declaring his intention to strengthen the faculty, expand support for the libraries and enhance the academic and intellectual experience of Brown students. By all accounts he has delivered on those intentions.
He has also worked to improve the Providence and Rhode Island Communities directly through his own involvement in civic affairs and indirectly by championing programs of public and community service. During his tenure, Brown and Gregorian:
established the Annenberg Institute for School Reform: The Annenberg Institute is a point of contact and coordination for a number of promising school-reform projects. It has worked with the Annenberg Foundation and Gregorian in deploying the $500-million Annenberg Challenge to the Nation, which supports school reform in major U.S. cities.


fostered programs of public service: Brown continues its leadership of the Campus Compact, an organization of more than 500 colleges and universities that facilitates community service and service-learning programs. The Venture Consortium, a Brown-based coalition of colleges and universities, provides students with a variety of experiences, from semesters away to teaching internships in the inner-city. This year Brown published a directory of more than 240 University-affiliated public-service initiatives in the Providence area.


helped resolve the banking crisis: In January 1991, newly inaugurated Rhode Island Gov. Bruce Sundlun closed many banks and credit unions to avert disaster threatened by the collapse of the state's deposit insurance system. Gregorian accepted Sundlun's request to investigate the banking collapse. Using Brown faculty and staff and securing pro bono assistance from private attorneys, the Gregorian Commission produced Carved in Sand, an authoritative two-volume report, at no cost to the state. The University also arranged no-interest loans for Brown employees whose deposits were frozen during the crisis.


established H.E.L.P. Health and Education Leadership for Providence (H.E.L.P.), founded in September 1994, is a coalition of Providence's 10 independent non-profit hospitals and universities working to create collaborative solutions to the city's pressing problems, particularly in public education. Member institutions meet to create new programs drawing upon the unique resources that hospitals and universities offer the community.


addressed social problems through the Providence Plan: Gregorian announced in May 1991 that the University would work with the City of Providence to eliminate neighborhood poverty by the end of the decade. Brown's A. Alfred Taubman Center for Public Policy and American Institutions worked with the city to develop and implement The Providence Plan, a non-profit organization created to develop a comprehensive strategy to address social problems which contribute to poverty.


established the City of Providence Scholars: In 1991, Gregorian instituted the City of Providence Scholars Program to support talented applicants from the Providence public schools. Each year since, two students who have been admitted from the local applicant pool and who qualify for financial aid are named Providence Scholars and receive financial support throughout their four years at Brown.


attracted the Northeast and Islands Regional Education Laboratory: This consortium of Brown and Hunter College at City University of New York is one of 10 regional centers in the nation charged with helping children in grades K-12 achieve academic excellence through education reform. Established at Brown in December 1995, and funded by a $24-million contract from the U.S. Department of Education, it supports school systems in New England, New York, Puerto Rico and the Virgin Islands.
######
96-135