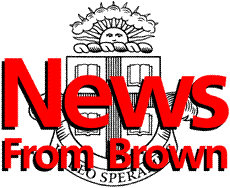 ---
The Brown University News Bureau
Contact: Linda Mahdesian

Of totems and ancient stones
Two David Winton Bell Gallery exhibitions showcase Rhode Island talent
Two exhibitions, Of Totems, Traps, Maps, and James Jesus Angleton and Jonathan Sharlin: Ancient Stones will be presented at the David Winton Bell Gallery at Brown University June 12 through July 6, 1997. An opening reception for both shows will be held at 7 p.m. Saturday, June 21, at the Gallery, 64 College St.
PROVIDENCE, R.I. -- The David Winton Bell Gallery at Brown University will present Of Totems, Traps, Maps, and James Jesus Angleton and Jonathan Sharlin: Ancient Stones from June 12 through July 6, 1997. The shows are mounted in conjunction with "Convergence X," Providence's 10th international art festival. A public reception for the artists will take place at 7 p.m. Saturday, June 21, at the gallery, located in the List Art Center, 64 College St. in Providence. Of Totems will be displayed in the gallery and the photographs of Jonathan Sharlin will be displayed in the foyer. Both exhibitions and reception are free and open to the public.
Of Totems, Traps, Maps, and James Jesus Angleton
The exhibition was curated by Bell Gallery director Jo-Ann Conklin. A recent émigré to the Ocean State, Conklin says that the exhibition includes "some of the best artists that I have had the opportunity to meet or seek out during my tenure, with a definite emphasis on young or underexposed artists. Brothers, Elyashiv, Pappas and Strong find inspiration in a diversity of sources - some personal, others political, historical or religious. A certain poetic sensibility unites the group and the approach of each is thought-provoking."
Susannah Strong's Totems will be shown with an installation from the series Memory Objects in which the artist creates a witty homage to the 17th-century Cabinet of Curiosity. Objects with titles like Red Memory Object, Lactoids, Buoy Uvula and Cement Flora are displayed on shelves and in drawers. Highly organic in nature, Strong's objects are very familiar but ultimately unidentifiable - rather like body parts from an alien life form.
Harriet Pappas considers her works to be repositories for experiences, either current or remembered. Although she does not relate specific events to specific works, she believes that "three or four things become trapped in each piece." Her Eye Traps are a series of small, often pod-shaped, vessels, each with an aperture that allows access to the interior. References to light, sight and photography occur throughout Pappas' work. She has, in fact, appropriated the title from an early twentieth-century French photographer who called his work Eye Traps.
Yizhak Elyashiv will show prints from two series, both of which explore the potential of variation within set parameters. His Handful of Grains Maps are large (6 by 10 feet) intaglios (each map is made up of a grid of 60 steel plates). The maps trace a series of permutations. Elyashiv began by throwing grains onto his steel plates. He then connected the points, calculated the distance between points, and found an average distance. The first map records this process. The pattern of the second map was derived by dividing the average distance in two, cutting sticks to that length, throwing them onto the plate, and recording the pattern. Subsequent maps record further permutations. Elyashiv claims to have no interest in mathematics. Rather, his interest is in order and ordering systems - a universal order that is "a little bit religious, mystical."
An abstracted house form provides a leitmotif for many of Richard Brothers' sculptural works, while politics, both global and sexual, provide the context. Trained as an architect, Brothers considers the homes a particularly American obsession, an iconography image of comfort which is charged with great affection and great emotional expense. The house motif, which is included in all of the works in the exhibition, finds its darkest incarnation in Reliquary (for James Jesus Angleton). Here, the house is suspended above the head of the viewer, its otherwise hidden interior made visible. Red fingerprints, the bloody tracings of outstretched hands, cover the interior walls. Named for the legendary, cold-blooded head of CIA counterintelligence operations from 1954 to 1974, the work compounds the banal, domestic implications of the house with a reliquary containing the symbolic remains of Angleton's rein of terror.
Jonathan Sharlin: Ancient Stones
The exhibition includes platinum and silver prints of Scottish stone circles, cairns, duns, and standing stones. Jonathan Sharlin received his M.F.A. from the Visual Studies Workshop in New York and currently teaches at Rhode Island College. His photographs have been shown extensively throughout the United States.

Sharlin is perhaps best known for photographs of Holocaust survivors. However, a sustained interest in landscape has run concurrent with this work and occupied the artist for more than 20 years. Early landscape series focused on New Mexican anthills - photographed from an extreme vantage point that monumentalized these miniature landscapes - and gravel pits and quarries in New England. In the latter series, Sharlin photographed at night using very long exposures. "My goal was to create alignments between star lines, artificial light trails and these megalithic stone structures, creating my own myths in this collaboration with the landscape."

The photographs included in Ancient Stones were taken during a hiking trip in Scotland in the summer of 1995. Sharlin was fascinated by the aura and enigmatic nature of the sites, and by prehistoric man's intervention with nature, which he relates to his intervention in the New England photographs.

The David Winton Bell Gallery is located in the List Art Center, 64 College St., Providence. Hours are 11 a.m. to 4 p.m. Monday through Friday and 1 p.m. to 4 p.m. Saturday and Sunday. For further information call 863-2932.

######
96-138