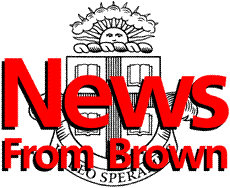 ---
The Brown University News Bureau
Contact: Tracie Sweeney

Commencement 1997 surprises
Gregorian honors Nuala Pell; Clare Gregorian gets honorary degree
In his ninth and final Commencement as Brown University president, Vartan Gregorian awarded the President's Medal to Nuala Pell, wife of retired Sen. Claiborne Pell. In addition, Clare Gregorian, wife of the president, received an honorary doctorate, an award that came as a surprise not only to Mrs. Gregorian but to the President as well.
PROVIDENCE, R.I. -- Brown University's Commencement held several surprises for the thousands of alumni, parents, graduates and friends who packed The College Green Monday, May 26.
The President's Medal
Vartan Gregorian, presiding over his ninth and final Commencement as president, awarded Nuala Pell a President's Medal, the highest honor a Brown University president may bestow. It is awarded at the president's discretion. Only six other President's Medals have been awarded.
"I wanted my last act as president to honor Rhode Island, the nation, women and the spouses who help great leaders succeed," Gregorian said after calling Mrs. Pell, wife of retired U.S. Sen. Claiborne Pell, to the stage. Gregorian cited Mrs. Pell's work, often done behind the scenes and without notice, for nearly 60 years, then draped the red velvet ribbon that bore the round gold medallion around Mrs. Pell's neck.
The President's Medal honors a person who has achieved distinction in a particular field, including education, scholarship, public service, the arts or philanthropy.
Mrs. Pell is a member of the International Rescue Committee. She has been a trustee of Roger Williams College and the University of Rhode Island Foundation. She has been active in political campaigns on a local, state and national level. Currently she is a trustee of the John A. Hartford Foundation and on the board of the Samaritans in Providence. She is a consultant to Christie, Manson and Woods International, fine art auctioneers.
A surprise honorary degree
Clare Gregorian, wife of President Gregorian, received an honorary Doctor of Humane Letters (L.H.D.) degree from the University. The presentation during Commencement was a surprise to both President and Mrs. Gregorian. Called to the stage by Corporation Fellow and Former Chancellor Charles C. Tillinghast Jr., Mrs. Gregorian left the audience and was handed a cap and gown before climbing the stage steps. Tillinghast read the citation for Mrs. Gregorian - first in English, then in Latin - that praised her work on behalf of Brown and Rhode Island. (Mrs. Gregorian was a volunteer with Planned Parenthood of Rhode Island and with the Providence Public Library.) "Congratulations, Dr. Gregorian," the president said as his wife took a seat with the other 10 honorary degree recipients on stage.
Two honors for the president
The Brown faculty presented the Susan Colver Rosenberger Medal to President Gregorian. The Rosenberger, the highest honor the Brown faculty can bestow, is given to recognize "specially notable or beneficial achievement." Gregorian is the 21st recipient.

In addition, President Gregorian received the Graduate Student Council's first Wilson-Deblois Award for outstanding contributions to the Graduate School.

"Had I known I was going to get all these gifts, I would have resigned much earlier and more often," Gregorian quipped afterward.

######
96-139