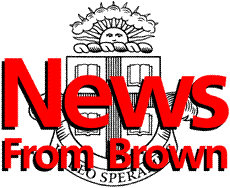 ---
The Brown University News Bureau
Contact: Mark Nickel

For the betterment of Providence
Vartan Gregorian announces creation of the Cianci Urban Scholarship
President Vartan Gregorian has announced creation of the Vincent A. Cianci Jr. Urban Scholarship at Brown University. The scholarship will support the work of a Brown student that is designed to improve life in the city. Gregorian also declared June 1, 1997, as "Mayor Cianci Day."
PROVIDENCE, R.I. -- In recognition of vital and enduring ties between Brown University and the City of Providence, President Vartan Gregorian announced creation of the Vincent A. Cianci Jr. Urban Scholarship and, in a temporary reversal of roles, issued a proclamation declaring June 1, 1997, to be "Mayor Cianci Day."
Gregorian made his announcement and proclamation during a brunch yesterday (Sunday, June 1, 1997) attended by former Sen. Claiborne and Nuala Pell, Sens. Jack Reed and John Chafee, former Gov. Bruce Sundlun, state and local elected officials, Brown faculty, members of the Brown Corporation, and other dignitaries, in addition to the mayor.
"Anyone who has walked along the revitalized riverfront of this great city or studied the menu of excellent cultural events has recognized the unmistakable signs of urban Renaissance," Gregorian said. "Providence is making its mark as one of New England's revitalized urban treasures, due in large part to the creative, energetic and engaging leadership of our great mayor. I and my colleagues salute the mayor's accomplishments and his great independent spirit."
The Cianci Scholarship will be awarded each year by a University committee to a Brown student who is interested in conducting research, creating or improving a program, or undertaking a project aimed at bettering life in Providence. It will be a prestigious award for which the best and the brightest minds will compete, Gregorian said, and it will carry a $2,500 stipend to support the student's work on behalf of the city. The work of the Cianci Urban Scholar will be recognized during Brown's annual Commencement exercises to further underscore the vital and enduring ties between the University and the city.
Resolution
WHEREAS, Mayor Vincent A. "Buddy" Cianci Jr. has served the City of Providence with distinction for more than two decades; and

WHEREAS, his tireless devotion to Providence has spawned the City's breathtaking transformation and revitalization; and

WHEREAS, his leadership and dedication as Mayor have advanced the cause of Providence as it struggles to reinvent itself in the wake of changing demographics and modern challenges; and

WHEREAS, Mayor Cianci, in his wisdom, has enlisted Brown University and its sister institutions in Providence as partners in advancing education and cultural life in the City;

I, President Vartan Gregorian, on behalf of the Corporation of Brown University, its faculty, staff and students, proclaim June 1, 1997, "Mayor Cianci Day" and salute this outstanding Mayor and his accomplishments by establishing an academic award in his honor, henceforth to be known as the Vincent A. Cianci Jr. Urban Scholarship.

######
96-142