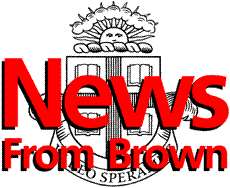 ---
The Brown University News Bureau
Contact: Mark Nickel

Opening Convocation address
President-elect Gee discusses `boundless expectations' for new year
President-elect E. Gordon Gee delivered the address at Brown University's 234th Opening Convocation today. In welcoming the 1,385 members of the Class of 2001 to campus, Gee urged them to be actively engaged in their education and to respect the freedom of expression and variety of ideas that define the University.
PROVIDENCE, R.I. -- In an address today at Brown University's 234th Opening Convocation, President-elect E. Gordon Gee urged the 1,385 members of Brown's Class of 2001 to immerse themselves in the University's intellectual life with passion and enthusiasm and to have boundless expectations of the University and of themselves.
Alluding to playwright Jerome Lawrence's description of an educated person, Gee told students, "Do not be afraid of being foolish. Risk asking questions. Risk putting your ideas before a group. Risk laughter. Be a disturber of the peace.... Brown expects you to be engaged in your education, to abhor complacency and strive for quality in all things."
While he urged students to "take Brown by storm," Gee reminded them of the University's traditional respect for the dignity of individuals and the variety of ideas. The dialog with persons who hold ideas that differ from our own, Gee said, "is critical to the nature of any university and defines this University. Ideas should be nurtured, respected and protected. If this freedom of expression is threatened, Brown is diminished, as are all of us."
Gee, who was introduced by Vartan Gregorian, Brown's 16th president, frequently reminded his listeners that he, like the Class of 2001, is a newcomer to Brown and is engaged in the same exploration of a new and exciting environment. For that reason, Gee said, the Class of 2001 will always hold a special place in his heart.
"What will ultimately define the greatness of Brown is what you, its students, do with your education," Gee said. "Based on all I see and know of you, I expect the decades to come will be wonderful, indeed."
E. Gordon Gee
President-elect E. Gordon Gee was born in Vernal, Utah, Feb. 2, 1944. He earned a bachelor's degree in history from the University of Utah in 1968 and a law degree and doctorate in education from Columbia University in 1971 and 1972, respectively.

After completing his graduate work at Columbia, Gee returned to the University of Utah, where he served as assistant law dean. He spent a year as a judicial fellow and senior staff assistant in the chambers of the chief justice of the United States, then returned to higher education as associate law dean and professor of law at Brigham Young University. Between 1979 and 1981, he was dean and professor of law in the College of Law at West Virginia University.

Gee first served as a university president at West Virginia, assuming the office in 1981 at age 37, making him one of the nation's youngest presidents. He became president of the University of Colorado in 1985 and moved to Ohio State in 1990. An outspoken and tireless advocate for higher education, Gee will serve as chair of the Association of American Universities during the 1997-98 academic year.

Gee has received many honors in law and education. He has written or co-written seven books, including Information Literacy: Revolution in the Library, which won the American Library Association's G.K. Hall Award in 1990. The second edition of Education Law and the Public Schools: A Compendium was published in 1997.

######
97-013