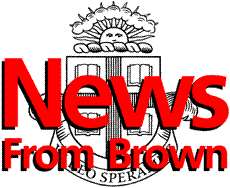 ---
The Brown University News Bureau
Contact: Scott Turner

Brown will award six honorary degrees at engineering ceremony Sept. 19
Brown will award honorary degrees to six engineers in celebration of the University's 150 years of engineering education. Several recipients will speak during sesquicentennial events. Those talks will be free and open to the public.
PROVIDENCE, R.I. -- Six outstanding engineers will receive honorary degrees from Brown University Friday, Sept. 19, during ceremonies marking the 150th anniversary of engineering education at Brown.
Five of the recipients are Brown graduates or former faculty. Their honorary degrees will be presented during an academic convocation that will begin 2:30 p.m. in Sayles Hall. The convocation's keynote address will be given by U.S. Rep. George E. Brown Jr. [D-Calif.], ranking minority member of the House Science Committee. He will be introduced by Sen. Jack Reed.
The honorary degree recipients will be:
Maurice Glicksman, provost emeritus, University professor emeritus, and professor of engineering and physics, Brown University. In addition to his 28 years of service to Brown, Glicksman has published more than 130 reports, articles, book chapters and books, received four U.S. patents, and presented more than 230 lectures to engineering societies and laboratories worldwide. He is a fellow of the American Physical Society and a fellow of the Institute of Electrical and Electronic Engineers.


John P. McTague, vice president for technical affairs, Ford Motor Company. McTague directs operations of Ford Research Laboratories, Environmental and Safety Engineering, New Generation Vehicle Programs and Corporate Technical Strategy. He is a former member of President George Bush's Council of Advisors on Science and Technology and the former Acting Science Advisor to President Ronald Reagan. In 1965, McTague received a doctorate in chemistry at Brown.


Allan Mulally, president, Boeing Defense and Space Group. Mulally is responsible for Boeing's defense programs and government and commercial space programs. He is a former senior vice president of airplane development for the Boeing Commercial Airplane Group and former vice president and general manager of Boeing's 777 division.


Simon Ostrach, the Wilbert J. Austin Distinguished Professor of Engineering and Director of the National Center for Microgravity Research on Fluids and Combustion, Case Western University. A Rhode Island native, Ostrach is a member of the National Academy of Engineering, a fellow and honorary member of the American Society of Mechanical Engineers, and a fellow of the American Institute of Aeronautics and of the American Academy of Mechanics. He has master's degrees from Brown and from the University of Rhode Island. In 1950, he received a doctorate degree in applied mathematics from Brown.


Ronald F. Probstein, Ford Professor of Engineering, Massachusetts Institute of Technology. A specialist in fluid mechanics, Probstein has written 10 books, received six patents and published more than 125 technical articles. Among his many honors, he was elected to the National Academy of Engineering and to the American Academy of Arts and Sciences. He is a former professor of applied mathematics and engineering at Brown.


James R. Rice, Gordon McKay Professor of Engineering Sciences and Geophysics, Harvard University. A solid mechanics expert, Rice was elected a fellow of the American Academy of Arts and Sciences, a fellow of the American Society of Mechanical Engineers and a member of the National Academy of Engineering. He is the former Herbert Ballou Professor of Theoretical and Applied Mechanics at Brown.
Five of the honorary degree recipients will take part in free and public discussions in Room 166, Barus & Holley Building, 184 Hope St. At 9:30 a.m. Friday, Sept. 19, Mulally will describe his experience building the Boeing 777. He will also participate in a discussion at 11 a.m. on engineering large systems. At 9:30 a.m. Saturday, Sept. 20, Probstein and Rice will take part in a symposium on engineering research possibilities. McTague and Ostrach will participate in a discussion on engineering research policy at 11 a.m. Saturday, Sept. 20.

For further information on sesquicentennial events, call Priscilla Young, (401) 863-2652.

######
97-015