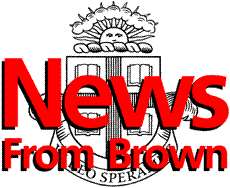 ---
The Brown University News Bureau
Contact: Tracie Sweeney

New national initiative from Annenberg Institute
Institute seeks examples of public involvement in public education
To help revitalize public support for public education, the Annenberg Institute for School Reform is gathering examples of school-community collaborations to find out how they work and whether they are making a difference. A report on the findings will be released in February 1998.
PROVIDENCE, R.I. -- The Annenberg Institute for School Reform (AISR) at Brown University is gathering information on public engagement activities around public schools as part of a national research and dissemination effort. The Institute's aim is to connect those who are doing the work of public engagement with information, examples and models that will ultimately strengthen the capacity of schools and communities to improve public education.
"This effort supports an important function for the Annenberg Institute," said Jeffrey Kimpton, director of public engagement. "We're studying the relationship between communities and their schools in order to help revitalize public support for public education, which we believe is crucial to improving our nation's schools."
Over the past year, AISR has compiled more than 300 examples of local school districts, civic organizations and national and community-based foundations that have engaged schools, parents, business leaders and other community members as active participants, advocates and actors in improving public schools.
Those who know of local efforts in public engagement should contact the Institute at (401) 863-1714 or at www.aisr.brown.edu for a copy of the description format. Descriptions will be reviewed by the Institute's research team, which will contact sites throughout the fall. Efforts that fit within the context of the research may be:
visited by Institute researchers;
included in a national database;
used as part of a report and other dissemination products; or
asked to join a network of sites for long-term study.
The Institute will release a report summarizing its findings in February 1998. This research will also generate a comprehensive series of publications and resources - in print, video and online - along with conferences, video conferences, workshops and symposia.

"The more we know about what initiatives exist, why they were started, and how they operate, the better perspective we get on the engagement movement as a whole," said Kimpton. "Even more important, we are better able to see whether and how public involvement actually makes a difference."

The Annenberg Institute for School Reform was created in 1993 with initial funding of $5 million from anonymous donors. A $50-million gift from the Annenberg Challenge in 1993 expanded the Institute's mission and scope, and provided long-range support. The Institute's work is focused in three areas: developing the capacity of those who work in schools to meet high standards and initiate change; rethinking accountability as a means for schools to improve as well as measure their performance; and engaging the public as participants in and advocates for public education.

The Annenberg Institute does not give grants and is not seeking grant proposals. For more information, contact Kimpton at (401) 863-7975 or [email protected]

######
97-029