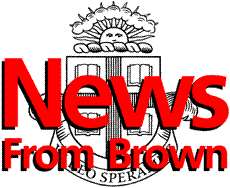 ---
The Brown University News Bureau
Contact: Mark Nickel

Pete Peterson and Le Van Bang
Ambassadors to share stage for discussion of U.S.-Vietnam relations
Douglas "Pete" Peterson, the U.S. ambassador to the Socialist Republic of Vietnam, and Le Van Bang, the Vietnamese ambassador to the United States, will present a Stephen A. Ogden Jr. Memorial Lecture titled "U.S.-Vietnam Relations: A Dialogue Between the Ambassadors" at 4 p.m. Monday, Nov. 17, in the Salomon Center for Teaching.
PROVIDENCE, R.I. -- For the first time since the two nations moved to normalize relations, the ambassadors of the United States and Vietnam will speak at the same public forum, discussing the current and future relationship of their nations.
Douglas "Pete" Peterson, the U.S. ambassador to the Socialist Republic of Vietnam, and Le Van Bang, the Vietnamese ambassador to the United States, will present "U.S.-Vietnam Relations: A Dialogue Between the Ambassadors" at 4 p.m., Monday, Nov. 17, in the Salomon Center for Teaching. Ralph Begleiter, world affairs correspondent for CNN, will moderate the event, a Stephen A. Ogden Jr. Memorial Lecture. The presentation is open to the public without charge, and time has been set aside so that the ambassadors may respond to questions from the floor.
Editors: Both ambassadors will be available for press interviews immediately following the Ogden Lecture. Please contact the News Bureau for details.
The joint appearance of the ambassadors grows out of an extraordinary conference in Hanoi, June 20-23, 1997, sponsored by Brown University's Thomas J. Watson Jr. Institute for International Studies and by Vietnam's Institute for International Relations. That conference, titled Missed Opportunities?, featured high-level delegations of former government, diplomatic and military officials from both sides, led by Robert S. McNamara, former U.S. secretary of defense, and Nguyen Co Thach, former Vietnamese deputy prime minister. The conference was part of the Watson Institute's ongoing "critical oral history" project on the Vietnam conflict.
Douglas "Pete" Peterson
Douglas "Pete" Peterson has had three careers as a public servant: first, as a fighter pilot in the U.S. Air Force, rising to the rank of colonel; second, as a three-term Democratic Congressman from the Second Congressional District of Florida; and third, as the ambassador of the United States to the Socialist Republic of Vietnam.
Born in Oklahoma in 1935, Peterson enlisted in the Air Force and began a 26-year career as fighter pilot and commander, serving in a variety of assignments worldwide. In 1966, while flying his 67th combat mission over Vietnam, he was shot down near Hanoi and spent six and a half years as a prisoner of war. Following his release in 1973 as part of Operation Homecoming, Peterson continued his Air Force career until his retirement in 1980. His last assignment was as base commander at the Seymour Johnson AFB in Goldsboro, N.C.
Peterson settled in Marianna, Fla., where he became co-owner of CRT, a computer business. He was also a member of the Florida State University faculty, as administrator of an innovative rehabilitative program for troubled adolescents at the Dozier School for Boys. In 1990, in a test to see whether an average citizen could succeed in running for Congress, Peterson was elected representative of the Second Congressional District. During his three-term career in the House, he served on the House National Security Committee and House Small Business Committee and was deeply involved in the debate about health care reform.
Peterson, a widower with a son and daughter, took up his duties in Hanoi in May 1997.
Le Van Bang
Le Van Bang is a career diplomat and foreign affairs specialist. Born in 1947 in Ninh Binh Province, he received an international education. Le holds degrees from the University of Havana and from the Australian National University, with a post-graduate degree from the Institute of International Relations of the Ministry of Foreign Affairs of Vietnam. In addition to those formal degree programs, he has has been a visiting fellow at the International Center for Development Policy in Washington, D.C. (1991) and has participated in leadership seminars at Georgetown (1993) and Stanford (1994).
Le began his career at the Ministry of Foreign Affairs in 1972 and served as deputy chief of mission in Vietnam's United Kingdom embassy from 1982 to 1985. He joined the Americas Department at the ministry in 1986 as assistant director and was promoted to deputy director (1990) and director (1992). In 1993, with the rank of ambassador, he served as Vietnam's acting permanent representative to the United Nations. He began representing his country's U.S. interests officially in 1995 as chief of the Liaison Office of the Socialist Republic of Vietnam and was named charge d' affaires later that year. When Vietnam and the United States exchanged ambassadors earlier this year, Le was named ambassador extraordinary and plenipotentiary of the Socialist Republic of Vietnam to the United States of America. He is married to Mrs. Bui Thi An and has two sons.
Ralph Begleiter
Ralph Begleiter, CNN's world affairs correspondent, brings nearly 30 years of broadcast journalism experience to his reports on all aspects of international affairs. He joined CNN in 1981 and took on the State Department assignment in June 1982. In 1994, after leaving the State Department, he conceived and began hosting the weekly "Global View" program, a public affairs discussion of international issues seen worldwide on CNN International. From 1994 to1995, he co-anchored CNN's prestigious "International Hour," aired daily during prime time in Europe, Russia, Africa and the Middle East.
Begleiter is CNN's most widely traveled correspondent, having flown more than 1.5-million miles around the world with U.S. presidents and secretaries of state since 1982. He has interviewed many world leaders, including British Prime Ministers Margaret Thatcher and John Major, German Chancellor Helmut Kohl, Iraqi Foreign Minister Tariq Aziz, Russian Prime Minister Victor Chernomyrdin, several Russian foreign ministers, Pakistan's Benazir Bhutto, Chinese President Jiang Zemin and French President Francois Mitterrand.
Among many honors, Begleiter has received awards from the National Press Club, the National Academy for Cable Programming, the Houston International Film Festival, the New York Festival's International Competition for Television, Film and Video Communication, the Associated Press and United Press International. In 1994, Georgetown University's Graduate School of Foreign Service awarded Begleiter its Weintal Prize, one of diplomatic reporting's highest honors.
Begleiter was born in New York City. He holds a B.A. with honors in political science from Brown University and an M.S. in journalism from Columbia University.
The Stephen A. Ogden Jr. Lectureship
Stephen A. Ogden Jr., a member of the Brown class of 1960, died in 1963 of injuries sustained in an automobile accident during his junior year. The lectureship was created by his family to achieve what Ogden had hoped to accomplish through a career in international relations: the advancement of international peace and understanding.

Since 1965, the Ogden Lectureship has presented authoritative and timely addresses about international affairs. Many heads of state, distinguished diplomats and other observers of the international scene have come to Providence as Ogden Lecturers. Presenters have included King Hussein of Jordan, Mario Soares of Portugal, Eduard Shevardnadze, foreign minister of the former Soviet Union, and Shimon Peres of Israel. Former Secretary of Defense Robert S. McNamara, who led the American team to Hanoi in June 1997, presented an Ogden Lecture in February 1996.

######
97-035