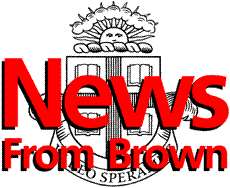 ---
The Brown University News Bureau
Contact: Tracie Sweeney

Homecoming celebration Nov. 7-9

Panel discussion Nov. 8 will feature Brown University Olympians
As part of the University's homecoming weekend, Brown will feature 19 of its Olympians in a panel discussion, "Mens sana in corpore sano - Sound Mind, Sound Body," on Saturday, Nov. 8, from 4 to 6 p.m.
PROVIDENCE, R.I. -- Brown University will honor its Olympians with a reception and panel discussion, "Mens sana in corpore sano - Sound Mind, Sound Body," on Saturday, Nov. 8, from 4 to 6 p.m. in Andrews Hall on the Pembroke Campus. The event, which is part of the University's homecoming celebration Nov. 7-9, is free and open to the public. It is sponsored by the Association of Class Officers (ACO), a committee of the Brown Alumni Association composed of more than 400 class officers representing 65,000 alumni.
Thirty-nine Brown graduates and current students have participated in 13 summer and five winter Olympic games, dating to the summer of 1900 in Paris. They have represented nine countries in nine different sports and have earned 19 Olympic medals (six gold, three silver, 10 bronze). Nineteen Brown Olympians, representing alumni from five decades and including several reigning national champions, are expected to participate as panelists in the homecoming event. Douglas Turner, Class of 1954, who rowed for the American team in the 1956 Summer Olympics, will moderate the panel. Turner is Washington bureau chief for the Buffalo (N.Y.) Evening News.
"Brown takes great pride in its student-athletes," said Michael Kezirian, Class of 1989. Kezirian chairs the homecoming committee and is a member of the ACO Board of Directors. "Homecoming 1997 celebrates the rich tradition of excellence in athletics at Brown. We honor our Olympians and give these athletes an opportunity to share their experiences and insights with current student-athletes, alumni and friends of Brown who are returning to campus for homecoming."
Other homecoming events include the Hall of Fame Dinner, honoring the 1997 inductees into the University's athletic Hall of Fame; a community service project sponsored by the Rhode Island Brown Club, the Swearer Center for Public Service and the ACO; a carnival and barbecue sponsored by the Undergraduate Council of Students; and eight intercollegiate varsity athletic contests, including men's and women's soccer and a football game against Harvard University.
Olympians who are expected to attend:
John R. Welchli, Class of 1950 - rowing team, 1956
Donald Whiston, Class of 1951 - hockey team, 1952
Douglas Turner, Class of 1954 - rowing team, 1956
Robert Gaudreau, Class of 1966 - hockey team, 1968
James Miller, Class of 1973 - Canadian wrestling team, 1976
Zdravko Divjak, Class of 1978 - Yugoslavian swim team, 1976
Michael Mastrullo, Class of 1979 - Italian hockey team, 1984
Jonathan Smith, Class of 1983 - rowing teams, 1984, 1988, 1992
Andrew Goldman, Class of 1989 - sailing team, 1988
Mark Thompson, Class of 1989 - Jamaican track and field team, 1992
Malcolm Baker, Class of 1991 - rowing team, 1992
Susan Smith, Class of 1993 - Irish track and field team, 1996
Jim Pedro, Class of 1994 - judo teams, 1992, 1996
Chris Sahs, Class of 1994 - rowing team, 1992
Martina Jerant, Class of 1995 - Canadian women's basketball team, 1996
James Koven, Class of 1995 - rowing team, 1996
Porter Collins, Class of 1997 - rowing team, 1996
Nikki Dryden, Class of 1998 - Canadian swim teams, 1992, 1996
Eli Abarbanel-Wolff, Class of 2000 - paralympic soccer, 1996
######
97-041