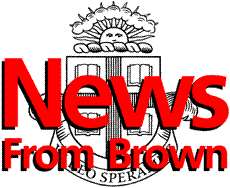 ---
The Brown University News Bureau
Contact: Linda Mahdesian

The science education secretary
U.S. Sec. of Energy Peña to deliver Leadership Alliance keynote
U.S. Secretary of Energy Federico Peña will give the keynote address at the Leadership Alliance's national symposium in Washington, D.C., Dec. 11-12. His speech is scheduled for 1:15 p.m. - 2 p.m. Thursday, Dec. 11, in Carmichael Auditorium at The National Museum of American History. (See release 97-053 for symposium schedule.)
PROVIDENCE, R.I. -- Federico F. Peña, the U.S. secretary of energy, will give the keynote address at the Leadership Alliance's national symposium on biomedical research at 1:15 p.m. Thursday, Dec. 11, at The National Museum of American History in Washington, D.C. The symposium will be held Dec. 11-12, and will run in conjunction with the annual meeting of the American Society for Cell Biology (ASCB). Peña will be introduced by Mina Bissell, president of the ASCB.
The Leadership Alliance is a consortium of 24 institutions, including historically black colleges and universities and Ivy League schools, working together to increase the number of under-represented minority students in graduate schools. James Wyche, professor of medical sciences and associate provost of Brown, is the Alliance's executive director.
In an announcement Dec. 4, 1997, Peña unveiled his National Science Education Strategy, an initiative to create Internet learning tools that can be used nationwide, to provide experts from the Department of Energy's national labs who will serve as on-line mentors for teachers in grades K-12, and to provide opportunities for teachers to access the latest innovations in science and technology.
For more information on the Leadership Alliance and a complete symposium schedule, contact the Brown News Bureau at 401/863-2476. For an interview with Sec. Peña, contact Brooke Anderson at 202/586-4940. For an interview with James Wyche, contact Linda Mahdesian at the Brown News Bureau or, as of Dec. 10, at the Washington Court Hotel, 202/628-2100. Editors and reporters are invited to a reception at 7 p.m. Thursday, Dec. 11, in The Atrium Ballroom of The Washington Court Hotel, 525 New Jersey Ave., NW, Washington, D.C.
Background on Federico Peña
Federico F. Peña is the eighth U.S. Secretary of Energy. He was sworn into office March 12, 1997, following confirmation by the U.S. Senate. A former mayor of Denver, Peña served as secretary of transportation in President Clinton's first term.

At the Department of Transportation, Peña's leadership was instrumental in increasing the global competitiveness of America's transportation industry and improving travel safety. His efforts helped revitalize the U.S. airline industry, signing aviation agreements with 40 nations which opened lucrative markets for American airlines and cargo carriers and promoted easier travel for Americans and tourists to the United States.

Peña has also been a strong advocate of new technologies and science research and development. At the Department of Energy, he oversees the agency's missions in national security, science and technology, energy resources and environmental quality, and he works toward further strengthening U.S. economic competitiveness in the world economy.

Born in Laredo, Texas, in 1947, Peña is the third of six children of a cotton broker. He earned his baccalaureate from the University of Texas, where he also received a law degree. He and his wife, attorney Ellen Hart Peña, live with their three children in Alexandria, Va.

(See release 97-053 for symposium schedule.)

######
97-053a