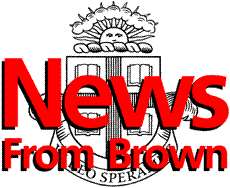 ---
The Brown University News Bureau
Contact: Tracie Sweeney

Live Jan. 29 from Boston and Atlanta
Annenberg interactive videoconference to discuss urban schools
A free live videoconference on Jan. 29, 1998, will give teachers, parents, administrators and others a chance to participate in a national discussion about building stronger urban schools. Community groups can get free materials to support local discussion from the Annenberg Institute for School Reform, sponsors of the videoconference.
PROVIDENCE, R.I. -- A live national videoconference Jan. 29, 1998, offered free to any interested school, community or organization across the country, will give teachers, parents, community activists, administrators and school reformers a chance to participate in a national discussion about building stronger urban schools. The program will also take viewers into two urban high schools that are on the road to success. The videoconference, sponsored by the Annenberg Institute for School Reform, will air from 7 to 9 p.m. EST.
The videoconference, titled "Hope, Fairness and Power - Building Strong Schools in Urban America," is timed to coincide with the mid-January publication of Education Week's second "Quality Counts" report, which will focus on the state of the 75 largest urban school districts in the nation. The videoconference will focus on such topics as how teachers are prepared and supported for work in urban settings and how urban schools build connections with families and communities.
Profiles of the two urban high schools were produced by WGBH, the Boston public television station. Students and teachers will speak about promising ideas and hard work that have improved each school and its students. Comments and questions will be taken from 300 studio audience members at WGBH in Boston and Turner Entertainment Network in Atlanta, as well as from viewers around the country. A studio panel will include:
Teachers, administrators and students from the profiled schools;
Lisa Delpit, professor of education and director of the Center for Urban Educational Excellence, Georgia State University, and author of Other Peoples' Children;
Carl Cohn, superintendent of the Long Beach Unified School District;
Jean Anyon, chair of the Department of Education, Rutgers University - Newark, and author of Ghetto Schools;
moderator Ronald A. Wolk, publisher of Education Week and Teacher Magazine.
"This forum offers an exciting way to learn about and discuss new ideas and practices in urban education nationally. But conversations about working together to make urban schools strong and effective must be local - responsive to the particular needs and issues of each community," said Jeffrey Kimpton, the Institute's director of public engagement.
To that end, the Annenberg Institute collaborated with the Study Circles Resource Center (a national organization that fosters civic dialogue on social issues) and other urban community partners to prepare materials that will help spark local discussions about education reform. These materials are available free. "Study Circles Resource Center has a national reputation in working with diverse communities to build conversation around tough issues," said Ansley Erickson, manager of the Forum series for the Annenberg Institute. "Their experience in conversations on race and on education make them unique and valuable partners." The materials include suggested discussion outlines, facilitator's guides, ideas for gathering data on the schools in individual communities, and information on developing action plans. Members of the studio audience in Boston have used these materials in preparation for the Jan. 29 videoconference.
To receive transponder settings for the videoconference or to join local conversations or on-line discussions, call (401) 863-2018, send e-mail to [email protected] or visit the Forum website at http://www.aisr.brown.edu/forum/. The next scheduled conference, "Engaging the Public in Public Education," is March 5, 1998.
The Annenberg Institute for School Reform
The Annenberg Institute for School Reform at Brown University promotes and advocates the serious redesign of American schooling. Its current efforts are focused on rethinking accountability for student performance, developing the capacity of schools and teachers to meet high standards, and engaging the public as participants in and advocates for school change. By its charter, the Annenberg Institute does not make grants. For more information about the institute, contact Jeffrey Kimpton, (401) 863-7975, or send e-mail to [email protected]

######
97-057