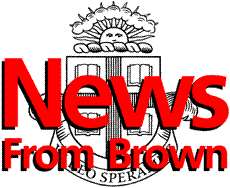 ---
The Brown University News Bureau
Contact: Mark Nickel

Sheila E. Blumstein named interim provost for second semester
President-elect E. Gordon Gee has announced that Professor Sheila E. Blumstein will serve as interim provost until June 30, 1998. Blumstein, former dean of the College, will succeed Provost and Acting President James Pomerantz on Jan. 6, 1998, when Gee assumes his full-time duties at Brown.
PROVIDENCE, R.I. -- Sheila E. Blumstein, professor and chair of cognitive and linguistic sciences and former dean of the College at Brown University, will return to the senior administration as interim provost, according to an announcement today by Brown President-elect E. Gordon Gee. Blumstein's appointment, made in consultation with Brown Chancellor Artemis A. W. Joukowsky, will take effect Jan. 6, 1998.
Blumstein will succeed James Pomerantz, who currently serves the University as both provost and acting president. When he was named acting president in September, Pomerantz announced he would serve in that dual capacity only until Gee's arrival in early January and would then return to full-time teaching and research.
"On her watch as dean of the College, Sheila Blumstein earned an enduring reputation as a thoughtful, fair-minded and effective academic leader," Gee said. "Through her analysis of the Brown curriculum, her advocacy for women in science and engineering, her support of the UTRA program and other academic enrichments, and her courage in confronting difficult campus issues, Sheila has built a record of achievement that is impossible to overlook. I am delighted that she has agreed to return to University Hall during this critical period of time."
The provost is the chief academic officer for the University, overseeing the activities of the senior deans responsible for faculty affairs, the undergraduate College, the Graduate School, the School of Medicine and student life, as well as supervising the libraries, museums and chaplaincy.
"I am both flattered by this appointment and enthusiastic about the opportunity to work closely with President Gee as he develops and organizes his administration," Blumstein said. "The next six months will be an important time in the life of the University, and I look forward to doing what I can to help Brown maintain its momentum as it moves forward into the twenty-first century."
An internationally recognized expert on neurolinguistics and speech processing, Blumstein continued her research activities throughout her eight-year tenure as dean of the College. Her research on language deficits following aphasia was provocative in her field and was the primary reason she stepped down as dean. "I would like to be in the middle of the debate rather than sitting on the sidelines as a spectator," she said at the time. "To accomplish this, I must return to the faculty [and pursue] these research questions with my students."
As interim provost, Blumstein will dedicate one day per week to working in her laboratory with graduate and undergraduate student researchers. She has made it clear that she will not be a candidate for the provost position, and she intends to resume her research and teaching activities, as well as her duties as department chair, when her term as interim provost concludes June 30, 1998.
"Sheila Blumstein's experience as researcher, teacher, department chair and senior administrator will be particularly valuable to President-elect Gee as he continues to shape and refine the structure of Brown's academic leadership, said Laura Freid, executive vice president for external affairs. "Establishing a national search for a new chief academic officer is one of President-elect Gee's most urgent priorities," Freid said. "It will be important to move rapidly but carefully in making this crucial appointment."
Sheila Blumstein
Blumstein, a 1965 graduate (Phi Beta Kappa, Phi Sigma Iota, magna cum laude) of the University of Rochester, earned her Ph.D. in linguistics at Harvard in 1970. She came to Brown in 1970 as assistant professor of linguistics, was promoted to associate professor in 1976 and became a full professor in 1981. She was chairman of the Department of Linguistics from 1978 to 1981 and chairman of the Department of Cognitive and Linguistic Sciences from 1986 to 1987, when she was named dean of the College. In 1991 she was named the Albert D. Mead Professor of Cognitive and Linguistic Sciences. Although she announced her retirement as dean effective July 1, 1994, Blumstein continued to serve in that capacity until a successor was named in May 1995.

######
97-059