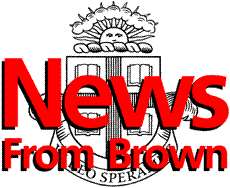 ---
The Brown University News Bureau
Contact: Mark Nickel

Brown University senior in critical condition after shooting
A Brown University senior was the victim of a shooting early Saturday morning, Dec. 20. His condition was listed as critical, but his injuries were not thought to be life-threatening. Brown Police issued a safety bulletin for the University community.
PROVIDENCE, R.I. -- A Brown University senior from Acton, Mass., was the victim of a shooting early Saturday morning, Dec. 20. He was listed in critical condition at Rhode Island Hospital with injuries that are not considered life-threatening.
According to a Providence Police report, officers were dispatched to Power Street between Thayer and Brook on the Brown campus at 1:19 a.m. and found the student lying near the curb with what appeared to be a single gunshot wound to the neck. He was transported to Rhode Island Hospital by a Providence Fire Department rescue vehicle. The student and witnesses reported three males leaving the area in a dark-colored vehicle, police said.
Detectives from the Providence Police Department are investigating, with assistance from Brown Police and Security Services.
Dean of Student Life Robin Rose and other University officials were at the hospital and spoke immediately with the student's parents. Provost and Acting President James Pomerantz issued the following statement:
The faculty, staff and students of Brown University are shocked and troubled by this singular, random act of violence. Our thoughts are with the student and his parents and friends.

Brown's Office of Police and Security Services will cooperate in every way with the ongoing investigation by the Providence Police Department. The University will continue its efforts to ensure that Brown remains a safe, secure and supportive environment for all members of the campus community.
######
97-064