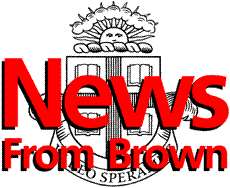 ---
The Brown University News Bureau
Contact: Linda Mahdesian

Plays for risk-taking audiences
The playwright's the thing at the 1998 Steinberg Festival of New Plays
The 1998 Steinberg New Plays Festival - the second year of collaboration between Brown's graduate program in playwriting and Trinity Repertory Company - presents eight plays by graduate students at Brown, from Jan. 29 through Feb. 1, and Feb. 5 through Feb. 8, at the Trinity Repertory Company in downtown Providence.
PROVIDENCE, R.I. -- It's the dream of every budding playwright - to see one's work, words, characters, scenes, moments and rhythms felt only in the imagination on stage, in front of theater-goers who are ready for something new. What could be better? Having audience members offer immediate feedback that makes the work better, stronger, more focused.
That's what the Steinberg Festival of New Plays offers young playwrights. Now in its second year, the festival is a partnership between Brown University and Trinity Repertory Company. The plays will be presented at 8 p.m. Thursday through Sunday, Jan. 29 - Feb. 1, and Feb. 5 - 8. There will also be 1 p.m. and 3 p.m. matinees on Feb. 7 and 8 featuring staged readings of plays by first-year graduate students in the Program in Creative Writing. All performances will be at Trinity Repertory Theater, 201 Washington St. in downtown Providence. Admission is a suggested donation of $5, with student passes available. Tickets are on sale now at the Trinity Box Office (401/351-4242) and will be available on the show days.
Each evening will feature one playwright from among the second-year graduate students, presenting a full production and gathering audience feedback afterward. "This is a playwright's festival," says Aishah Rahman, the festival's artistic director and professor of playwriting at Brown. "Everything is geared to help them develop their craft - getting feedback from directors, from dramaturgs, from the audience, the constant rewriting before and during rehearsals - they're rewriting every night."
Rahman's colleague, Paula Vogel, is currently on a two-year leave. Vogel's newest off-Broadway play, "How I Learned to Drive," is enjoying widespread acclaim and has been nominated for a Pulitzer Prize. "Under the leadership of Paula Vogel, the playwriting program at Brown has become the most prestigious program in the country for playwrights at the graduate level," said Oskar Eustis, artistic director of Trinity Repertory Company. "It has an astonishing record of quality in terms of the work that's done in the festival, so it's a terrific honor to be affiliated with that program. We hope that by combining the talent in our graduate acting program and the talent in the creative writing program, we can help produce remarkable work in its own right - but also educationally, we can give everybody, both actors and playwrights, a taste of the collaboration that is going to be at the center of their creative lives in this profession. Collaborating on new plays is probably the most exciting thing theater professionals can do."
The Steinberg Festival emphasizes process over production, playwriting over performance. "That's why it's such a great opportunity and so important," says Rahman. "It's really learning how to rewrite, how to think about the script, how to sift and judge comments. The students learn the theatrical process, the creative process, and get a thorough understanding of that process and the nature of collaboration." That collaboration includes working with directors from community theaters in Rhode Island as well as from New York, and actors from Trinity, New York, Brown and the local area.
Brown's playwriting program is unique in the nation. Between 200 and 300 aspiring playwrights apply for the program each year, and only three or four are accepted. "It's very competitive," Rahman said. "All our students tell us there's nothing like this anywhere. Our program is unique because it concentrates on writing. ...We do everything to accomplish that goal. All of us on the faculty are working writers ourselves; we understand the creative process and what the students need and what helps. It is unique in its pedagogy - we encourage people to experiment, to not be dictated by commercial concerns, to take artistic risks and challenges. It's also unique because there are so many chances for production. A writer has to see a work on its feet."
In addition to the new plays festival, the program offers staged readings and monthly "Once Upon a Weekend" workshops. The students' orientation program includes a retreat on Nantucket during the Labor Day weekend, before school officially begins. The faculty and students bring their plays and read and discuss each other's work. "We bond and we talk about playwriting as a way of getting to know one another," says Rahman.
The festival grew out of a grant from The Harold and Mimi Steinberg Charitable Trust, given in 1995, to establish a joint venture between the graduate playwriting program at Brown and Trinity Repertory Company. The Steinberg grant enables Brown and Trinity to pool their resources to create new programs and develop new plays by promising young playwrights.
1998 Steinberg Festival schedule
8 p.m. Thursday, Jan. 29 and Feb. 5:
Athens County by Edward Bok Lee. Directed by Debbie Falb, local director and URI theater arts instructor.

Plot: Momma just killed Daddy-Tom with the help of two used-car salesmen. Now the kids - hopped-up on millennial fervor, mystery chemicals and moon pies - are out for revenge. Watch the fireworks when old-fashioned family politics clash with the New World Order in their warped quest for the Kingdom of Heaven and insurance money.

8 p.m. Friday, Jan. 30 and Feb. 6:
Beatrice by Suzanne Maynard. Directed by Ron Smith, freelance director based in Rhode Island.

Plot: When a young woman finds herself caught between desire and destiny, she resorts to desperate measures. Set in early part of the 20th century, Beatrice is a dark comedy.

8 p.m. Saturday, Jan. 31 and Feb. 7:
The Whole Wide World by Alva Rogers. Directed by Peter DuBois, who received a master's degree in theatre, speech and dance from Brown last year.

Plot: One woman's odyssey through a European landscape peopled with characters who engage, enrage, defy and affirm stereotypes in a terrifying way. Following the Feb. 7 performance, there will be a talk given by Linda Chapman, associate artistic director of New York Theatre Workshop, who has served as guest dramaturg for the festival.

8 p.m. Sunday, Feb. 1 and Feb. 8:
Nine Come by Elana Greenfield. Directed by Ivan Talijanzic, graduate of Columbia's graduate program.

Plot: In a world broken by war, the only things that remain are broken stories. Worlds converge and Nine Come, the bar, is hopping. Time goes backward. Anna opens The Book.

1 p.m. Saturday, Feb. 7 (staged reading)
A Song Cycle by Jennifer Johung. Directed by Vanessa Gilbert, associate artistic director of Perishable Theatre in Providence.

Plot: Based on Japanese Bunraku puppet theater, a song cycle follows a master puppeteer as he rehearses with his company and deals with unbidden memories.

3 p.m. Saturday, Feb. 7 (staged reading)
Lamarck by Daniel O'Brien. Directed by Michael Baron, student at Trinity Repertory Conservatory.

Plot: A young American journalist travels to Paris to interview the daughter of Jean Baptiste Lamarck, a noted theorist of human evolution.

1 p.m. Sunday, Feb. 8 (staged reading)

A Song for Ruby, A Song for the Sea by Christina Coyle. Directed by Jason Slovick, student at Trinity Repertory Conservatory.

Plot: Ruby, Suzie, and Belinda Bee recall a long-ago event, weaving a tapestry of recollections, present occurrences and future predictions.

3 p.m. Sunday, Feb. 8 (staged reading)
Red Clay Hills by Keli Garrett. Directed by Don King, founder and artistic director of the Providence Black Repertory Company.

Plot: An African-American woman journeys from the North to the South and back again.

######
97-067