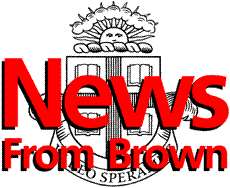 ---
The Brown University News Bureau
Contact: Tracie Sweeney

Brown University honors 17 employees for their 25 years of service
Brown University annually honors employees who have served 10, 20 and 25 years at the University. At a special awards luncheon Feb. 3, 1998, employees who have worked at Brown for 25 years received an engraved Brown University chair in appreciation of their dedication.
PROVIDENCE, R.I. -- Brown University's 31st Annual Years of Service Awards ceremony were held at a special luncheon Tuesday, Feb. 3, 1998, on the Brown campus. The awards, presented by President E. Gordon Gee, recognize those employees who have served 10, 20 and 25 years at the University.
Each employee who has worked 25 years at Brown received an engraved Brown University chair in appreciation of his or her years of dedicated service. The employees who have served 25 years, the departments in which they work, and their hometowns are:
Attleboro, Mass.
Robert Fortin, Controller's Office, wins accolades from co-workers for expertise in financial statement preparation, not-for-profit tax issues, payroll and investment accounting.
Chepachet
Theodore Kirst, Engineering, has had many successes, particularly during the developing stages of Professor Jan Tauc's Central Optical Facility in Barus & Holley, which he supervised. After Tauc retired, Kirst switched into the field of microelectronics for which a new, first-rate research facility was established with his assistance.
Cranston
John Eng-Wong, Foreign Students, Faculty and Staff Services, has served the University in a number of positions, first as a college admissions officer, then as an assistant dean of student affairs. Since 1980 he has been a significant resource for many of Brown's non-native constituencies.
John Molloy, Plant Operations, has been a painter for the last 25 years and has been called upon regularly to repair and update the walls of the University's many campus buildings. Recent projects include painting the interior spaces of the University mailroom and updating the interior of Walter Hall, home of the Department of Ecology & Evolutionary Biology.
East Greenwich
Thomas Whitehead, Plant Operations, is a controls mechanic in Brown's preventative maintenance division. Because of his multidisciplinary talents and his ability to troubleshoot anything mechanical, he was selected to assist with the modernization of the University's energy management system.
East Providence
Francisco Silveira, Plant Operations, has been a custodian since 1972. For 17 years, he has been assigned to List Art and the Department of Visual Art, from which a letter from a professor was sent which reads, in part: "Frank has done a terrific job. He is always efficient and diligent in his work, and courteous and helpful to faculty, staff and students."
North Attleboro, Mass.
David Sias, Athletics and Physical Education, has been the mainstay in the smooth and efficient management of the Smith Swim Center. Under his direction, his athletes have won numerous titles and awards.
Providence
Joel Arnold, Plant Operations, works in the custodial division. He is a head building custodian assigned to the Pizzitola Memorial Sports Center, where he ensures that the athletic facilities are properly cleaned for every game, match or meet of Brown's basketball, volleyball, wrestling, tennis and squash teams.
Bonnie Buzzell, University Library, has contributed her professional talents in both technical and public service departments. She is perhaps best known as an expert in statistical analysis, JOSIAH circulation and building management. She has served on many space projects and worked to integrate the University's one-card system into the Library's complex processes. She is a 1972 graduate of Brown
Kathryn Hardie, Coalition of Essential Schools, has served on the "front lines" at her office, expertly coping with the blizzard of folk and their myriad problems with good humor, assurance, common sense and style.
Giulia Hermann, Biology and Medicine, has been an important member of the Bio-Med staff. Her gift for understanding several languages and cultures has extremely helpful in translating information. Many times over the years she has reviewed reporting procedures and implemented changes that benefit faculty databases.
Nancy Holloway, University Library, has been an important member of the Broadsides Department of the John Hay Library. Researchers benefit from her learnedness when it comes to reference requests. Anyone perusing on-line cataloging records will come across those researched and created by Holloway and recognize the knowledge and expertise expended in creating this type of research tool.
Karen Romer, Office of the Dean of the College, has been an educational leader at Brown and nationally, serving with the Brown-Tougaloo Advisory Board, the Women in Science and Engineering Advisory Board, and leading the Undergraduate Teaching and Research Program. Her accomplishments and vision have helped give shape and meaning to the Brown Curriculum.
Seekonk, Mass.
Thomas Bechtel, Office of the Dean of Student Life, has helped countless students and their parents through painful personal crises of every sort and has responded to a significant number of faculty and staff who were experiencing difficulties with students. He has earned a University-wide reputation for being compassionate, firm, sensitive, fair, good-humored and quick-witted. His integrity and commitment to Brown are unassailable. His abilities to serve students, their parents, faculty, and the values of Brown are unmatched.
Smithfield
Stephen Thompson, University Library, currently is with the Rockefeller reference unit as a reference/collection development librarian, where he selects materials in many humanities disciplines such as English, theater arts and American civilization. He is a familiar face at the reference desk at the Rockefeller Library, providing one-on-one assistance at this very hectic service point where technology is constantly changing the research tools available. He conducts tours, orientations and classroom presentations for a variety of library users.
Warwick
Joan Lusk, Graduate School, originally joined Brown as an assistant professor in chemistry. She then began a second career in administration and has become invaluable as associate dean of the Graduate School where her many responsibilities include oversight of graduate student academic and financial aid matters and serving as secretary of the Graduate Council.

Marie Roderick, Hispanic Studies, is the only administrative assistant for a growing department. She has worked with eight department chairmen and currently serves 13 faculty members.

######
97-074