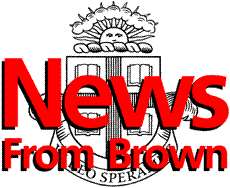 ---
The Brown University News Bureau
Contact: Mark Nickel

Dean of the College/Dean of Student Life
Blumstein appoints task force on academic/non-academic student life
Since 1979, Brown University has had separate dean's offices for the academic and non-academic areas of undergraduate student life. A task force appointed by Interim Provost Sheila Blumstein will review the rationale for that arrangement and consider whether the two-office structure is the optimal way of organizing student affairs.
PROVIDENCE, R.I. -- For nearly two decades, Brown University has operated under a unique structure that organizes the administration of student affairs under two offices. The dean of the College is responsible for the academic life of undergraduates, and the dean of student life is responsible for non-academic areas, including student activities, health, counseling, residential life and the University's non-academic disciplinary system.
Interim Provost Sheila Blumstein has now established a task force to conduct the University's first major review of this two-office structure and has asked the task force to submit its report by mid-May.
"Brown is justly recognized for the excellence of its undergraduate program," Blumstein said, "not only in academic areas, but in the whole range of the undergraduate experience. The two-office structure, however, has not received a formal review since it was established in 1979. I believe it is time to undertake such a review in order to ensure that Brown continues to provide the best possible experience for its undergraduates."
Blumstein, who served as dean of the College at Brown for eight years, has given the task force a seven-point charge:
to review the mission statements of the Office of the Dean of the College and the Office of Student Life;
to assess the extent to which the mission statements and associated activities of the two offices complement each other;
to identify any areas of overlap and evaluate whether such overlap is appropriate or problematic;
to identify any gaps in the activities or services provided to undergraduate students by either office;
to review how effective communication is within each office, between the two offices, and with other constituencies throughout the University community;
to evaluate the rationale for the different offices that report to the dean of the College and the dean of student life and indicate whether the reporting relationships are configured in the best possible way;
to consider whether the organizational structures currently in place are optimal for realizing the academic and student life needs of the undergraduate student body and recommend any appropriate changes to those structures.
The eight-member task force will include four faculty: William Crossgrove (chair), professor of German studies; Meera Viswanathan (vice chair), associate professor of East Asian studies; Wendy Edwards, professor of visual art; and Ferdinand Jones, professor emeritus of psychology. Katherine Lewis, University registrar and dean of curricular research, will be the administration representative. Two undergraduates and one graduate student will be nominated by the appropriate units of student government.

######
97-077