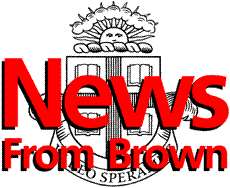 ---
The Brown University News Bureau
Contact: Tracie Sweeney

In Her Own Words: Elizabeth I Onstage and Online

Queen Elizabeth I will come to life during Women's History Month
During Women's History Month, actress Marilyn Murphy Meardon will bring Queen Elizabeth I to life in three performances drawn from texts written by one of Great Britain's greatest rulers. In Her Own Words: Elizabeth I Onstage and Online is sponsored by Brown University's Women Writers Project and Rhode Island's Office of Library and Information Services.
PROVIDENCE, R.I. -- Queen Elizabeth I, whose brilliant rule between 1558 and 1603 gave her name to an entire era, will reign during Women's History Month in three performances of In Her Own Words: Elizabeth I Onstage and Online, sponsored by Brown University's Women Writers Project in conjunction with Rhode Island's Office of Library and Information Services and funded by the Rhode Island Committee for the Humanities.
The "onstage" portion of the show stars actress Marilyn Murphy Meardon. Dressed in a bejeweled black velvet Renaissance-style gown, Meardon will personify Elizabeth I at about mid-reign, reflecting upon her years as head of state through her writings, which ranged from poems and letters to major speeches in a style that roused patriotism, confidence and personal respect. (A black-and-white photograph of Meardon in costume as Queen Elizabeth is available through the News Bureau.)
Brown University Librarian Merrily Taylor will moderate the presentations. An ardent admirer of Elizabeth I, Taylor will set the historical stage for the show and will manage question-and-answer sessions, serving as the "20th century's ambassador" between Elizabeth and the audience.
The three performances during Women's History Month are:
March 3, 1998, 7 p.m. - Providence Public Library, 225 Washington St.


March 4, 1998, 7 p.m. - Newport Public Library, 300 Spring St.


March 16, 1998, 7:30 p.m. - Crystal Room, 194 Meeting St., Brown University, Providence (sponsored by Sarah Doyle Women's Center)
Each performance is free and open to the public. The performances are geared toward an audience of at least high-school age.
The online portion of the project is offered by the Women Writers Project (WWP) and Rhode Island's public libraries. "We hope these performances will encourage the public to read the original texts and reflect upon our attitudes toward the role of women in public life, particularly the stresses and strategies of a woman ruler," said Carol DeBoer-Langworthy, WWP's director and project director for In Her Own Words. "People interested in exploring the material in more depth may read texts listed in a bibliography that will be available on line and through the state's libraries." The URL for the Elizabeth I project is http://www.wwp.brown.edu/rich/QEIhome.html. In addition, some of Elizabeth's writings upon which the performances are drawn are coded into the WWP's electronic textbase. Through the website, the public may order printed transcripts of the WWP texts used in the show.
The Brown University Women Writers Project
The mission of the Women Writers Project is to create and make accessible an electronic textbase of women's writing in English before 1830. Founded in 1986, the Women Writers Project pioneered the use of Standard Generalized Markup Language to create this versatile and long-lived scholarly resource. Using the project's textbase of nearly 250 encoded texts of all genres - including poems, sermons, prayers, prose, drama and letters - scholars in the earlier periods of English-speaking literature and cultures are able to recover and disseminate the range of writings in English by women. On-line information about the WWP can be read at http://www.wwp.brown.edu/.
The Rhode Island Committee for the Humanities
The Rhode Island Committee for the Humanities (RICH) is an independent affiliate of the National Endowment for the Humanities. Its mission is to promote public understanding and appreciation for the humanities and to provide opportunities for all Rhode Islanders to educate themselves in the fields of history, literature, philosophy, religion, music and the arts. On-line information about RICH can be read at http://users.ids.net/~ri_ch/.

######

97-081