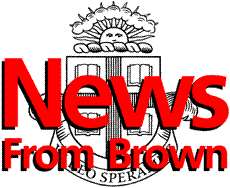 ---
The Brown University News Bureau
Contact: Kristen Lans

New director of Congressional commission on Medicare reform to speak
Bobby Jindal, 26, director of the National Bipartisan Commission on the Future of Medicare, will outline the pressures and issues facing that program in a public lecture Feb. 28 at 7 p.m. in the Salomon Center for Teaching. The Brown alumnus resigned as head of the Louisiana Department of Health and Hospitals earlier this month to accept the one-year post.
PROVIDENCE, R.I. -- Bobby P. Jindal, the 26-year-old who overhauled a nearly bankrupt Louisiana Medicaid program in two years, will speak about the challenges facing state Medicaid programs and charity hospitals, and the similar pressures facing Medicare on the national level at 7 p.m. on Feb. 28 in Salomon Center for Teaching, located on the College Green at Brown University.
The lecture is one of two Jindal will give that day at Brown, his alma mater. He will also talk about being an Asian American in politics at 4:30 p.m. in Salomon Center. Both lectures are free and open to the public.
Jindal recently stepped down as secretary of the Louisiana Department of Health and Hospitals, the state's largest agency, with 12,000 employees and hundreds of facilities, to accept the one-year appointment as director of the new National Bipartisan Commission on the Future of Medicare.
During his two years in Louisiana government, Jindal eliminated the department's $400-million deficit. When he was hired at the age of 24, Jindal slashed spending by $1 billion, began an aggressive program to collect overpayments made to hospitals, and implemented cost-saving measures - efforts which resulted in two years of budget surpluses totaling more than $200 million.
As director of the Congressional commission, Jindal will turn his attention to the national level and lead the effort to examine long-term financial and clinical problems facing Medicare. Analysts project annual spending for that program will double to more than $470 billion and enrollment will climb by millions as Baby Boomers retire over the next 10 years. Congress established the 17-member commission last year with the expectation that it will produce a report with recommendations for action by March 1, 1999.
"The most important thing about this commission is to reach a bipartisan consensus," said Jindal. "We can't make policy recommendations without it."
Born Piyush Jindal to parents who immigrated from India, he adopted the name "Bobby" from the youngest boy on the Brady Bunch television show. Jindal was raised in Baton Rouge, La., and graduated from Baton Rouge High School in 1988. He attended Brown University and graduated in both biology and public policy with a 4.0 average in December 1991. Later, as a Rhodes Scholar, Jindal authored several articles on health care expenditures. He worked briefly as a consultant for a Washington-based firm and turned down acceptances into Harvard and Yale law and medical schools in order to return to Louisiana in January of 1996 to head the Department of Health and Hospitals.
His achievements include:
Reducing the Department of Health and Hospital's full-time work force by 1,000 employees while maintaining services;


Increasing immunization rates for two-year-olds who visited health units from 55 percent five years ago to 80 percent today;


Reducing by one-half the tobacco sales to minors, moving Louisiana three years ahead of the national schedule for tobacco sales cuts;


Reducing per-person spending in Medicaid from a high of $3,452 in 1995 to $3,127 today. For the first time in five years Louisiana ranks below the national average for Medicaid spending.
Jindal's visit to Brown is sponsored by the Asian American Students Association, South Asian Students Association, Department of Public Policy and the Brown University School of Medicine. It will be his second public appearance outside of Louisiana since the announcement of his appointment to the Congressional commission.

Editors: To arrange a telephone interview with Jindal prior to his lectures at Brown University, contact Kristen Lans in the Brown News Bureau at (401) 863-2476.

######
97-084