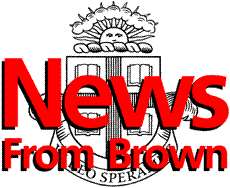 ---
The Brown University News Bureau
Contact: Tracie Sweeney

The third Annenberg Forum
Videoconference March 5 will examine `public engagement' in education
A free national videoconference sponsored by the Annenberg Institute for School Reform Thursday, March 5, 1998, will examine how the concept of "public engagement" has advanced education reform in three sites around the country. The videoconference from 7-9 p.m. EST will feature video profiles of each site, panel discussions and telephoned questions from viewers linked to the videoconference.
PROVIDENCE, R.I. -- A national videoconference sponsored by the Annenberg Institute for School Reform on Thursday, March 5, 1998, from 7-9 p.m. EST will examine the concept of "public engagement," which has become a significant element in the movement for education reform.
Through video profiles produced by WGBH, this third Annenberg Forum videoconference, titled Engaging Americans in Public Education, will give viewers a look at three initiatives to examine how schools and communities can work together to build stronger schools in which more and more students succeed. The profiles feature:
The Patrick O'Hearn School in Boston, where teachers have developed closer cooperation with families to enhance student success, and parents are making important decisions about student learning;


Baltimoreans United in Leadership Development (BUILD) in Maryland, an African-American community organization that has helped parents set up after-school centers and is developing discussions about improving student learning in school;


The Pattonville School District in Missouri, where formerly disengaged residents have taken ownership for their schools, becoming more involved in their local educational challenges.
A panel of participants from the three sites will gather in the studios of WGBH in Boston for an on-air discussion of their projects and the implications for others beginning work in public engagement. The panel will be joined by
Robert Sexton, executive director of the Prichard Committee, a citizen action group supporting Kentucky's statewide school-reform legislation;


Jeffrey Kimpton, director of public engagement at the Annenberg Institute;


Larry Leverett, superintendent, Plainfield (NJ) Public Schools;


Ronald A. Wolk, former publisher of Education Week and Teacher Magazine, who will moderate the discussion.
The panelists will respond to questions and comments from a studio audience in Boston. Call-in questions will be taken from any satellite downlink site.
A satellite videoconference is a television program produced at a site that is equipped to "uplink" it by an electronic signal to a satellite. The program can be "downloaded" by any satellite dish that can receive the signal. Access to the March 5 videoconference is available free to any interested school, college or community organization. Sites must register to receive the satellite transponder number, an agenda of the videoconference and additional materials to help people begin or continue discussion groups. To obtain the downlink coordinates and other materials, contact the Annenberg Forum at 401-863-1290, or go to the forum website at www.aisr.brown.edu/forum.
The Annenberg Forums
The Annenberg Forums, sponsored by the Annenberg Institute for School Reform, aim to foster substantive local conversations about issues in school reform and to develop live, interactive videoconferences that will heighten national awareness of the issues discussed in the local conversations.
This third forum is part of the Annenberg Institute's 18-month study of hundreds of public engagement efforts across the United States. The previous two were titled Looking at Student Work in ATLAS Communities and Hope, Fairness and Power: Building Strong Schools in Urban America. The fourth forum, slated for November 1998, is What's Good Enough? Student Work and Standards.
The Annenberg Institute for School Reform
The Annenberg Institute for School Reform was established in 1993 at Brown University. It promotes and advocates the serious redesign of American schooling. Its current efforts are focused on rethinking accountability for student performance, developing the capacity of schools and teachers to meet high standards, and engaging the public as participants in and advocates for school change.

######
97-086