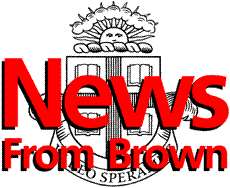 ---
The Brown University News Bureau
Contact: Tracie Sweeney

Accreditation team to hold forums March 9 for faculty, staff, students
The NEASC visiting team has scheduled separate faculty, staff and student forums to receive comments about Brown University accreditation.
PROVIDENCE, R.I. -- On Monday March 9 from 4 to 5 p.m., a visiting team from the New England Association of Schools and Colleges will conduct three concurrent forums to solicit comments from faculty, staff and students about Brown's accreditation. Each constituency will have its own site: Faculty will meet in the Corporation Room in University Hall; staff will meet in the CIT Boardroom; students will meet in Lower Manning.
Every 10 years, Brown undergoes examination by the New England Association of Schools and Colleges and must demonstrate how it meets the following standards:
Mission and Purpose;
Planning and Evaluation;
Governance;
Programs and Instruction, including subcategories of undergraduate programs, graduate programs, instruction, scholarship, admission and outreach;
Faculty;
Student Services;
Information Resources, including subcategories of library and computing;
Physical Resources;
Financial Resources;
Public Disclosure;
Integrity.
In preparation for the visit, Brown began an extensive self-study in each category. Faculty, administrators and students were drawn together in a steering committee, and writing of the self-study, which contains descriptions, appraisals and projections covering the 11 standards, began by January 1997. Since then, task forces, standing committees of the faculty and other groups have been reading the self-study, offering comments and criticisms for incorporation. Copies of the self-study reports are available on the Internet at www.brown.edu/Administration/Accreditation/.

######
97-089