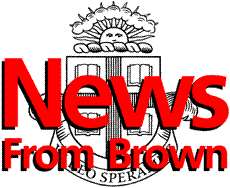 ---
The Brown University News Bureau
Contact: Kristen Lans

Physicians are missing opportunities to counsel patients against smoking
A survey of 3,037 adult cigarette smokers in Rhode Island who had visited physicians within the last year found that half were not advised to quit. Doctors are missing opportunities to provide smoking interventions, say investigators from the Brown University School of Medicine.
PROVIDENCE, R.I. -- Despite research that indicates physicians are successful in encouraging smokers to quit, a recent survey of Rhode Islanders found that physicians are doing so only about half the time.
Investigators Michael G. Goldstein, M.D., and colleagues from the Brown University School of Medicine asked 3,037 adult smokers who had visited physicians within the last year whether they had received advice about quitting. Just 46 percent said they had.
"Doctors may underestimate their personal influence," said Goldstein, a psychiatrist in the Division of Behavioral and Preventive Medicine at The Miriam Hospital. "Patients see the health care provider as someone who is important and look to them for advice."
Studies have found that as little as 30 seconds of advice from a doctor increases the chances a smoker will quit for at least a year by 20 percent, said Goldstein. When factored into the number of smokers who visit a physician each year that means millions of people, he added.
The survey, reported in the Archives of Internal Medicine, asked participants whether they had received any of five levels of smoking cessation interventions recommended by the National Cancer Institute and the Agency for Health Care Policy and Research.
There seems to be considerable room for improvement on all five levels, Goldstein said. According to the poll:
51 percent said they were talked to about smoking;
46 percent were advised to quit;
15 percent were offered help;
3 percent had a follow-up appointment;
9 percent were prescribed medication such as nicotine gum.
Women were more likely than men, and the employed more likely than the unemployed, to report being talked to and advised to quit. Heavier smokers - those who smoked more than 20 cigarettes a day - and those who said they were thinking about quitting, reported higher rates of counseling than the lighter smoker or smokers who had not yet considered quitting.

Overall, patients who visited a private physician's office received more smoking cessation assistance than those who visited a health maintenance organization (HMO) or emergency room, according to the study.

There are several reasons for the findings, according to the investigators.

Physicians may be frustrated by the relatively poor record of smokers who say they will quit, said Catherine Dubé, a Brown University Medical School faculty member and study investigator. The average smoker will attempt to quit seven times before achieving success, she said.

Others may not see counseling as their role. A health care provider in an HMO, for example, may think that a patient can take advantage of the organizations' smoking cessation program and therefore does not need physician counseling, said Goldstein.

Still another explanation for the counseling rates may be the time constraints of a doctor's visit when there are often a number of topics to discuss. However, if physicians do not have enough time to talk about smoking, another staff member in the office should be assigned the role, said Goldstein. "This is so important ... smoking is such a high-risk behavior and has such a great impact on health that they should make it a priority."

The survey is the first to document the delivery of the five smoking interventions outlined by the National Cancer Institute and Agency for Health Care Policy and Research; past studies looked only at the rate of physician-delivered advice.

Investigators have begun to inform local health care providers about the results in order to increase awareness. "We want them to use the opportunities that are there," said Goldstein. More than 100 have been contacted.

######
97-093